printer friendly version
ContinuitySA receives training recognition
March 2010
News
ContinuitySA has announced that its specialised Complete Continuity Business Continuity Management Training Programmes, the only hands-on courses of this nature on the continent received full ISETT SETA accreditation and 'Content Approval' from the Business Continuity Institute (BCI) based in the United Kingdom.
Louise Theunissen, GM of Consulting Services at ContinuitySA explains, "We developed two business continuity Management courses focused on the requirements of different types of customers.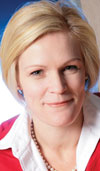 Louise Theunissen, GM of Consulting Services at ContinuitySA
"The first, the two-day Complete Continuity Programme is designed to include all aspects of business continuity, providing an overview for those looking for an understanding of the issues involved in business continuity management. The Complete Continuity Practitioner Programme, on the other hand, is a five-day course designed for those requiring a more in-depth, hands-on approach."
Both courses have now been fully ISETT SETA accredited. The two-day course qualifies for 138 credits at a NQF level 5, while the five-day course, qualifies for 149 credits at a NQF level 6.
"This accreditation is a major milestone for ContinuitySA as previously only the five-day programme was accredited at NQF level 3," adds Theunissen. "This means the courses can now form part of a broader business management curriculum instead of being run as standalone events."
Furthermore, ContinuitySA has received international recognition for its training programmes by the Business Continuity Institute (BCI). The Content Approval endorsement provides assurance to delegates that the content of both programmes aligned with the Good Practice Guidelines prescribed by the BCI assuring clients the highest quality in delivery.
In celebration of this achievement, each delegate not affiliated with the BCI will automatically be enrolled as a BCI Affiliate to enjoy the benefits that accompanies this affiliation. This offer will run for a period of twelve months.
In addition the courses are designed in accordance with the British standard methodology for Business Continuity Management, BS25999. Basing the courses on this standard ensures that attendees are exposed to the latest, certified practices and methodologies in the field. As opposed to traditional training programmes in which facilitators deliver the course, all the trainers are practising business continuity consultants employed by ContinuitySA, holding either an MBCI (Member of the BCI) or FBCI (Fellow of the BCI) status, which is the highest level of BCI accreditation.
For more information contact ContinuitySA, +27 (0)11 554 8232, ansophie.strydom@continuitysa.co.za, www.continuitysa.co.za
Further reading:
New hires at iPulse
Issue 7 2020, iPulse Systems , News
iPulse has welcomed two new employees into its ranks. Shai Weil has been appointed as operations director, while Corneli Botha is the new customer sales liaison.
Read more...
---
HID Global acquires Access-IS
Issue 7 2020, HID Global , News
HID Global acquires provider of miniaturised reader devices that combine key technologies for mission-critical markets.
Read more...
---
Securing digital transformation
Issue 7 2020 , News
Schneider Electric partners with Fortinet to strengthen ability to secure operations across the business lifecycle and unlock the advantages of a secure IIoT.
Read more...
---
Suprema integrates with Paxton's Net2 access control
Issue 7 2020, Suprema , News
Suprema has announced it has integrated its devices with Paxton's access control system, Net2.
Read more...
---
Free cybersecurity courses
Issue 7 2020 , News
Check Point Software partners with Harvard and MIT-founded edX to deliver free online courses to help close the cybersecurity skills gap.
Read more...
---
Fidelity partners with Auto & General Insurance
Issue 7 2020, Fidelity Security Group , News
Fidelity Services Group in partnership with Auto & General Insurance has launched Fidelity InSure, a comprehensive vehicle, home, and building insurance offering.
Read more...
---
More apps for open camera OS
Issue 7 2020 , News
The App Challenge will result in 21 new apps running on the Security & Safety Things' camera OS, based on the Android Open Source Project.
Read more...
---
Milestone Systems announces Thomas Jensen as new CEO
Issue 7 2020, Milestone Systems , News
Milestone Systems announced that its board of directors has appointed Thomas Jensen as chief executive officer. Jensen will assume the role on October 1, 2020.
Read more...
---
Suprema announces its first virtual event
Issue 7 2020, Suprema , News
Suprema will be hosting its first virtual event, Suprema Connect 2020, which is scheduled to take place over one month from September 15.
Read more...
---
From the editor's desk: Waiting for PoPI
Issue 7 2020, Technews Publishing , News
A while ago we heard of yet another cyber breach, this time from Experian.
Read more...
---