printer friendly version
Next-gen smoke detection
August 2009
Fire & Safety
Aspirating smoke detection in new generation data applications.
In the ever-evolving world of the data centre and telecommunications exchange, advancing server design has necessitated changes in cooling system design. This has had an effect on smoke detection in these environments.
Previously the norm was to shut off air handling units using an aspirating smoke detection system such as a Vesda unit and then once air movement had ceased within the data centre, use point detectors spaced according to the SANS 246-Code of Practise for Electronic Equipment.
Installations to activate the gas suppression system, thereby achieving a double knock. The advent of system designs utilising free cooling or Hot Isle/Cold Isle technology however, has brought about a drastic change in the way smoke detection systems are designed. Primarily the differences originate from the reluctance of IT managers to allow the shut down of air handling units on first knock. This is largely due to the possibility of temperature spikes within the server units leading to reduced lifespan and/or premature failure and the shutdown of servers due to their own internal temperature protection circuitry.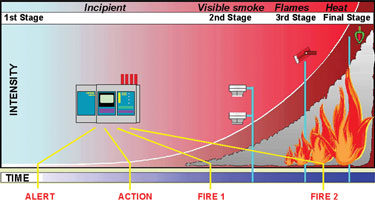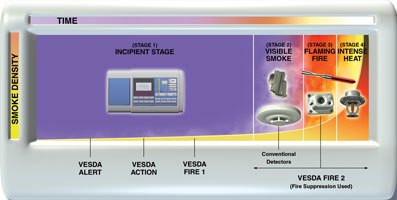 Fire growth curve
This reluctance to shut down air handling units therefore means that smoke should be detected in the presence of air that is moving at higher velocities than which a point detector is capable of detecting smoke, and that any smoke present is both dramatically and instantaneously diluted.
Aspirating smoke detection systems that comply to the requirements of a standard such as EN54-20's Class A will offer the very high sensitivity required and will be able to operate in the high airflow environments.
Furthermore, only systems that offer absolute detection and do not rely on software drift compensation to overcome the reduction of sensitivity due to contamination of the optical surfaces will be able to provide sustainable smoke measurement that is sufficiently accurate to allow for the generation of both the first and second knock prior to gas release in an environment of constantly moving air.
One of the major considerations then would be the accurate calculation of smoke obscuration thresholds for the first and second knock given that the volume and therefore airflow in each data centre will be unique.
This can only accurately be achieved using a sophisticated software tool that allows for the input of precise data regarding the data centre and airflow characteristics and for the release of suppression at the correct time, or ideally allow for sufficient time for human intervention to avoid suppression release altogether.
These trends have been recognised and discussed both in IT environments such as the Data Centre Users Group and in global codes and standards bodies where altering and updating existing codes to reflect these changes and the correct application of smoke detection technology has received considerable focus.
From a fire engineering perspective it is essential that this be one of the primary considerations when designing a system for a data centre or telco. In addition, that the previously accepted best practices may no longer apply should constantly be borne in mind.
For more information contact Dave Boyack, business development manager, VESDA Xtralis, [email protected], www.xtralis.com
Further reading:
Incorporate fire safety in the design phase
Fire & Safety
ASP Fire CEO Michael van Niekerk says companies can prevent their infrastructure project from going up in flames by incorporating fire safety in the design phase.
Read more...
---
Fire-fighting force at Vergelegen
Editor's Choice Fire & Safety Residential Estate (Industry)
Vergelegen wine estate in Somerset West, and its neighbours, are set to enjoy greater peace of mind this summer, thanks to the delivery of a brand new fire truck .
Read more...
---
Rhino103 extinguishing control panel
Technoswitch Fire Detection & Suppression Fire & Safety Products
Technoswitch has released the Rhino103 extinguishing control panel range, designed and manufactured in South Africa to comply with EN54 parts 2 and 4, and EN12094.
Read more...
---
Technoswitch partners with Ciqurix for video fire detection
Technoswitch Fire Detection & Suppression News Fire & Safety
Technoswitch is pleased to announce the signing of an exclusive distribution agreement with Ciqurix (UK), a leading supplier of video fire detection products.
Read more...
---
Fire protection for new Fuchs warehouse
Fire & Safety
The new warehouse at Fuchs Lubricants South Africa in Isando, Johannesburg, not only incorporates the latest technology but complies with stringent fire detection and prevention requirements.
Read more...
---
Fire-safety risks during load shedding
News Fire & Safety
The current load shedding implemented by electricity utility Eskom, as it faces unplanned breakdowns, poses a heightened fire risk for homeowners and their families.
Read more...
---
FlameSpec flame detectors from Technoswitch
Technoswitch Fire Detection & Suppression Fire & Safety
The FM-approved FlameSpec detectors address slow-growing fires and fast eruptions of fire while maintaining high performance and reliable detection in all weather and light conditions.
Read more...
---
Improved hydraulic performance and efficiency
Johnson Controls Global Products Fire & Safety
Tyco 5.8K LFII sprinkler from Johnson Controls Global Products brings improved hydraulic performance and efficiency to residential fire protection.
Read more...
---
One-bolt coupling
Johnson Controls Global Products Fire & Safety
The G-Fire One-Bolt Figure 579A is a grooved, rigid coupling ready for out-of-the-box, push-on installation including self-lubricating gaskets for a smooth installation experience.
Read more...
---
Ensure your generator is fire-safe
Fire & Safety
A backup power supply such as a genset is critical during loadshedding, however, it is vital that such important equipment is maintained properly and serviced regularly to be able to cope with outages.
Read more...
---