printer friendly version
Finding a vein
May 2009
Access Control & Identity Management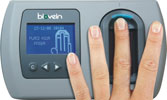 Biometric identification working off the veins of a finger is ideal for harsh working environments.
Fingerprint-based biometric access control and time and attendance systems are reputed to be somewhat ineffective in harsh environments, such as those associated with mines or construction sites. Workers who handle abrasive materials or when fingers are dirty or exposed to continual moisture that distort fingerprints can have difficulty clocking in or out, resulting in pay discrepancies or not being able to gain access to their work area.
The solution is to go deeper.
New technology developed by Hitachi in Japan uses the unique patterns of veins inside fingers to positively identify people. This technology has been incorporated into a time and attendance (T&A) and access control system called BioVein, a product from French biometrics company, the Easydentic Group.
It is now available exclusively through Pretoria-based Beget Solutions, a division of Beget Holdings, a JSE-listed company specialising in access control and time and attendance solutions.
Hitachi's finger vein authenticating system captures images of the latticework of minute blood vessels under the skin. A near-infrared light is passed through the finger allowing an image to be recorded on a CCD camera underneath. These vein patterns, like other biometric data, are unique to each individual.
Where finger vein authentication is proving to be the most sophisticated of all biometric identification methods, is in its high level of accuracy. The condition of the finger – dirty, wet, even if light gloves are worn – cannot affect the sensor readings so identification is guaranteed.
Because the vein pattern is inside the body, it is impossible to duplicate or damage. Vein authentication provides a solution for the current limitations experienced by fingerprint biometric solutions as well as for the harsh working conditions in which they are required to be implemented. The technology ensures the confidentiality of personal data and is therefore safe and secure for the individual.
Data collection is based on a contact-less principle. A finger need not directly touch the reader for the vein pattern to be read. This means the system has an added advantage of being hygienic.
The 3D finger vein profile is image-processed using a special algorithm resulting in digital data that can be stored in a data repository.
The BioVein reader can be used as a standalone system allowing programming and operation to be carried out on the unit itself via the LCD screen, or from any PC over a network. It can be integrated into door access systems or turnstiles, and into centralised time and attendance management systems to provide full audit trails of staff working hours.
The implementation of T&A and access control is vital for organisations with a large staff complement, or when working on shifts or overtime that needs to be properly managed. In a tougher economy where full worker productivity is important it becomes even more necessary to bring in tighter control systems. Biometric identification for access control eliminates problems such as buddy clocking and ghost workers.
BioVein has been successfully implemented in Europe for access control to both large and small businesses. This vein identification technology is also successfully used in Japan to verify identities in computer login systems, as validation devices for ATM and door access systems.
For more information contact André Potgieter, Beget Holdings, 086 112 3438, [email protected]
Further reading:
Gallagher launches Tech Talk
Gallagher News Access Control & Identity Management Perimeter Security, Alarms & Intruder Detection
Gallagher has announced the launch of its new Security in Focus podcast series called Tech Talk, hosted by chief technology officer Steve Bell.
Read more...
---
IDEMIA and Ideco demonstrate their value stacks
Technews Publishing Ideco Biometrics IDEMIA Conferences & Events Access Control & Identity Management News
Ideco and IDEMIA recently hosted a travelling show where attendees were given an update on the companies, as well as the full value stack they offer.
Read more...
---
Paxton10 simplifies building security
Paxton Access Control & Identity Management
Paxton provides a single platform for access control and video management in Paxton10, its newest innovation that allows users to manage their facilities from one simple security system.
Read more...
---
Have biometrics changed the way mines operate?
ZKTeco Mining (Industry) Access Control & Identity Management
The mining industry continues to improve conditions for mine workers, striving for zero harm, however, innovations which improve worker safety and increase operational efficiency are still needed.
Read more...
---
Adapting to the new normal
Access Control & Identity Management
SATEC (SA Technologies) had to develop a new strategy to enhance its current product features to align and adapt to market trends within the technology sector.
Read more...
---
AI will drive the future of access control
Suprema Access Control & Identity Management
Artificial intelligence is driving changes previously in the realm of the imagination. AI-based voice recognition and image recognition enable machines to understand and recognise things better than humans are able to.
Read more...
---
Powder coating provides durable finish
Turnstar Systems Access Control & Identity Management Industrial (Industry)
Turnstar's powder coating line provides corrosion resistance, high-quality surface finishing and a long-term environment-friendly impact for all access control components the company manufactures.
Read more...
---
Local makes lekker parking bay management technology
Access Control & Identity Management
South African born-and-bred technology platform Parket builds a seamless bridge between supply and the ever-increasing, but fluid – and often temporary – demand for parking bays.
Read more...
---
Local innovation continues
BoomGate Systems Access Control & Identity Management
While having local manufacturing facilities presents its own set challenges in South Africa, Boomgate Systems makes full use of its in-house local manufacturing and R&D.
Read more...
---
CathexisVision integrated with Suprema's BioStar2
Technews Publishing News Access Control & Identity Management Integrated Solutions
This integration uses BioStar2 access control events to trigger automated actions on the CathexisVision system, including alerts, recording a camera and commands such as locking and unlocking doors, and clearing an alarm.
Read more...
---