printer friendly version
Finding a vein
May 2009
Access Control & Identity Management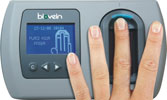 Biometric identification working off the veins of a finger is ideal for harsh working environments.
Fingerprint-based biometric access control and time and attendance systems are reputed to be somewhat ineffective in harsh environments, such as those associated with mines or construction sites. Workers who handle abrasive materials or when fingers are dirty or exposed to continual moisture that distort fingerprints can have difficulty clocking in or out, resulting in pay discrepancies or not being able to gain access to their work area.
The solution is to go deeper.
New technology developed by Hitachi in Japan uses the unique patterns of veins inside fingers to positively identify people. This technology has been incorporated into a time and attendance (T&A) and access control system called BioVein, a product from French biometrics company, the Easydentic Group.
It is now available exclusively through Pretoria-based Beget Solutions, a division of Beget Holdings, a JSE-listed company specialising in access control and time and attendance solutions.
Hitachi's finger vein authenticating system captures images of the latticework of minute blood vessels under the skin. A near-infrared light is passed through the finger allowing an image to be recorded on a CCD camera underneath. These vein patterns, like other biometric data, are unique to each individual.
Where finger vein authentication is proving to be the most sophisticated of all biometric identification methods, is in its high level of accuracy. The condition of the finger – dirty, wet, even if light gloves are worn – cannot affect the sensor readings so identification is guaranteed.
Because the vein pattern is inside the body, it is impossible to duplicate or damage. Vein authentication provides a solution for the current limitations experienced by fingerprint biometric solutions as well as for the harsh working conditions in which they are required to be implemented. The technology ensures the confidentiality of personal data and is therefore safe and secure for the individual.
Data collection is based on a contact-less principle. A finger need not directly touch the reader for the vein pattern to be read. This means the system has an added advantage of being hygienic.
The 3D finger vein profile is image-processed using a special algorithm resulting in digital data that can be stored in a data repository.
The BioVein reader can be used as a standalone system allowing programming and operation to be carried out on the unit itself via the LCD screen, or from any PC over a network. It can be integrated into door access systems or turnstiles, and into centralised time and attendance management systems to provide full audit trails of staff working hours.
The implementation of T&A and access control is vital for organisations with a large staff complement, or when working on shifts or overtime that needs to be properly managed. In a tougher economy where full worker productivity is important it becomes even more necessary to bring in tighter control systems. Biometric identification for access control eliminates problems such as buddy clocking and ghost workers.
BioVein has been successfully implemented in Europe for access control to both large and small businesses. This vein identification technology is also successfully used in Japan to verify identities in computer login systems, as validation devices for ATM and door access systems.
For more information contact André Potgieter, Beget Holdings, 086 112 3438, info@beget.co.za
Further reading:
Turnstar ramps up countermeasures
Turnstar Systems Editor's Choice Access Control & Identity Management News Products
Turnstar has developed and patented an early warning and deterrent system which will alert security, and anyone nearby, of any attempt to place ramps over the raised spikes.
Read more...
---
Suprema integrates biometric access control with Genetec
Suprema News CCTV, Surveillance & Remote Monitoring Access Control & Identity Management
Suprema has announced the successful integration of its biometric access control products with Genetec Security Center, a unified security platform that connects security systems, sensors and data in a single intuitive interface.
Read more...
---
IDEMIA South Africa achieves level 1 B-BBEE status
IDEMIA News Access Control & Identity Management
As part of the action plan to improve its status to Level 1, IDEMIA now works with over 40 black-owned local suppliers, representing over 30% of IDEMIA's local suppliers.
Read more...
---
Suprema no. 1 in the global biometric market excluding China
Suprema News Access Control & Identity Management
According to the latest report by Omdia, a global market research firm, Suprema ranks first in global market share, excluding China, in the field of biometric readers.
Read more...
---
Dahua and Yeastar PBX-intercom integration
Dahua Technology South Africa News Access Control & Identity Management
Dahua Technology and Yeastar announced their new ECO partnership on PBX-intercom integration to provide a comprehensive and unified communication solution for small- and medium-sized enterprises.
Read more...
---
Traka launches experience centres
News Access Control & Identity Management
Traka launches inaugural Experience Centres in Australia and South Africa; aims to drive continuous collaboration and innovation.
Read more...
---
New platform for keyless access
Access Control & Identity Management
The new ABLOY CUMULUS platform for keyless access combines locking hardware with secure access and management applications in a single ecosystem with a risk-free, integrated cloud service.
Read more...
---
The importance of staying up to date
Access Control & Identity Management Government and Parastatal (Industry)
Africa's cyber threat landscape is constantly evolving, with government's facing a range of digital threats from espionage, critical infrastructure sabotage, organised crime and combat innovation.
Read more...
---
Dynamic Drop Arm Barrier
Turnstar Systems Access Control & Identity Management
Suited to medium-volume access and medium-level security applications such as office reception areas, health clubs, universities and libraries, the Dynamic Drop Arm Barrier also allows special needs access.
Read more...
---
Automatic tyre spike industrial vehicle barrier
Turnstar Systems Access Control & Identity Management
The Turnstar Velocity Raptor automatic tyre spike industrial barrier, with SwiftDrive technology, is aimed at high-volume and high-security access applications such as parkades, shopping centres, residential estates and airports.
Read more...
---