printer friendly version
Integrated hospital
January 2009
Fire & Safety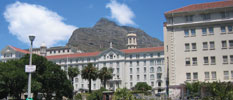 GE Security's fire detection technology has made Groote Schuur Hospital in Cape Town a safer place for doctors and patients alike.
Groote Schuur is the chief academic hospital of the University of Cape Town's Faculty of Health Sciences, providing tertiary care and instruction in all major branches of medicine. Founded in 1938, the hospital is an internationally acclaimed research institution and is also world-renowned for its trauma unit, anaesthesiology and internal medicine departments, amongst others. It has over 3663 dedicated members of staff, who care for more than 560 000 referrals and in-patient admissions per year, so safety and security are key concerns.
"Groote Schuur hospital required a major life safety upgrade, since the current fire detection system was out of date, not fully functional and not compliant with the latest fire safety regulations," says Sieberhagen, the GE Security business development representative.
Firetech Projects served as the systems integrator partner to GE Security, which implemented the project. MD, Ray McKenzie, commented that because of its size, Groote Schuur not only required an intelligent fire detection system, but a flexible solution to protect the facility's occupants and safely guide patients and staff out of harm's way. This could only be made possible if they had the means of getting the right information to the right people at the right time, quickly and efficiently.
"Firetech has already installed several such systems in Gauteng, but this was the first GE EST3 platform, also called the Edwards system, to be installed in Cape Town. It is a leading product, and will also be used in the 2010 soccer stadiums. To ensure proper configuration and installation of this new technology, Firetech's staff was extensively trained by GE Security. Fortunately, the front end is relatively easy to operate, even for those who are not computer literate," says McKenzie.
"Essentially the project involved an incremental upgrade of the existing system, which was not without its challenges," McKenzie continues. "Because safety could never be compromised, we could only decommission the existing system when each phase of the installation was complete. Also, we were dealing with a working hospital, so we had to be sensitive to the needs of patients and staff. We liaised constantly with the doctors and nurses to arrange times that would be convenient to work on certain areas. This was particularly challenging when it came to sensitive spaces such as operating theatres, where we had to be aware of the need for total hygiene, and could only gain access when it was certain no patients would need surgery at those times.
"All in all, it was an excellent project, and it has gone really well. We had wonderful co-operation and support from the hospital staff, which is so important. A good working relationship makes everything so much easier."
GE's Sieberhagen says, "GE Security supplied its EST3 platform, which was chosen by the Public Works Department for its capability to provide large integrated life-safety solutions. As Groote Schuur required an integrated fire detection, audio evacuation and fireman's telephone system, EST3 provided the perfect fit.
The design was customised for Groote Schuur Hospital and GE Security's installation engineers worked in conjunction with Firetech Projects and the consulting engineer on site to tailor the system to the hospital's requirements. A unique feature of the system is its total integration of the detection and evacuation components, which are actually controlled from the same panel. This is the only system that allows this, and the combination of both aspects not only enables us to build in more features, but also allows for cost-saving both on the purchase and the installation.
"Groote Schuur Hospital is one of the leading academic medical facilities in South Africa, and achieved world renown in 1967 as the site of the first successful human heart transplant. GE Security is proud to have been instrumental in providing it with a state-of-the-art fire detection and evacuation system, thus greatly enhancing the safety of those who use the hospital," concludes Carlo Klopper, GE Security's business leader in South Africa.
For more information contact Carlo Klopper, African Region leader, GE Enterprise Solutions, Security, +27 (0)11 237 9600.
Further reading:
FlameSpec flame detectors from Technoswitch
Technoswitch Fire Detection & Suppression Fire & Safety
The FM-approved FlameSpec detectors address slow-growing fires and fast eruptions of fire while maintaining high performance and reliable detection in all weather and light conditions.
Read more...
---
Improved hydraulic performance and efficiency
Johnson Controls Global Products Fire & Safety
Tyco 5.8K LFII sprinkler from Johnson Controls Global Products brings improved hydraulic performance and efficiency to residential fire protection.
Read more...
---
One-bolt coupling
Johnson Controls Global Products Fire & Safety
The G-Fire One-Bolt Figure 579A is a grooved, rigid coupling ready for out-of-the-box, push-on installation including self-lubricating gaskets for a smooth installation experience.
Read more...
---
Ensure your generator is fire-safe
Fire & Safety
A backup power supply such as a genset is critical during loadshedding, however, it is vital that such important equipment is maintained properly and serviced regularly to be able to cope with outages.
Read more...
---
Technoswitch Awards dinner for 2022
Technews Publishing News Fire & Safety
Technoswitch hosted its fifth awards dinner at Montecasino in September, where customers and suppliers celebrated a year of success.
Read more...
---
Mass transportation requires massive security
Fire & Safety
The technologies and design styles behind transit hubs may have changed over the years, but from a fire safety perspective the threats have remained constant.
Read more...
---
ZYTEQ Fire Engineering Summit 2022
ZYTEQ Fire Fire & Safety News
Cape Town-based ZYTEQ Fire hosted its inaugural Engineering Summit at the Commodore Hotel in Cape Town and the Leonardo Hotel in Sandton, Johannesburg.
Read more...
---
Fire prevention in your home or business?
Fidelity Services Group Fire & Safety Security Services & Risk Management
A recent fire at a nightclub in Boksburg has once again highlighted the importance of fire safety for both homes and businesses. When a fire breaks out, the consequences can be devastating.
Read more...
---
Integration of Bosch planning software with AutoCAD
Technews Publishing Fire & Safety Security Services & Risk Management Products
Bosch has released its new software version of Safety Systems Designer with a new, free plugin available that enables automatic data transfer between AutoCAD software and Designer.
Read more...
---
Water deluge fire suppression system
FS Systems Editor's Choice Fire & Safety Mining (Industry) Products
The FS Group custom-designed and installed an electronically actuated water deluge fire suppression system for an underground explosives magazine, ensuring both the safety of miners and operations, as well as regulatory compliance.
Read more...
---