printer friendly version
Stop burning cash
November 2008
Fire & Safety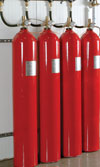 Saving money is in everyone's best interest, particularly in a very competitive fire protection industry. The Fike ProInert Fire Extinguishing System design includes a distinct pressure regulating valve assembly different than standard inert gas systems on the market. This distinct design offers pipe and installation advantages resulting in overall system costs savings.
The Fike Inert Gas System is much more sophisticated than standard decaying pressure inert gas systems. The Fike system approach is to use a discharge valve that is designed to regulate the discharge pressure of the system to a constant 650 psi (44 bar) so the pipe pressure and nozzle flow rate(s) will be consistent for the duration of the discharge. Regulating the pressure at the valve outlet permits both low pressure rated piping to be installed in the entire system piping network. Smaller bore piping can also be used compared to standard inert gas systems. Both features present easier system installation and decreases the overall cost of the system installation.
According to a leading inert gas manufacturer, a systems peak flow rate occurs at 2 to 4 seconds into the discharge and is generally two to three times the average flow rate. As the pressure in the cylinder decays during the discharge, the orifice will continue to drop pressure in the same ratio, thus at approximately half the cylinder pressure the pipework pressure has dropped to 30 bar and the nozzle pressure to 10 bar. The use of orifice plates results in a very fast discharge rate initially and a very slow rate at the end of the discharge which at that point the extinguishing concentration is achieved.
NFPA and ISO standards require that 95% of the extinguishing concentration must be achieved within a 60-second time frame. This requirement is difficult to accomplish for orifice controlled inert gas systems without implementing other design measures. One method of achieving this regulatory requirement is to increase the quantity of stored extinguishant which increases the cost of the system and results in a higher concentration within the protected space which could potentially approach the NOEAL level of concentrations. Another industry known method to achieve this regulatory requirement is to implement a discharge time from 60 down to 45 seconds which results in higher discharge flow rates. Increasing a system flow rate results in a higher-pressure drop for a given size of pipe. To achieve a comparable pressure drop along the pipe the size needs to be larger in diameter.
For more information contact Mike Smiles, Masc Solutions, +27 (0)11 608 0065, mike@mascsolutions.com
Credit(s)
Further reading:
Fidelity SecureFire steps into critical fire response space
News Fire & Safety
With the majority of fire stations around the country being crippled by a lack of resources to offer effective responses, Fidelity Fire Solutions has launched its own 'first responder' model, Fidelity SecureFire.
Read more...
---
Long-distance connectivity with Simplex ES Net Life Safety
Johnson Controls Global Products Fire & Safety Products
ES Net Network Bridge allows fire alarm system data to be transmitted across distant buildings via a customer's existing network infrastructure, improving system-wide monitoring and control in facilities and campuses where life safety networks are often widely dispersed.
Read more...
---
Elvey Group and Technoswitch part ways
Elvey Security Technologies Fire & Safety News
The Elvey Group (a division of the Hudaco Group of Companies) is relinquishing its distributorship of the Technoswitch brand, following Hudaco's acquisition of Brigit Fire.
Read more...
---
From one month to 10 minutes
Dahua Technology South Africa Fire & Safety
Dahua has integrated technology with the inspection mode of the photovoltaic power station in order to create a robust system that can monitor the fire situation in the power plant and its surrounding areas 24/7.
Read more...
---
Protecting poultry processing plant
Technoswitch Fire Detection & Suppression Fire & Safety
Grain Field Chickens, based in Reitz in the Orange Free State Province, features all the typical fire detection challenges one would expect to encounter in a food processing facility.
Read more...
---
Fire prevention for energy systems
Technoswitch Fire Detection & Suppression Fire & Safety
With the significant push towards renewable energy, such as wind and solar, the demand for battery energy storage systems has grown exponentially, as has the need for fire safety solutions for these environments.
Read more...
---
Fire risks in solar panel installations
Technoswitch Fire Detection & Suppression Fire & Safety
Installed global solar capacity doubled in three years from 2018, and the expectation is that in the next three years, it will more than double. In South Africa, the year-on-year growth from 2021 to 2022 was 24,90%.
Read more...
---
Smart firefighting
Fire & Safety IT infrastructure
By integrating smart radios, innovative wireless technologies, fusion field networks, and IoT sensors, firefighters can respond faster and coordinate better during emergencies, protecting lives, property, and their own safety.
Read more...
---
Compliant with the National Building Regulations?
Fire & Safety
Over the past few years, there has been a surge in building fires, increasing the risk for loss of life and damage to structures and property.
Read more...
---
Make sure your alternative power solutions are not a fire hazard
Fire & Safety
While alternative heating and energy devices fulfil a crucial role in the current energy crisis, Fidelity Fire Solutions reminds users that such devices can pose a risk if not installed, stored and used properly.
Read more...
---