printer friendly version
Stop burning cash
November 2008
Fire & Safety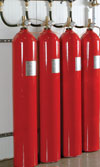 Saving money is in everyone's best interest, particularly in a very competitive fire protection industry. The Fike ProInert Fire Extinguishing System design includes a distinct pressure regulating valve assembly different than standard inert gas systems on the market. This distinct design offers pipe and installation advantages resulting in overall system costs savings.
The Fike Inert Gas System is much more sophisticated than standard decaying pressure inert gas systems. The Fike system approach is to use a discharge valve that is designed to regulate the discharge pressure of the system to a constant 650 psi (44 bar) so the pipe pressure and nozzle flow rate(s) will be consistent for the duration of the discharge. Regulating the pressure at the valve outlet permits both low pressure rated piping to be installed in the entire system piping network. Smaller bore piping can also be used compared to standard inert gas systems. Both features present easier system installation and decreases the overall cost of the system installation.
According to a leading inert gas manufacturer, a systems peak flow rate occurs at 2 to 4 seconds into the discharge and is generally two to three times the average flow rate. As the pressure in the cylinder decays during the discharge, the orifice will continue to drop pressure in the same ratio, thus at approximately half the cylinder pressure the pipework pressure has dropped to 30 bar and the nozzle pressure to 10 bar. The use of orifice plates results in a very fast discharge rate initially and a very slow rate at the end of the discharge which at that point the extinguishing concentration is achieved.
NFPA and ISO standards require that 95% of the extinguishing concentration must be achieved within a 60-second time frame. This requirement is difficult to accomplish for orifice controlled inert gas systems without implementing other design measures. One method of achieving this regulatory requirement is to increase the quantity of stored extinguishant which increases the cost of the system and results in a higher concentration within the protected space which could potentially approach the NOEAL level of concentrations. Another industry known method to achieve this regulatory requirement is to implement a discharge time from 60 down to 45 seconds which results in higher discharge flow rates. Increasing a system flow rate results in a higher-pressure drop for a given size of pipe. To achieve a comparable pressure drop along the pipe the size needs to be larger in diameter.
For more information contact Mike Smiles, Masc Solutions, +27 (0)11 608 0065, [email protected]
Credit(s)
Further reading:
Incorporate fire safety in the design phase
Fire & Safety
ASP Fire CEO Michael van Niekerk says companies can prevent their infrastructure project from going up in flames by incorporating fire safety in the design phase.
Read more...
---
Fire-fighting force at Vergelegen
Editor's Choice Fire & Safety Residential Estate (Industry)
Vergelegen wine estate in Somerset West, and its neighbours, are set to enjoy greater peace of mind this summer, thanks to the delivery of a brand new fire truck .
Read more...
---
Rhino103 extinguishing control panel
Technoswitch Fire Detection & Suppression Fire & Safety Products
Technoswitch has released the Rhino103 extinguishing control panel range, designed and manufactured in South Africa to comply with EN54 parts 2 and 4, and EN12094.
Read more...
---
Technoswitch partners with Ciqurix for video fire detection
Technoswitch Fire Detection & Suppression News Fire & Safety
Technoswitch is pleased to announce the signing of an exclusive distribution agreement with Ciqurix (UK), a leading supplier of video fire detection products.
Read more...
---
Fire protection for new Fuchs warehouse
Fire & Safety
The new warehouse at Fuchs Lubricants South Africa in Isando, Johannesburg, not only incorporates the latest technology but complies with stringent fire detection and prevention requirements.
Read more...
---
Fire-safety risks during load shedding
News Fire & Safety
The current load shedding implemented by electricity utility Eskom, as it faces unplanned breakdowns, poses a heightened fire risk for homeowners and their families.
Read more...
---
FlameSpec flame detectors from Technoswitch
Technoswitch Fire Detection & Suppression Fire & Safety
The FM-approved FlameSpec detectors address slow-growing fires and fast eruptions of fire while maintaining high performance and reliable detection in all weather and light conditions.
Read more...
---
Improved hydraulic performance and efficiency
Johnson Controls Global Products Fire & Safety
Tyco 5.8K LFII sprinkler from Johnson Controls Global Products brings improved hydraulic performance and efficiency to residential fire protection.
Read more...
---
One-bolt coupling
Johnson Controls Global Products Fire & Safety
The G-Fire One-Bolt Figure 579A is a grooved, rigid coupling ready for out-of-the-box, push-on installation including self-lubricating gaskets for a smooth installation experience.
Read more...
---
Ensure your generator is fire-safe
Fire & Safety
A backup power supply such as a genset is critical during loadshedding, however, it is vital that such important equipment is maintained properly and serviced regularly to be able to cope with outages.
Read more...
---