printer friendly version
Stop burning cash
November 2008
Fire & Safety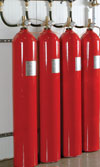 Saving money is in everyone's best interest, particularly in a very competitive fire protection industry. The Fike ProInert Fire Extinguishing System design includes a distinct pressure regulating valve assembly different than standard inert gas systems on the market. This distinct design offers pipe and installation advantages resulting in overall system costs savings.
The Fike Inert Gas System is much more sophisticated than standard decaying pressure inert gas systems. The Fike system approach is to use a discharge valve that is designed to regulate the discharge pressure of the system to a constant 650 psi (44 bar) so the pipe pressure and nozzle flow rate(s) will be consistent for the duration of the discharge. Regulating the pressure at the valve outlet permits both low pressure rated piping to be installed in the entire system piping network. Smaller bore piping can also be used compared to standard inert gas systems. Both features present easier system installation and decreases the overall cost of the system installation.
According to a leading inert gas manufacturer, a systems peak flow rate occurs at 2 to 4 seconds into the discharge and is generally two to three times the average flow rate. As the pressure in the cylinder decays during the discharge, the orifice will continue to drop pressure in the same ratio, thus at approximately half the cylinder pressure the pipework pressure has dropped to 30 bar and the nozzle pressure to 10 bar. The use of orifice plates results in a very fast discharge rate initially and a very slow rate at the end of the discharge which at that point the extinguishing concentration is achieved.
NFPA and ISO standards require that 95% of the extinguishing concentration must be achieved within a 60-second time frame. This requirement is difficult to accomplish for orifice controlled inert gas systems without implementing other design measures. One method of achieving this regulatory requirement is to increase the quantity of stored extinguishant which increases the cost of the system and results in a higher concentration within the protected space which could potentially approach the NOEAL level of concentrations. Another industry known method to achieve this regulatory requirement is to implement a discharge time from 60 down to 45 seconds which results in higher discharge flow rates. Increasing a system flow rate results in a higher-pressure drop for a given size of pipe. To achieve a comparable pressure drop along the pipe the size needs to be larger in diameter.
For more information contact Mike Smiles, Masc Solutions, +27 (0)11 608 0065, mike@mascsolutions.com
Credit(s)
Further reading:
Choosing the right fire detection system
August 2019, FDIA (Fire Detection Installers Association) , Fire & Safety
Charles Thiong'o from the FDIA highlights important factors to consider when choosing a fire detection system.
Read more...
---
Next generation BlazeCut T-series
August 2019, Technoswitch , Fire & Safety
Designed to protect small enclosed spaces with greater risk of fire, the BlazeCut T-series system is easy to install.
Read more...
---
Emergency lighting and fire detection combination
August 2019 , Fire & Safety, Products
Hochiki Europe has launched FIREscape+, a system which combines emergency lighting, fire detection and wayfinding technology.
Read more...
---
Introducing Gulf Security Technology
August 2019, UTC Fire & Security SSA , Fire & Safety
Gulf Security Technology manufactures more than 16 million detectors and modules and more than 120 thousand control panels per year, making it one of the largest fire detection manufacturers in the world.
Read more...
---
Visual alarm devices enable effective, lifesaving evacuation
August 2019, Johnson Controls , Fire & Safety
Visual alarm devices are used to supplement audio alarms, providing an effective means of alerting and evacuating occupants when a fire emergency occurs.
Read more...
---
Condensed aerosol fire suppression
August 2019, Technoswitch , Fire & Safety
] The Stat-X condensed aerosol fire suppression product, distributed by Technoswitch, is one possible solution for fires in battery energy storage systems.
Read more...
---
Video-based fire and smoke detection
August 2019, Secutel Technologies , Fire & Safety
AxxonSoft has developed an early fire notification system based on intelligent video technology.
Read more...
---
Fire prevention at the highest level
August 2019, Securiton , Fire & Safety
The SecuriFire fire detection system fulfils every safety requirement in both small businesses and large corporations.
Read more...
---
Vehicle fire detection and suppression systems
August 2019, Technoswitch , Fire & Safety
The FireDETEC Compact Line system offered by Technoswitch is a complete, engineered fire detection and suppression system designed to protect engine compartments against fire.
Read more...
---
Fire suppression systems for data centres
August 2019, Fidelity ADT Security , Fire & Safety
Fire suppression has changed substantially and managers must consider a range of different factors when it comes to their data centre fire suppression systems.
Read more...
---