printer friendly version
Authorisation for Africa
April 2006
Access Control & Identity Management

African Bank was looking to install new biometric fingerprint readers at its branches for the purpose of loan application authorisation. The ideal solution was to be cost-effective and at the same time provide enhanced system benefits over the existing system in order to satisfy customer expectations. The bank is a publicly listed company on the JSE, has annual sales in excess of R5,4 billion and employs 2500 permanent staff members and 1900 on contract.
Systems and needs
The technology in use at the time was too slow at providing an authentic verification and needed to be upgraded. African Bank needed to develop proprietary software to integrate into their custom applications. The new proposed solution had to be user-friendly with simple operating functionality. The system needed to be speedily and effectively rolled out to hundreds of branches with central download functionality. Technology needed to operate on a Windows platform and integrate into the software application currently operating over the WAN. Simple plug-and-play technology was required for simple swap out and minimising of system downtime in the case of any reader failure. A secure authentication environment over the WAN was required.
Limtech Biometric Solutions did a full evaluation of the existing set-up and made the necessary recommendations and system implementations.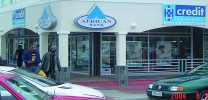 Project definition and scope
The project involved the installation of Digital Persona UrU biometric fingerprint readers at every African Bank branch so that the managers are able to authorise loan applications. A central database of all managers at each branch is maintained at head office, and authentication of the manager occurs at head office over the company WAN, using JAVA and WEB browser technology.
Once the manager has processed the application, an authenticated review is dispersed.
An audit trail of all management authentications for application review is maintained.
The Digital Persona UrU Windows-based USB fingerprint scanner features an optical camera lens with 500dpi resolution and silicon membrane protection for durability and optimum image capture. The scanner proposed offers rotation invariant functionality enabling a user to place his finger at any angle on the scanner to achieve a match. It offers 128-bit encryption of all fingerprint templates over the WAN creating a secure environment. Limtech provided a Software Development Kit allowing for a customised proprietary solution to be developed.
As a custom software development house, Limtech was able to offer resources and support to African Bank and assist where required in developing the solution and hardware integration.
Limtech was also able to offer extended hardware warranties over and above standard 12-month product warranties.
Protective fingerprint scanner casings and protective PC mounting brackets where required to protect the hardware.
As the first phase of the project, the solution has been rolled out to 320 African Bank branches.
For more information contact Chris Snell, Limtech Biometric Solutions, 011 268 5511, limtech@limtech.co.za, www.limtech.co.za or Johan Hattingh, African Bank, 011 256 9886, www.africanbank.co.za
Further reading:
Protecting our most vulnerable
Access Control & Identity Management
In a nation grappling with the distressing rise in child kidnappings, the need for innovative solutions to protect our infants has never been more critical. South Africa finds itself in the throes of a child abduction pandemic.
Read more...
---
New generation of cyber-focused controllers
Gallagher News & Events Access Control & Identity Management Products & Solutions
The C7000 gives users an opportunity to leverage their hardware and firmware to build a platform designed to catapult their organisation into the future, with cybersecurity baked in from inception.
Read more...
---
New T&A terminal features revolutionary AI technology
Suprema News & Events Access Control & Identity Management AI & Data Analytics
Suprema has launched BioStation 2a, the world's first deep learning-based fingerprint recognition solution, providing powerful access control features and an improved ability to extract templates from low-quality fingerprints.
Read more...
---
Unlocking efficiency and convenience
OPTEX Access Control & Identity Management
The OVS-02GT vehicle detection sensor is the newest member of OPTEX's vehicle sensor range, also known as 'virtual loop', and offers reliable motion detection of cars, trucks, vans, and other motorised vehicles using microwave technology.
Read more...
---
Access to data centre secured
Suprema Access Control & Identity Management Infrastructure
GBM required a modern access control system to increase the security of its facilities in a productive environment without affecting the operation of the offices and the data centre, which are carried out 24/7/365.
Read more...
---
Enhanced security at Xanadu Nature Estate
Turnstar Systems Access Control & Identity Management Products & Solutions
Turnstar Systems recently installed two bicycle turnstiles at the 240-hectare Xanadu Nature Estate, set in the Magaliesberg, the perfect location for secure communal living catering to the lifestyle of residents.
Read more...
---
Digital identity verification checks to pass 70 billion in 2024
Access Control & Identity Management News & Events
A new study from Juniper Research has found that the number of digital identity verification checks will surpass 70 billion in 2024, growing 16% on the previous year's number of 61 billion.
Read more...
---
Reliable access management for famous film location
Paxton Access Control & Identity Management Residential Estate (Industry)
The Royal Connaught Park features a private swimming pool, health and fitness suite, outdoor tennis court and onsite parking, with over 100 residents coming and going every day.
Read more...
---
Smart opener for gates and garages
Smart Home Automation Access Control & Identity Management
The Smart Gate and Garage Opener allows consumers to control and monitor gates and garage doors that have already been fitted with automation devices via the Yale Home app on their smartphone.
Read more...
---
Mobile access to multiple locations
Suprema Access Control & Identity Management Products & Solutions
A central security network was used to link multiple sites across VPN connections to allow the Suprema CoreStations installed at various locations to talk to the remote server.
Read more...
---