printer friendly version
Chemical indicator for first responders
December 2004 Fire & Safety, Access Control & Identity Management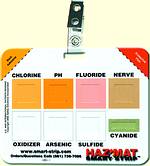 A new product for first responders and other special teams has just been introduced to South Africa. Called the HazMat Smart-Strip, it is a disposable reagent strip card featuring a number of reagent squares which change colour when exposed to very low levels of dangerous chemicals. These include chlorine (and bromine), oxidising agents, cyanide, fluorides, sulphides, arsenic, as well as nerve and mustard gases (chemical warfare agents). Also included on the strip is a pH indicator that changes colour if the pH level moves above or below 7,0. The product has been tested by an ISO 17025 laboratory and by the US military.
The chemical detection 'warning badge' can be stored for up to two years and on activation will remain operational for up to 12 hours. It has been adopted by police, fire departments, emergency response vehicles (ambulances), hazardous material teams and the military. While the latter have electronic systems for the detection of chemical warfare agents these expensive systems are not currently provided to every soldier so the Smart-Strip provides early warning for the individual. The Smart-Strip is also used in hospital emergency rooms to cope with the problem of the admission of a contaminated patient, and by some airlines to ensure that contaminated cargo or luggage is not loaded onto an aircraft.
The Smart-Strip comes with a peel and stick backing or it can be clipped to the user's clothing. The eight reagents are self-contained and are activated by removing the protective covering. Identification of the presence of a harmful substance is made easy as each indicator layer is surrounded by a colour standard. Changes from this standard indicates presence of the substance, with oxidisers for example deviating from white to a blue/violet colour and the presence of cyanide causing a transition from green to blue. Reaction time to exposure is effectively instantaneous.
Further reading:
CathexisVision integrated with Suprema's BioStar2
Technews Publishing News Access Control & Identity Management Integrated Solutions
This integration uses BioStar2 access control events to trigger automated actions on the CathexisVision system, including alerts, recording a camera and commands such as locking and unlocking doors, and clearing an alarm.
Read more...
---
Linux-based biometric access control
ZKTeco Products Access Control & Identity Management
The SpeedFace M4 is a Linux-based multi-biometric access control and time attendance terminal with visible light facial recognition and palm verification.
Read more...
---
Paxton promotes Dan Drayton
News Access Control & Identity Management Integrated Solutions
Dan Drayton has been promoted to divisional director – EMEA Sales Region for Paxton, the international security technology manufacturer.
Read more...
---
Salient Systems manages campus security
Education (Industry) CCTV, Surveillance & Remote Monitoring Access Control & Identity Management
The University of Massachusetts Amherst relies on Salient Systems for video, access control operations for flagship campus as it standardises on IP surveillance.
Read more...
---
Workplace fire detection: early warning is key
Fire & Safety
Workplace fire detection systems should be correctly installed and regularly tested to ensure they provide proper cover and are able to assist staff members to safely escape and alert you before a fire becomes an inferno.
Read more...
---
QR Code passwordless authentication method
News Access Control & Identity Management Products
LogMeOnce introduces a patented QR Code passwordless authentication method allowing users to scan a code with their mobile device for secure authentication.
Read more...
---
Improving biometrics to address privacy, scale and accuracy
Editor's Choice Access Control & Identity Management News
CryptoNets uses artificial intelligence and a new type of encryption; it is very fast, locating a face among countless others in milliseconds without the need to have any other data to narrow the search.
Read more...
---
Gallagher announces ISO 27001 certification
Gallagher News Access Control & Identity Management
Gallagher has announced it has achieved ISO 27001 accreditation, a standard that ensures organisations protect their information in a systematic and efficient way, through a comprehensive Information Security Management System (ISMS).
Read more...
---
Fire safety in financial organisations
Financial (Industry) Fire & Safety
The data that drives modern finance is physically stored and processed by banks of equipment in cabinets where they give off a significant amount of heat as a side effect to their furious electronic activity.
Read more...
---
ZYTEQ Fire offers EN54 certified range
ZYTEQ Fire Fire & Safety
Cape Town-based ZYTEQ Fire, a manufacturer and supplier of electronic fire detection equipment, offers a range of addressable, conventional and extinguishing equipment that is certified in Europe to the EN54 standards.
Read more...
---