printer friendly version
Chemical indicator for first responders
December 2004
Fire & Safety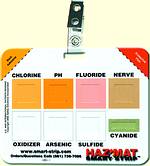 A new product for first responders and other special teams has just been introduced to South Africa. Called the HazMat Smart-Strip, it is a disposable reagent strip card featuring a number of reagent squares which change colour when exposed to very low levels of dangerous chemicals. These include chlorine (and bromine), oxidising agents, cyanide, fluorides, sulphides, arsenic, as well as nerve and mustard gases (chemical warfare agents). Also included on the strip is a pH indicator that changes colour if the pH level moves above or below 7,0. The product has been tested by an ISO 17025 laboratory and by the US military.
The chemical detection 'warning badge' can be stored for up to two years and on activation will remain operational for up to 12 hours. It has been adopted by police, fire departments, emergency response vehicles (ambulances), hazardous material teams and the military. While the latter have electronic systems for the detection of chemical warfare agents these expensive systems are not currently provided to every soldier so the Smart-Strip provides early warning for the individual. The Smart-Strip is also used in hospital emergency rooms to cope with the problem of the admission of a contaminated patient, and by some airlines to ensure that contaminated cargo or luggage is not loaded onto an aircraft.
The Smart-Strip comes with a peel and stick backing or it can be clipped to the user's clothing. The eight reagents are self-contained and are activated by removing the protective covering. Identification of the presence of a harmful substance is made easy as each indicator layer is surrounded by a colour standard. Changes from this standard indicates presence of the substance, with oxidisers for example deviating from white to a blue/violet colour and the presence of cyanide causing a transition from green to blue. Reaction time to exposure is effectively instantaneous.
Further reading:
Fire Beam Xtra covers up to 160 metres
October 2019, Technoswitch , Products, Fire & Safety
The Fire Beam overcomes traditional beam detection challenges where building movement and accessibility made beam detection unreliable and laborious to commission and maintain.
Read more...
---
Emergency voice communication system
October 2019, Technoswitch , Products, Fire & Safety
The Technoswitch Emergency Voice Communication Systems concept offers fire telephone and disabled refuge systems, as well as integrating emergency assist alarm systems in a single solution.
Read more...
---
Fast detection of smoke and flames
October 2019, Bosch Building Technologies , Editor's Choice, CCTV, Surveillance & Remote Monitoring, Fire & Safety
Video-based fire detection AVIOTEC from Bosch has been optimised for tunnels to provide early and reliable detection of smoke and flames in these dark environments.
Read more...
---
Choosing the right fire detection system
August 2019, FDIA (Fire Detection Installers Association) , Fire & Safety
Charles Thiong'o from the FDIA highlights important factors to consider when choosing a fire detection system.
Read more...
---
Local security technology manufacturer
August 2019, Technoswitch , Fire & Safety
Technoswitch, a South-African manufacturer, importer and distributor of fire detection and suppression equipment turned 45 this year.
Read more...
---
Fire detection and suppression for server cabinets
August 2019, Technoswitch , Fire & Safety
The TEC601, designed and manufactured by Technoswitch, is an all-in-one fire and extinguishing rack-mountable control system designed to protect electronic equipment in 19-inch server room cabinets.
Read more...
---
ORYX conventional fire panel range
August 2019, Technoswitch , Fire & Safety
The ORYX range of conventional panels from Technoswitch offers 2, 4 and 8 zone options, including weatherproof versions (with or without DIN rail) specifically suited to industrial applications.
Read more...
---
Next generation BlazeCut T-series
August 2019, Technoswitch , Fire & Safety
Designed to protect small enclosed spaces with greater risk of fire, the BlazeCut T-series system is easy to install.
Read more...
---
Emergency lighting and fire detection combination
August 2019 , Fire & Safety, Products
Hochiki Europe has launched FIREscape+, a system which combines emergency lighting, fire detection and wayfinding technology.
Read more...
---
Introducing Gulf Security Technology
August 2019, UTC Fire & Security SSA , Fire & Safety
Gulf Security Technology manufactures more than 16 million detectors and modules and more than 120 thousand control panels per year, making it one of the largest fire detection manufacturers in the world.
Read more...
---