printer friendly version
Chemical indicator for first responders
December 2004
Fire & Safety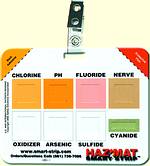 A new product for first responders and other special teams has just been introduced to South Africa. Called the HazMat Smart-Strip, it is a disposable reagent strip card featuring a number of reagent squares which change colour when exposed to very low levels of dangerous chemicals. These include chlorine (and bromine), oxidising agents, cyanide, fluorides, sulphides, arsenic, as well as nerve and mustard gases (chemical warfare agents). Also included on the strip is a pH indicator that changes colour if the pH level moves above or below 7,0. The product has been tested by an ISO 17025 laboratory and by the US military.
The chemical detection 'warning badge' can be stored for up to two years and on activation will remain operational for up to 12 hours. It has been adopted by police, fire departments, emergency response vehicles (ambulances), hazardous material teams and the military. While the latter have electronic systems for the detection of chemical warfare agents these expensive systems are not currently provided to every soldier so the Smart-Strip provides early warning for the individual. The Smart-Strip is also used in hospital emergency rooms to cope with the problem of the admission of a contaminated patient, and by some airlines to ensure that contaminated cargo or luggage is not loaded onto an aircraft.
The Smart-Strip comes with a peel and stick backing or it can be clipped to the user's clothing. The eight reagents are self-contained and are activated by removing the protective covering. Identification of the presence of a harmful substance is made easy as each indicator layer is surrounded by a colour standard. Changes from this standard indicates presence of the substance, with oxidisers for example deviating from white to a blue/violet colour and the presence of cyanide causing a transition from green to blue. Reaction time to exposure is effectively instantaneous.
Further reading:
Self-test for fire alarms
Issue 4 2020 , Fire & Safety
Johnson Controls notification appliance self-test technology receives UL Verification Mark.
Read more...
---
New FireClass addressable fire alarm panels
Issue 4 2020 , Fire & Safety
Johnson Controls has introduced two new FireClass addressable fire alarm panels, the FC702 and FC708, to its range of fire detection solutions.
Read more...
---
University of Sudan tackles heat and dust with life safety solutions
Issue 4 2020, Hochiki Europe , Fire & Safety
To guarantee the safety of students, staff and visitors, Sudan University chose fire safety devices from Hochiki with the ability to withstand the harsh Sudanese environment.
Read more...
---
Managing the fire risk of transformer explosions
Issue 2 2020 , Fire & Safety
While a simple solution is to install adequate fire detection and suppression systems, this is hampered by the lack of necessary funding.
Read more...
---
Fire safety critical in healthcare
Issue 2 2020, Spero Sensors & Instruments, Technews Publishing , Fire & Safety
Healthcare organisations have a lot on their collective plates and it can be easy to overlook security issues in favour of more pressing demands.
Read more...
---
Fire alarms at sea
Issue 2 2020, Technoswitch , Fire & Safety
Technoswitch now offers marine approved conventional control panels from Haes, aimed at fire safety for all small to medium seafaring vessels.
Read more...
---
Kitchen fire suppression systems
Issue 2 2020, Technoswitch , Fire & Safety
Technoswitch has announced the addition of new 16 litre and 25 litre systems to its range of automatic kitchen fire detection and suppression systems.
Read more...
---
Fire detection for battery charging rooms
Issue 2 2020, FDIA (Fire Detection Installers Association) , Fire & Safety
Battery charging rooms pose fire explosion risks due to the presence of hydrogen gas produced when lead-acid batteries are being charged.
Read more...
---
Technology can help people in high-risk evacuations
Issue 2 2020 , Fire & Safety
Commercial buildings must not only be prepared for the possibility of a fire because they face newer threats - including terrorism, civil unrest and extreme weather.
Read more...
---
Fire Beam Xtra covers up to 160 metres
October 2019, Technoswitch , Products, Fire & Safety
The Fire Beam overcomes traditional beam detection challenges where building movement and accessibility made beam detection unreliable and laborious to commission and maintain.
Read more...
---