printer friendly version
Biometrics integration into the security DVR
June 2004
Access Control & Identity Management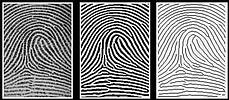 Vision Catcher can integrate facial, fingerprint, iris and hand mapping recognition solutions with CCTV, access control and other options. Not only are users able to check the database for the name of the person who went through the door on a particular date and time, but they can now see what happened directly before and after entry. Vision Catcher has a number of integration options offering users the ability to scale their solutions as needed.
Biometrics is one of the many buzz words in the security industry. In fact it is a buzz word across all sectors of business as the applications are numerous.
What are the key items of biometrics?
Retinal scans, iris scans, facial recognition, hand geometry, vein geometry, voice recognition.
A biometric is the automated use of physiological or behavioural characteristics to determine or verify a person's identity. Physiological biometrics are based on a direct measurement of a part of the human body such as a fingerprint. Behavioural biometrics are based on measurements and data taken from an action of a person such as a signature analysis.
Take the hundreds of mine workers going on and off shifts and the need to accurately check who is there, not only for safety reasons but for salary payments. What about the entry and exit points at border posts, airports, train stations etc - they all need to verify people's true identities.
Worldwide, we have already seen the tightening of identification with the new drivers' licence cards, the change in ID books and the move towards a smartcard society. Biometrics covers the main elements of fingerprint, iris, hand geometry and facial recognition among others. All of these in the right conditions work, however, it is in the poorer conditions that you can really test the abilities of the different biometric software available and where one software might be better than the other. For example some of the shortfalls of the various readers are:
* Fingerprint readers in heavy industry where manual labour often eradicates the whorls of a person's fingertips - in this case there are few readers that will accept the print.
* Iris readers take time and if there is a large movement of people it may not be cost-effective.
* Facial recognition has many areas of concern such as skin hue, camera position, facial position and available light on the face.
The volume of people checked has a dramatic effect on the use of various biometric solutions. From a group of 1 million people you may find as many as 40-100 fingerprints giving the same ID. Although a combination of fingerprint, iris, facial and hand geometry can go a long way to reducing the odds of a misread, integrating biometrics into CCTV really comes to its fore in combating these above shortfalls.
Combining access control with biometrics
Vision Catcher's DVR has the ability of combining access control with biometrics and verifying this information with the standard function of high quality images recorded onto the DVR from the CCTV cameras. A single click can identify a suspicious-looking person through fingerprint or iris identification at the relevant checkpoint. The Vision Catcher solution is able to link the access control database and through taking snapshots from multiple CCTV cameras compare with a high percentage of accuracy the identity of the person shown. In addition, live feeds can confirm the person walking past the camera and raise an alarm or give a greeting before the information is even recorded. Combine all of this into one active database and it amounts to an audit trail for reports on the key event and time of such plus a history of identification.
On a personal confirmation test, Niall Beazley, managing director of Vision Catcher, tested the biometrics on 10-year-old identical triplets. Teachers and family, except for their mum and dad, are tricked by the girls as they love swapping names, but they could not trick the biometrics. Each and every time it came up with the correct name for the correct child.
"Integration is the way forward," says Beazley, "because as your requirements grow, then you just have to add the required software to your security DVR instead of having to continually buy more hardware for each and every application. Vision Catcher's DVRs are designed to run on software which is non-proprietary meaning it has an open architecture format to accommodate easy integration into other platforms such as number plate recognition, access control, management information systems and biometrics."
Credit(s)
Further reading:
Smart parking management platform
Access Control & Identity Management Asset Management, EAS, RFID
Parket builds a seamless bridge between supply and the ever-increasing, but fluid – and often temporary – demand for parking bays.
Read more...
---
Visible-light facial recognition terminal
ZKTeco Access Control & Identity Management Products
The SpeedFace-V5L [P] is a visible-light facial recognition terminal using intelligently engineered facial recognition algorithms and the latest computer vision technology.
Read more...
---
Facial and palm verification
ZKTeco Access Control & Identity Management Products
The ProFace X [P] supports both facial and palm verification, with a large capacity and rapid recognition.
Read more...
---
Glide Master High Security 90° Sliding Gate
BoomGate Systems Access Control & Identity Management Products
Boomgate Systems was asked to make a sliding gate that can turn 90 degrees. The gate had to offer high security and be vandal-proof.
Read more...
---
Informing, entertaining and communicating across your landscape
Evolving Management Solutions Access Control & Identity Management
For the first time, the attraction of large shopping malls with many stores, entertainment and food courts no longer offers enough appeal to attract customers.
Read more...
---
Suprema's new BioStation 3
Suprema Access Control & Identity Management Products
The brand new BioStation 3 is not only Suprema's smallest face recognition device to date, but it also comes packed with the largest variety of features.
Read more...
---
Suprema renews international privacy and security standard certifications
Suprema News Access Control & Identity Management
Suprema has simultaneously renewed two important international standard certifications regarding information security management (ISO/IEC 27001) and privacy information management (ISO/IEC 27701).
Read more...
---
SuperVision biometric access control
Integrated Solutions Access Control & Identity Management Products
SuperVision is a time & attendance (T&A) biometric access control system Fourier IT has been developing and enhancing for 18 years.
Read more...
---
Manage energy usage with Paxton access control
Paxton Access Control & Identity Management Products
Paxton provides access control systems that can integrate with existing infrastructure and manage a building's energy-consuming activities to save energy and costs.
Read more...
---
Why Multi-Factor Authentication, universal ZTNA and Zero Trust matter
Access Control & Identity Management Cyber Security
Malicious cyber actors are experimenting with new attack vectors and increasing the frequency of zero-day and other attacks, according to Fortinet's 1H 2022 FortiGuard Labs Threat Landscape report.
Read more...
---