printer friendly version
Fire-SA takes the fire industry to the web
March/April 2000
Fire & Safety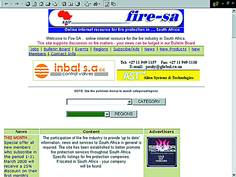 Fire-SA has launched a new online fire protection resource website, www.fire-sa.co.za, which is intended to list all the fire protection companies, associations and institutions in South Africa. This site will be a useful reference for fire professionals, architects, engineers, buyers and the general public to find fire services both nationally and regionally.
Says Fire-SA's Tony Botha, "The website will also provide information, news, events and new products relating to the fire industry. The website will function as a search engine for fire resources but will also be informative in content to promote the fire industry."
Adds Botha, "The fire industry is extremely diverse - from the servicing of portable fire extinguishers, to installation of computer-based laser fire detection systems, to supply of fire extinguishing agents, to manufacture of fire engines, to installation of sprinkler and deluge water systems. There are institutes, associations and interest groups who individually look after certain aspects of the fire industry, as well as fire reinsurers and fire consultants deal in a risk management environment."
"The introduction of the Fire-SA website merges all of these sectors into one information base, with all companies operating in the fire industry listed by category and region," says Botha.
"Traditional search engines concentrate on category listings or search keywords to find information. As the fire industry is not regarded as a major industry sector it is usually slotted under generic categories such as Safety or Security. Our site offers information for a specific industry ONLY. You want a job in the fire industry or you are a company looking for personnel with knowledge in the industry, you can come to our site Fire-SA," he says.
"All leading fire companies need to be listed because this is where future fire industry requirements will be sourced," he concludes.
For details contact Tony Botha on tel: (011) 609 9016, email: [email protected] or visit www.fire-sa.co.za
Further reading:
Rhino103 extinguishing control panel
Technoswitch Fire Detection & Suppression Fire & Safety Products
Technoswitch has released the Rhino103 extinguishing control panel range, designed and manufactured in South Africa to comply with EN54 parts 2 and 4, and EN12094.
Read more...
---
Technoswitch partners with Ciqurix for video fire detection
Technoswitch Fire Detection & Suppression News Fire & Safety
Technoswitch is pleased to announce the signing of an exclusive distribution agreement with Ciqurix (UK), a leading supplier of video fire detection products.
Read more...
---
Fire protection for new Fuchs warehouse
Fire & Safety
The new warehouse at Fuchs Lubricants South Africa in Isando, Johannesburg, not only incorporates the latest technology but complies with stringent fire detection and prevention requirements.
Read more...
---
Fire-safety risks during load shedding
News Fire & Safety
The current load shedding implemented by electricity utility Eskom, as it faces unplanned breakdowns, poses a heightened fire risk for homeowners and their families.
Read more...
---
FlameSpec flame detectors from Technoswitch
Technoswitch Fire Detection & Suppression Fire & Safety
The FM-approved FlameSpec detectors address slow-growing fires and fast eruptions of fire while maintaining high performance and reliable detection in all weather and light conditions.
Read more...
---
Improved hydraulic performance and efficiency
Johnson Controls Global Products Fire & Safety
Tyco 5.8K LFII sprinkler from Johnson Controls Global Products brings improved hydraulic performance and efficiency to residential fire protection.
Read more...
---
One-bolt coupling
Johnson Controls Global Products Fire & Safety
The G-Fire One-Bolt Figure 579A is a grooved, rigid coupling ready for out-of-the-box, push-on installation including self-lubricating gaskets for a smooth installation experience.
Read more...
---
Ensure your generator is fire-safe
Fire & Safety
A backup power supply such as a genset is critical during loadshedding, however, it is vital that such important equipment is maintained properly and serviced regularly to be able to cope with outages.
Read more...
---
Technoswitch Awards dinner for 2022
Technews Publishing News Fire & Safety
Technoswitch hosted its fifth awards dinner at Montecasino in September, where customers and suppliers celebrated a year of success.
Read more...
---
Mass transportation requires massive security
Fire & Safety
The technologies and design styles behind transit hubs may have changed over the years, but from a fire safety perspective the threats have remained constant.
Read more...
---