printer friendly version
Fire-SA takes the fire industry to the web
March/April 2000
Fire & Safety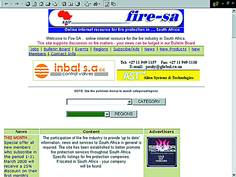 Fire-SA has launched a new online fire protection resource website, www.fire-sa.co.za, which is intended to list all the fire protection companies, associations and institutions in South Africa. This site will be a useful reference for fire professionals, architects, engineers, buyers and the general public to find fire services both nationally and regionally.
Says Fire-SA's Tony Botha, "The website will also provide information, news, events and new products relating to the fire industry. The website will function as a search engine for fire resources but will also be informative in content to promote the fire industry."
Adds Botha, "The fire industry is extremely diverse - from the servicing of portable fire extinguishers, to installation of computer-based laser fire detection systems, to supply of fire extinguishing agents, to manufacture of fire engines, to installation of sprinkler and deluge water systems. There are institutes, associations and interest groups who individually look after certain aspects of the fire industry, as well as fire reinsurers and fire consultants deal in a risk management environment."
"The introduction of the Fire-SA website merges all of these sectors into one information base, with all companies operating in the fire industry listed by category and region," says Botha.
"Traditional search engines concentrate on category listings or search keywords to find information. As the fire industry is not regarded as a major industry sector it is usually slotted under generic categories such as Safety or Security. Our site offers information for a specific industry ONLY. You want a job in the fire industry or you are a company looking for personnel with knowledge in the industry, you can come to our site Fire-SA," he says.
"All leading fire companies need to be listed because this is where future fire industry requirements will be sourced," he concludes.
For details contact Tony Botha on tel: (011) 609 9016, email: admin@fire-sa.co.za or visit www.fire-sa.co.za
Further reading:
Fire Beam Xtra covers up to 160 metres
October 2019, Technoswitch , Products, Fire & Safety
The Fire Beam overcomes traditional beam detection challenges where building movement and accessibility made beam detection unreliable and laborious to commission and maintain.
Read more...
---
Emergency voice communication system
October 2019, Technoswitch , Products, Fire & Safety
The Technoswitch Emergency Voice Communication Systems concept offers fire telephone and disabled refuge systems, as well as integrating emergency assist alarm systems in a single solution.
Read more...
---
Fast detection of smoke and flames
October 2019, Bosch Building Technologies , Editor's Choice, CCTV, Surveillance & Remote Monitoring, Fire & Safety
Video-based fire detection AVIOTEC from Bosch has been optimised for tunnels to provide early and reliable detection of smoke and flames in these dark environments.
Read more...
---
Choosing the right fire detection system
August 2019, FDIA (Fire Detection Installers Association) , Fire & Safety
Charles Thiong'o from the FDIA highlights important factors to consider when choosing a fire detection system.
Read more...
---
Local security technology manufacturer
August 2019, Technoswitch , Fire & Safety
Technoswitch, a South-African manufacturer, importer and distributor of fire detection and suppression equipment turned 45 this year.
Read more...
---
Fire detection and suppression for server cabinets
August 2019, Technoswitch , Fire & Safety
The TEC601, designed and manufactured by Technoswitch, is an all-in-one fire and extinguishing rack-mountable control system designed to protect electronic equipment in 19-inch server room cabinets.
Read more...
---
ORYX conventional fire panel range
August 2019, Technoswitch , Fire & Safety
The ORYX range of conventional panels from Technoswitch offers 2, 4 and 8 zone options, including weatherproof versions (with or without DIN rail) specifically suited to industrial applications.
Read more...
---
Next generation BlazeCut T-series
August 2019, Technoswitch , Fire & Safety
Designed to protect small enclosed spaces with greater risk of fire, the BlazeCut T-series system is easy to install.
Read more...
---
Emergency lighting and fire detection combination
August 2019 , Fire & Safety, Products
Hochiki Europe has launched FIREscape+, a system which combines emergency lighting, fire detection and wayfinding technology.
Read more...
---
Introducing Gulf Security Technology
August 2019, UTC Fire & Security SSA , Fire & Safety
Gulf Security Technology manufactures more than 16 million detectors and modules and more than 120 thousand control panels per year, making it one of the largest fire detection manufacturers in the world.
Read more...
---