printer friendly version
Schlumberger introduces corporate ID smartcard for secure network and building access
March/April 2000
Access Control & Identity Management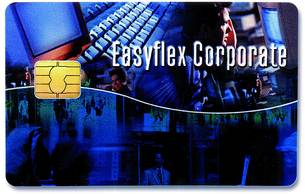 In order to meet the growing security concerns of the corporate market, Schlumberger has introduced Easyflex Corporate, a new dual interface contact/contactless smartcard which facilitates secure access to the real – and virtual – desk. The card controls physical access to offices, buildings and car parks through its contactless interface and logical access to computers, servers and networks through its ultra-secure contact interface.
The Easyflex Corporate smartcard provides the security inherent to public key infrastructure (PKI) cryptography, creating a highly portable ID system for controlling and monitoring network access.
Digital ID
Management functions provide links between the smart ID cards and servers through user authentication. Digital signatures reduce the risk of fraud and allow for authentication of users, providing nonrepudiation. Encryption capabilities enhance data security and secure access to sensitive information. Both signature and encryption operations are protected by a PIN code. Confidential information stored on the card cannot be read by other applications, eliminating the risk of compromising the user's digital credentials.
Multipurpose corporate ID card
Schlumberger began using the Easyflex Corporate smartcard as its own multipurpose corporate ID card in five international locations earlier this year, including its Austin, Texas and Montrouge, France campuses, where it is being used to control access to its computer networks, as well as the campus perimeter, internal buildings and areas, car parks and restaurants. The company plans on expanding the company-wide rollout to over a dozen campuses during the next 12 months. In addition to its embedded security, the new smartcard ID also includes printed employee details and photo.
"Schlumberger has leveraged its unmatched smartcard technology and award winning networking expertise to be the first company to deploy a combination network and building access solution that is highly portable, extremely secure and very easy to use," stated Jean Chevallier, Vice President, Information Technology, Schlumberger. "Our internal deployment of the Easyflex Corporate ID card reflects our strong belief that smart cards are the most effective means for increasing the security of our network."
Reduced IT costs
Along with heightened levels of security, the Easyflex Corporate card enables users to utilise a single PIN code for signing onto multiple applications - an important asset to system administrators seeking to decrease multiple password management costs associated with a high level of help desk calls. Companies can also achieve a significant reduction in information technology costs by scaling down existing network systems and eliminating the need for static passwords, the weakest element in any security model.
In addition to allowing companies to achieve secure building and network access, the Easyflex Corporate card can also be integrated into a virtual private network (VPN). The system can be used for business-to-business communication and transactions, even from remote locations, via a secure web site.
The Easyflex Corporate card combines the speed and ease-of-use of contactless operation with secure transactions. The contactless interface communicates on the 13,56 MHz carrier frequency according to the ISO 14443-Type A standard and the Mifare protocol. Operations are completed in less than 100 milliseconds and up to 10 cm distance from the reader. Supported by 8 KB of EEPROM memory, each memory sector has two 48 bit diversified keys and its own access conditions to ensure security between different applications.
Further reading:
Managing staff effectively
September 2019, dormakaba South Africa, iPulse Systems , Integrated Solutions, Access Control & Identity Management
Workforce management solutions allow organisations to track the relationship between productivity and the cost of employment, incorporating issues such as health and safety, T&A, rostering and more.
Read more...
---
Hennie Lategan joins Centurion as head of exports
September 2019, Centurion Systems , News, Access Control & Identity Management
Centurion Systems has announced the appointment of Hennie Lategan as the head of the company's exports department.
Read more...
---
New AlproMAX7 secures maximum rating
September 2019 , Access Control & Identity Management, Products
Alpro has launched a new range of ultra-secure mechanical mortice deadlocks, the AlproMAX7 which comply with BS EN 12209.
Read more...
---
ViRDI UBio Tab 5
September 2019 , Access Control & Identity Management, Products
ViRDI Distribution SA (ViRDI Africa) has announced the release of its long-awaited UBio Tablet to the South African market.
Read more...
---
Visitor access control at Ruimsig Country Club
September 2019, Elvey Security Technologies , Access Control & Identity Management, Products
Cost-effective access control solution that would control the ingress and egress of people, without hindering the traffic throughput of members.
Read more...
---
Estate-focused visitor management solution
September 2019, Vox Telecom , Access Control & Identity Management, Residential Estate (Industry)
Vox has expanded its cloud-based visitor management solution to cater specifically for the needs of small multi-dwelling unit estates and large residential estates.
Read more...
---
Biometrics control airport railroad
September 2019, Suprema , Access Control & Identity Management
63 km railroad to Incheon Airport is centrally controlled and secured by Suprema biometric hardware and software.
Read more...
---
Dual energy X-ray inspection system
September 2019, Regal Distributors SA , Products, Access Control & Identity Management
The ZKX6550 X-ray inspection system increases the operator's ability to identify potential threats; the device is designed to scan briefcases, carry-on baggage, small cargo parcels.
Read more...
---
ZKTeco parking barrier
September 2019, Regal Distributors SA , Products, Access Control & Identity Management
The PB3000 parking barrier is an ideal automatic car park barrier for parking lot and security control; it can easily integrate with revenue collection and access control systems.
Read more...
---
ZKTeco automatic bollard
September 2019, Regal Distributors SA , Products, Access Control & Identity Management
The high-quality automatic bollard is used to protect security areas from vehicle intrusion; in case of power failure, the bollard can be lowered manually.
Read more...
---