printer friendly version
Schlumberger introduces corporate ID smartcard for secure network and building access
March/April 2000
Access Control & Identity Management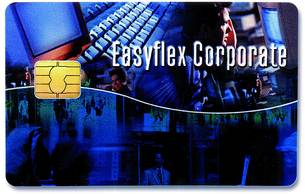 In order to meet the growing security concerns of the corporate market, Schlumberger has introduced Easyflex Corporate, a new dual interface contact/contactless smartcard which facilitates secure access to the real – and virtual – desk. The card controls physical access to offices, buildings and car parks through its contactless interface and logical access to computers, servers and networks through its ultra-secure contact interface.
The Easyflex Corporate smartcard provides the security inherent to public key infrastructure (PKI) cryptography, creating a highly portable ID system for controlling and monitoring network access.
Digital ID
Management functions provide links between the smart ID cards and servers through user authentication. Digital signatures reduce the risk of fraud and allow for authentication of users, providing nonrepudiation. Encryption capabilities enhance data security and secure access to sensitive information. Both signature and encryption operations are protected by a PIN code. Confidential information stored on the card cannot be read by other applications, eliminating the risk of compromising the user's digital credentials.
Multipurpose corporate ID card
Schlumberger began using the Easyflex Corporate smartcard as its own multipurpose corporate ID card in five international locations earlier this year, including its Austin, Texas and Montrouge, France campuses, where it is being used to control access to its computer networks, as well as the campus perimeter, internal buildings and areas, car parks and restaurants. The company plans on expanding the company-wide rollout to over a dozen campuses during the next 12 months. In addition to its embedded security, the new smartcard ID also includes printed employee details and photo.
"Schlumberger has leveraged its unmatched smartcard technology and award winning networking expertise to be the first company to deploy a combination network and building access solution that is highly portable, extremely secure and very easy to use," stated Jean Chevallier, Vice President, Information Technology, Schlumberger. "Our internal deployment of the Easyflex Corporate ID card reflects our strong belief that smart cards are the most effective means for increasing the security of our network."
Reduced IT costs
Along with heightened levels of security, the Easyflex Corporate card enables users to utilise a single PIN code for signing onto multiple applications - an important asset to system administrators seeking to decrease multiple password management costs associated with a high level of help desk calls. Companies can also achieve a significant reduction in information technology costs by scaling down existing network systems and eliminating the need for static passwords, the weakest element in any security model.
In addition to allowing companies to achieve secure building and network access, the Easyflex Corporate card can also be integrated into a virtual private network (VPN). The system can be used for business-to-business communication and transactions, even from remote locations, via a secure web site.
The Easyflex Corporate card combines the speed and ease-of-use of contactless operation with secure transactions. The contactless interface communicates on the 13,56 MHz carrier frequency according to the ISO 14443-Type A standard and the Mifare protocol. Operations are completed in less than 100 milliseconds and up to 10 cm distance from the reader. Supported by 8 KB of EEPROM memory, each memory sector has two 48 bit diversified keys and its own access conditions to ensure security between different applications.
Further reading:
Facial access control for ministry
Issue 1 2020, ZKTeco , Access Control & Identity Management
The Ministry of Culture in Saudi Arabia has adopted ZKTeco's facial recognition technology and fingerprint biometrics to manage access control into its building.
Read more...
---
New Door Pilot app from dormakaba
Issue 1 2020, dormakaba South Africa , Access Control & Identity Management
With new dormakaba Door Pilot, automated doors can also now be operated on the basis of remote control technologies. The system, comprising the Door Pilot app for smartphones and a Wi-Fi interface for ...
Read more...
---
Identity lifestyle
Issue 1 2020, Suprema , Access Control & Identity Management
Once the technology of the future, biometrics has quietly snuck into our daily lives through smartphones and access controls into our places of work.
Read more...
---
Securing BP's new head office
Issue 1 2020, ISF SFP , Access Control & Identity Management
ISF SFP was awarded the contract to secure the first development phase for Oxford Parks, the new head office for BP South Africa.
Read more...
---
Combining aesthetics and access control
Issue 1 2020, Turnstar Systems , Access Control & Identity Management
Prestigious law firm Bowman Gilfillan recently upgraded its physical security with the addition of four Turnstar Speedgate Express access control lanes.
Read more...
---
Video doorbells from Ring
Issue 1 2020 , Access Control & Identity Management
Ring has a number of video doorbells available in South Africa that run off batteries or power and enable users to answer their doors from anywhere.
Read more...
---
Centurion to unveil new product
Issue 1 2020, Centurion Systems , Access Control & Identity Management
Centurion Systems will be hosting its third Access Automation Expo this year, with dates confirmed for Durban, Johannesburg and Cape Town.
Read more...
---
Looking ahead with mobile access technologies
Access & Identity Management Handbook 2020, Technews Publishing, HID Global, dormakaba South Africa, Salto Systems Africa, Suprema, Gallagher , Access Control & Identity Management, Integrated Solutions
Given the broad use of smartphones around the world and the numerous technologies packed into these devices, it was only a matter of time before the access control industry developed technology that would ...
Read more...
---
Mobile access is more secure than card systems
Access & Identity Management Handbook 2020 , Access Control & Identity Management
The ability to use mobile phones as access credentials is one of the biggest trends in a market that historically has been slow in adopting new technology.
Read more...
---
This is the future. This is what we do.
Access & Identity Management Handbook 2020, ZKTeco , Access Control & Identity Management
ZKTeco has created a unique range of visible light facial recognition products combined with a flexible Android platform.
Read more...
---