printer friendly version
Opsis Visual Management - systems, solutions, support
May 2000
Access Control & Identity Management
Back in 1995 when Opsis Visual Management, as a local start-up company, introduced its first CCTV Surveillance Recorder, the Opsis recording system was one of very few digital video recorders available to the South African market. The Opsis brand has since become well-known for its ease of use, reliability and local support back-up.
Four years later the digital CCTV recorder market has finally come of age: new digital video recorder brands are becoming available at the rate of one to two per month. The basic technology for digital video recording is commonly available and most recorders offer the latest 'Wavelet' video compression technology and very similar recording, live monitoring and playback features.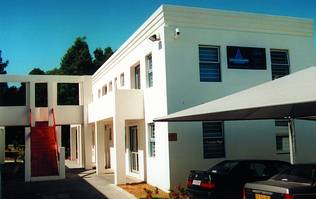 Product differentiation and quality
Whereas in the past, price differentiation was based on features, the market has become more sophisticated, judging products more on quality, effectiveness in the hands of the user and local supportability. (This trend is very similar to what happened in the personal computer market: functionally very similar products are differentiated by brand names that can be trusted over the long term. Quality, upgradeability and ongoing supportability are valued by sophisticated users and demand a premium.)
Says Margarete du Toit, "Opsis Visual Management has, from the start enforced these values in its digital video systems. It is interesting to note that now, four years later, more than 99% of Opsis systems are still in everyday use."
Opsis Visual Management has two core business divisions: Opsis Products and Opsis Solutions. The Opsis Products division encompasses the manufacturing and distribution of its digital video recorders and related products through competent security dealers throughout South Africa. The Opsis Visual Management Solutions division has the local (South African) in-house design engineering capabilities to provide customised digital video system solutions that address the full requirements spectrum: functional, integration and ongoing support and upgradability.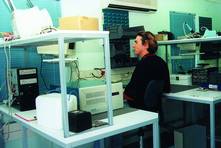 Opsis products
The Opsis digital video recorder range is available countrywide via a network of accredited dealers/installers. The Opsis product range consist of the following:
1. The Opsis cube: the well-known 8-channel digital surveillance recorder with built-in video motion detection. Product modules that enhances the functionality of the Opsis cube include:
* The Opsis remote monitoring module, allowing semi-realtime monitoring of remote camera locations via telephone line or ISDN.
* The Opsis network incorporates Opsis cube systems for the monitoring and duplex recording of up to 64 cameras via LAN.
* The Opsis backup utility, allowing DAT-based backup archiving of Opsis cube video for long-term digital video storage.
2. CashGuard, a bulk cash processing surveillance system, integrating cash counting equipment and transaction capture workstations with digital video recording systems, providing effective visual and data verification of the total cash handling and counting process.
3. ROVIN, the remote Opsis video network, allowing monitoring, duplex recording and playback via WAN. (Video-on-WAN is becoming increasingly popular, as bandwidth becomes more readily available for the transmission of live images and recorded footage.)
4. OPSIS ALPHA, a new state-of-the-art 16-channel triplex recorder based on Wavelet technology. This easy to use system has an impressive list of features and technical capabilities. Alpha offers a sampling rate of 50 images per second, multiple video motion detection trigger zones with settings for sensitivity, frame rate, recording mode and image quality. Alpha supports simplex, duplex and triplex recording and a networking capability for an unlimited amount of cameras. Alpha is available as an 8 or a 16-channel recorder.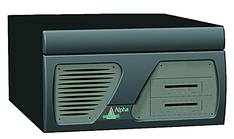 Says du Toit, "With Alpha, the user is offered an unbeatable combination of the latest technology, simplicity of installation and use, durability, reliability and expandability. This makes the Alpha recorder suitable both for advanced applications and for users who are just migrating from analogue recorders to digital recorders."
Opsis solutions
The Opsis solutions division enables customised solutions that integrate the latest digital video technology with enterprise and information management systems. With customised solutions, the focus is typically not restricted to security requirements, and benefit resource management and loss prevention on a much wider scale. Opsis products offer excellent connectivity and are ideal for the integration of digital CCTV capabilities with other systems.
"An example of such a solution is CashGuard, now also offered as a standard Opsis product," says du Toit. "The CashGuard technology provides for integrated transaction data capture and video surveillance of cash processing centres with complete traceability, and has been effectively in use countrywide by a major banking group since 1997.
"With the convergence of data and video, Opsis can offer solutions for digital video storage and bandwidth management for large-scale video systems connected over national networks. An example is the Opsis ROVIN technology, enabling allowing customised solutions for remote monitoring and playback via dial-up datalinks or WAN," she adds.
R&D and product qualification
The foundation for 'doing everything right the first time, every time' is laid in the early R&D phases. This is where the user, connectivity and supportability characteristics of a system is determined. Ensuring these features extends to component selection and qualification.
According to du Toit "quality assurance entails all the aspects of design control, document and data control, control of supplied components, process control and inspection and testing."
Production
The company's modern production facility at its factory in Techno Park near Stellenbosch, is manned by a team of dedicated technicians. The facility features fully equipped workstations for the build, testing and upgrading of systems. The production process is fully documented and system assembly is followed by a 48 h burn-in period, before the final acceptance test qualifies the system for shipment.
Support
Each system is equipped with advanced self-diagnostic and on-line support features and is data communications ready.
* Availability and quick reaction time - Very powerful remote diagnostic and remote recovery support services that can also be extended to include periodic checks via a dial-up telephone or ISDN network ensure short-reaction time support to installers and users, minimising downtime and cost of support. All Opsis digital video recorders are equipped with built-in modems that allows Opsis support personnel to diagnose and in many cases solve problems over the telephone network. This facility may also be used for remote training, commissioning assistance and on-line upgrades.
* DSM (diagnostic status monitor) - Opsis provides extensive remote support and recovery services on a contract basis to clients. With a direct telephone or ISDN link to the Opsis Monitoring Centre, the Opsis DSM unit can be used by large installations to notify a support centre (eg the Opsis National Monitoring Centre in Technopark) of changes in the functional status of any recorder.
All calls are automatically logged with date and time at the Opsis Monitoring Centre (OMC). From the OMC, support staff then connect to the relevant system and does a system check, according to pre-determined checking procedures. The Opsis System is equipped with the capability to record all the entries made by the system operator. This enables Opsis Visual Management to reduce the time required for any fault finding and to determine whether a problem is due to a system error or an operator error.
For details contact Opsis Visual Management on tel: (021) 880 0040, fax: (021) 880 0055, e-mail: opsisvmp@pixie.co.za or visit www.opsis.co.za
Further reading:
A contact-free hotel experience
Issue 7 2020, Technews Publishing , Access Control & Identity Management
Check-in and go straight to your room without stopping at the reception desk at Hotel Sky in Sandton and Cape Town.
Read more...
---
AI digitises coronavirus management
Issue 7 2020, NEC XON , Access Control & Identity Management
NEC XON is using NeoFace Watch and specialised thermography cameras to measure temperature and identify employees and visitors.
Read more...
---
Combining visual and IR face recognition
Issue 7 2020, Suprema , Access Control & Identity Management
The FaceStation F2 offers face recognition and anti-spoofing performance.
Read more...
---
Anviz unveils FaceDeep5
Issue 7 2020, ANVIZ SA , Access Control & Identity Management
Anviz Global has unveiled its new touchless facial recognition identity management and IoT biometric device.
Read more...
---
Touchless biometric options
Issue 6 2020, Entry Pro , Access Control & Identity Management
When it comes to estate access control management, the foremost topic of conversation at the moment seems to be the importance of touchless biometrics.
Read more...
---
Fast access to Kevro production facilities
Issue 6 2020, Turnstar Systems , Access Control & Identity Management
Employee and visitor access at Kevro's Linbro Park premises in Gauteng is controlled through eight Dynamic Drop Arm Barriers from Turnstar.
Read more...
---
Know your facial recognition temperature scanner
Issue 6 2020, ViRDI Distribution SA , Access Control & Identity Management
Facial recognition with temperature measurement is, for the most part, available in one of two technologies – thermopile and thermography/IRT.
Read more...
---
Suprema integrates with Paxton's Net2 access control
Issue 6 2020, Suprema , Access Control & Identity Management
Suprema has announced it has integrated its devices with Paxton's access control system, Net2.
Read more...
---
Contactless check-in at hotels
Issue 6 2020 , Access Control & Identity Management
Onity has delivered the DirectKey mobile access solution to hotel chains around the globe, which allows for contactless check-in and property access.
Read more...
---
UFace facial recognition now in SA
Issue 6 2020, Trac-Tech , Access Control & Identity Management
Trac-Tech has secured the distribution rights to the UFace range of contactless biometric facial recognition and identity management IoT devices.
Read more...
---