printer friendly version
Galaxy Control System enters enterprise class access control market with System Galaxy
May 2000
Access Control & Identity Management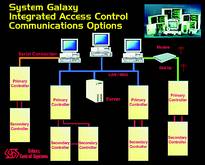 Galaxy Control Systems, a premier manufacturer of integrated access control systems, announced its entry into the enterprise access control market with the introduction of System Galaxy, an enterprise class, integrated access control solution, available exclusively through Galaxy certified dealers.
System Galaxy is a state-of-the-art, integrated access control system that operates in the Microsoft Windows NT environment. Using Galaxy's new 500 Series controller to provide powerful and flexible integrated access and security management functions, System Galaxy can operate as a single workstation solution or it can be interfaced with an existing network (LAN or WAN), saving installation time and money.
The system features:
* Multiple connectivity options: System Galaxy can operate as a standalone system or it can control multiple sites through a dial-up connection or an existing LAN/WAN. The host PC and primary control unit can communicate over a LAN/WAN via TCP/IP, allowing clients to utilise their existing network infrastructure to control and monitor their security management systems. Remote facilities can be easily integrated into the system without the expense of dedicated lines.
* System wide inputs and outputs: Intelligent controllers allow any input (ie an alarm event) or multiple inputs, to signal one or more outputs, system wide, to provide control over alarms and facility management functions, without a PC being on-line. This will allow the system to operate even in the event of a PC failure.
* Alarm dial-back: Off-line remote can automatically notify the host PC when a significant alarm occurs, eliminating the need for system operators to constantly check for alarms.
* ODBC compliant, SQL backend database: SQL (structured query language) has been standardised by the American National Standards Institute (ANSI) and the International Standards Organisation (ISO). The use of such a backend database provides several key advantages over a proprietary database design:
The database server can be changed without altering the software.
Third party report generation software can be used to generate custom reports.
Clients can use their existing database professionals for administration and support activities.
Galaxy subsystems, such as badging, CCTV and building automation can use the same database for seamless integration.
"With the introduction of System Galaxy, Galaxy certified dealers can now offer their customers a true enterprise solution. With System Galaxy's network capabilities, open architecture and database flexibility, end users can now enjoy the benefits of an integrated access management system across their entire organisation," said Rick Fournier, Managing Director of Galaxy Control Systems.
For further details contact Tom Piston on tel: (091) 301 845 6600, fax: (091) 301 898 3331, info@galaxysys.com or www.galaxysys.com
Further reading:
A contact-free hotel experience
Issue 7 2020, Technews Publishing , Access Control & Identity Management
Check-in and go straight to your room without stopping at the reception desk at Hotel Sky in Sandton and Cape Town.
Read more...
---
AI digitises coronavirus management
Issue 7 2020, NEC XON , Access Control & Identity Management
NEC XON is using NeoFace Watch and specialised thermography cameras to measure temperature and identify employees and visitors.
Read more...
---
Combining visual and IR face recognition
Issue 7 2020, Suprema , Access Control & Identity Management
The FaceStation F2 offers face recognition and anti-spoofing performance.
Read more...
---
Anviz unveils FaceDeep5
Issue 7 2020, ANVIZ SA , Access Control & Identity Management
Anviz Global has unveiled its new touchless facial recognition identity management and IoT biometric device.
Read more...
---
Touchless biometric options
Issue 6 2020, Entry Pro , Access Control & Identity Management
When it comes to estate access control management, the foremost topic of conversation at the moment seems to be the importance of touchless biometrics.
Read more...
---
Fast access to Kevro production facilities
Issue 6 2020, Turnstar Systems , Access Control & Identity Management
Employee and visitor access at Kevro's Linbro Park premises in Gauteng is controlled through eight Dynamic Drop Arm Barriers from Turnstar.
Read more...
---
Know your facial recognition temperature scanner
Issue 6 2020, ViRDI Distribution SA , Access Control & Identity Management
Facial recognition with temperature measurement is, for the most part, available in one of two technologies – thermopile and thermography/IRT.
Read more...
---
Suprema integrates with Paxton's Net2 access control
Issue 6 2020, Suprema , Access Control & Identity Management
Suprema has announced it has integrated its devices with Paxton's access control system, Net2.
Read more...
---
Contactless check-in at hotels
Issue 6 2020 , Access Control & Identity Management
Onity has delivered the DirectKey mobile access solution to hotel chains around the globe, which allows for contactless check-in and property access.
Read more...
---
UFace facial recognition now in SA
Issue 6 2020, Trac-Tech , Access Control & Identity Management
Trac-Tech has secured the distribution rights to the UFace range of contactless biometric facial recognition and identity management IoT devices.
Read more...
---