printer friendly version
Standards good for all
September 2011
News
How new standards are benefiting the world of network video surveillance.
Consumer technology has long benefited from standardisation – connecting a laptop to a monitor or projector, plugging a memory stick into a computer and even using a 3G phone oversees are all made possible thanks to industry standards. They establish uniform engineering or technical criteria that vendors agree to adhere to when manufacturing their products. Because of these standards, consumers enjoy freedom of choice, constantly – improving products and low prices when purchasing technology.
But despite the clear benefits, some business to business technology has yet to develop its own standards. The security industry is beginning to address its own shortfall in standardisation. This should give rise to great competition for best-of-breed components from which end users can choose to build their ideal surveillance system solutions.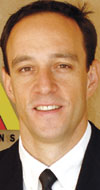 Roy Alves
Standardising video surveillance
Specifications only become standards once they have been ratified by a Standards Developing Organisation (SDO). SDOs can operate globally, regionally or nationally.
While 'standards' has a very specific meaning, the term sometimes gets applied to products that have not been ratified by an SDO. The Internet Protocols (IP version 4 and version 6), for example, were not ratified by an SDO. Rather they were specifications worked out by several companies working together. These types of specifications usually work as well as standards ratified by SDOs and often become widely accepted and deployed by the market.
In the analogue world, regional organisations NTSC (America) and PAL (Europe) have ratified standards for the video signal coming from the analogue cameras. Those standards came from the television industry in the 1950s and have made it possible for analogue cameras from multiple vendors to be used in a single system. Since the standards are regional rather than worldwide, however, vendors still need different versions of their products for different markets, which add to development, manufacturing and logistics costs.
In contrast, most standards developed for network video surveillance come from the IT industry and have the benefit of being worldwide standards.
Driving its own standards
Currently, there is no global standard defining how network video products such as cameras, video encoders and video management systems, should communicate with each other. But now standards developed within the security industry itself are on the horizon, which will complement the existing standards already deployed.
Recently several organisations have become active in the development of standards for network-connected video surveillance devices. One group is SIA (Security Industry Association), which is accredited by ANSI as a national SDO. Two other groups – ONVIF (Open Network Video Industry Forum) and PSIA (Physical Security Interoperability Alliance) – were started in 2008 and are focusing on improving compatibility by creating global open standards for the network interface between network video products. They want to define how network cameras, video encoders and video management systems communicate with one another to make it easier to integrate various brands of video equipment into a single solution. Among the IP video standards the groups plan to address are issues surrounding video streaming, device discovery and management, intelligence metadata and event handling, as well as real-time viewing and remote pan/tilt/zoom control. ONVIF is also addressing testing to ensure conformance to the standards, especially important in the early days of a new standard.
Alastair Hayfield, senior research analyst at IMS Research (www.imsresearch.com), has observed ONVIF and PSIA's rise. "The video surveillance industry has clearly decided that standards are desirable," he says. "Well over half of all video surveillance equipment sales can be attributed to companies in one or both of these standards bodies. In fact, 11 of the top 15 video surveillance vendors have joined either ONVIF or PSIA."
Benefits of standardization
The ultimate goal of these organisations is to standardise the interfaces on the network layer level of the products in terms of functions such as video streaming, intelligent metadata, and device discovery. A seamless integration of different network video surveillance products operating on this standard will be enabled regardless of brand. This will make it even easier for end-users, integrators, consultants and manufacturers to take advantage of the possibilities offered by network video solutions.
The biggest beneficiaries of standards are end users. Instead of being locked into proprietary solutions, standards allow them to pick and choose best-of-breed components from different manufacturers with confidence that all the pieces will work well together. Freedom of choice tends to increase competition between vendors, ultimately speeding delivery of better products to the market at a lower price as the market expands at an ever-higher rate. Greater product demand, higher production volumes and lower integration costs for vendors and manufacturers will also translate into lower costs for the end user.
Standardisation will also offer end users a greater level of future-proofing for their investment. The standard will ensure that inter-operable products are available from a large variety of vendors, no matter how the market develops.
The interoperability between different vendors' products, aided by the standard, will make it easier for integrators and consultants to offer their customers cost-effective and simple solutions. Installation will be simplified, regardless of brand, and there will be greater freedom to specify a system with products from different vendors, thus making it easier to fully meet the specific needs of each customer.
The benefits offered by standards to end users, integrators and consultants will result in increased interest in network video products and IP-based security/surveillance solutions. This means that the development of an industry standard is an important spur to the growth of the network surveillance industry as a whole.
Standards offer manufacturers interoperability with other products without losing the ability to differentiate products from the competition. They also present extended market opportunities, as the products/software can be easily used as a part of a global network video solution, and reduced in-house development costs.
Credit(s)
Further reading:
Compact, lightweight bullet cameras with support for analytics
Axis Communications SA Products CCTV, Surveillance & Remote Monitoring
Axis Communications announced two new outdoor-ready bullet-style cameras featuring deep-learning processing units for analytics based on deep learning on the edge.
Read more...
---
Johnny Aucamp joins iPulse exco
News
Johnny Aucamp has joined iPulse Systems as its chief sales officer (CSO), adding a massive boost to the executive team.
Read more...
---
A key to urban transport challenges
Axis Communications SA Transport (Industry) CCTV, Surveillance & Remote Monitoring Integrated Solutions Logistics (Industry)
There are many enabling technologies that can impact transportation in South Africa, but a good place to start is by considering the applications for smart physical technology with the ability to collect and respond to data.
Read more...
---
From the editor's desk: Security and resilience
Technews Publishing News
It's often said that South Africans are a resilient bunch, and history has proven this correct. When it comes to security, both cyber and physical, resilience is key to an effective defensive plan. ...
Read more...
---
Hikvision aims for solutions
Technews Publishing Hikvision South Africa Editor's Choice CCTV, Surveillance & Remote Monitoring News Integrated Solutions Conferences & Events
Hikvision recently held a roadshow titled Industry X, where the company highlighted its latest products and solutions, supported by partners and distributors.
Read more...
---
Olarm launches PRO 4G communicator
Olarm News Perimeter Security, Alarms & Intruder Detection Products
Olarm has announced an additional 4G/LTE version of its Olarm PRO smart communicator. It is aimed at areas suffering from poor connectivity by providing support for 4G, 2G and Wi-Fi networks.
Read more...
---
ADI Expo returns to South Africa
Technews Publishing ADI Global Distribution News
September saw the return of the ADI Expo to South Africa. The Johannesburg event was held at the Focus Rooms and the Durban event, two days later, at the Southern Sun Elangeni & Maharani.
Read more...
---
Technoswitch Awards dinner for 2022
Technews Publishing News Fire & Safety
Technoswitch hosted its fifth awards dinner at Montecasino in September, where customers and suppliers celebrated a year of success.
Read more...
---
Suprema joins FiRa Consortium
Suprema News Access Control & Identity Management
Suprema recently became a member of the FiRa Consortium, a consultative body that establishes standards for ultra-wideband (UWB) technology, the next generation of wireless communication.
Read more...
---
Reliable, low-maintenance video appliances
Technews Publishing Editor's Choice CCTV, Surveillance & Remote Monitoring News IT infrastructure Products
Symetrix, part of the Agera Group, has added the AES range of video recording servers, storage appliances and workstations to its portfolio.
Read more...
---