printer friendly version
Fire industry update
August 2011
Fire & Safety
While there has been no earth shattering news in the fire detection, monitoring and prevention industry over the past 12 months, there have been some subtle, but positive shifts. Hi-Tech Security Solutions spoke to companies in the industry about the trends they are seeing and the increasing focus on standards and regulations.
Trendy tidbits
Colin Kahn of Robert Bosch SA said that fire installations are still primarily driven from an insurance compliance perspective. "As such, equipment is installed to meet the minimum insurance requirements, not necessarily according to recognised minimum life safety standards.
"The focus is certainly on the protection of equipment over the need to protect human life. We expect to see legislation tightening, enforcing the installation of life safety equipment installed to the recognised standards and codes. There has been a strong movement towards integrated fire-voice evacuation systems," he said.
"Voice evacuation has the advantage over regular sounders in that confusion and panic is reduced during a fire emergency. Sirens often add to the confusion as building occupants do not know what to do during an emergency. This is especially true in public buildings where fire drills are not possible or effective. Voice evacuation enables orderly, staged evacuation with clear direction on how to proceed during the evacuation of the building," Kahn clarified.
In warehousing applications there has been a definite shift from point detection to the use of infra-red beams and aspiration smoke detection due to the ease of installation, enhanced sensitivity of new equipment and material cost savings, Kahn said.
Keith Norgate from FSIB Fire Systems said: "The coming year may be the start of changes in the industry as the SAQCC Fire has verbal approval from the Department of Labour to register persons in the fire detection and protection sectors. This means any person who works on a fire detection system or gaseous extinguishing system will have to be registered with a level competency with the SAQCC Fire.
"The competency levels of all technicians will then be tested every three to four years. This is a long-awaited development in the industry as there have never previously been any barriers of entry into this industry. Any person with a screwdriver and bakkie is able to install a life safety system at present. The registration of persons in the industry will greatly improve the quality of workmanship and the control of persons and standards within the industry," Norgate said.
"This development will eventually lead to all persons in the fire engineering sector of the fire industry being registered. The SAQCC Fire is intending to launch this process before the end of the year," he added. Another new trend surfacing in the industry, according to Norgate, is that of third-party fire installation inspections.
Mike Smiles of MASC Solutions said that one major improvement has been enforcing the use of the correctly manufactured and certified fire resistant cable. "In the past, the locally produced FR20 was the de facto cable used and this had no more fire resistive capabilities than normal PVC insulated cables. The new standard demands cable with a certified capability to maintain signal integrity for a minimum of 30 minutes for most applications. However, where critical signals are routed via the cable an enhanced, 120 minute rated cable is specified."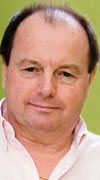 Mike Smiles
Xtralis sales director, Tony Drummond and South African regional sales manager Lauren Sher said that reduced confidence in local municipal infrastructure to respond in the event of a fire has led more businesses to ensure that they take the initiative to protect themselves. "This is achieved through the installation of detection systems and where required, suppressant gas or foam systems that exceed the minimum sprinkler requirements. There is a marginal increase in awareness in certain industries of the need for fire detection, but certainly nowhere near the levels required internationally or based on the SANS10400 Building Standards."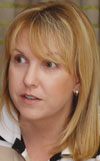 Lauren Sher
Full solution – myth or reality?
Kahn said that while most companies would be aware of the risk and need for a fire system, most would not be aware of what that entails. Fire detection is often still seen as a grudge purchase, often to fulfil insurance requirements. Few companies understand the devastation and consequence of a fire. The cost of losing or restoring data (if possible), replacement of equipment, cost of downtime and notwithstanding, the implication of loss of human life.
"Many companies rent or lease buildings and therefore the responsibility of adequate fire protection usually rests with a landlord or letting agent, whose primary focus is on the monthly income and not necessarily understanding the safety needs of that particular operation," Kahn continued. "Fire detection is not a one-solution-fits-all scenario, but should be tailored to the needs of the individual building and operation. It can regularly be seen where landlords have installed fire detection equipment, but once the tenant moves in, offices are erected to suit the tenant's requirements, but nullify the design of the fire detection system in the process. This is also rarely rectified, leading to extensive losses at the time of a fire."
He believes that there has been a mind-shift from manual systems to automated warning systems, thus voice evacuation systems are becoming more popular, allowing automated messaging when necessary, combined with manual intervention and control when the circumstance requires it.
Drummond said that although automated voice message audio warning systems are very common (and often mandatory) overseas, a typical South African system would rely on sirens or bells as the norm. "Many companies/organisation still do not fully comprehend the need for fire detection, that is, there are different levels of detection – protecting life, protecting property, protecting stock. They are also not well versed in what products are available to them to correctly address their risk and often land up with the most cost-effective solution which might not always be the optimum one," Sher added.
"More often than not, as a supplier, we do not get to speak to the end user. I think the understanding is getting there, but the willingness to install a full system is still lacking, probably due to cost. I do believe the industry is experiencing more acceptance from companies, but we have a way to go yet," said Trevor Harty of Technoswitch.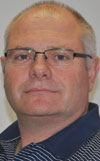 Trevor Harty
Sher added that the vertical segments where a fire event poses a significant individual threat to business continuity are more aware of the need for early action in the event of a fire. "Specific examples would be banking, telecommunications and data. The insurance market is becoming a lot more proactive in insisting that high risk sites have a fire detection system installed."
Integrated solutions
"Efficient building management is becoming not only more important, but also a more complex challenge," said Kahn. "Currently, organisations use multiple systems to monitor and control their buildings, ranging from fire and intrusion alarm to access control, video surveillance and building automation systems. Monitoring, control, administration and maintenance of all these systems can be a huge challenge because individual systems only serve individual purposes.
"To completely secure and manage a building, you need a number of functions, and if you want them all, they have to run alongside each other. This is where a solid building management system comes into play, integrating all of these components into a single, easily managed system."
Fire detection systems play an integral role in the security management arena, often representing the primary driver or pivot of the life safety aspect. It is the catalyst which will trigger a series of events – video verification of a potential fire danger situation, coupled to the access control which will free barriers and doors to allow for successful evacuation, coordinated by the voice evacuation systems. It further interfaces to the actual building automation management components, shutting off air conditioning, enabling emergency lighting and smoke extraction systems and even alerting emergency response teams to mention but a few possibilities.
"Integrated systems seem to be the way that the bigger fire systems are being designed. The need to have all the security systems monitored and controlled from one hub is coming to the forefront. We use a field server to interface into a Building Management System (BMS), where the code has been written to translate our protocol into any one of the more commonly used BMS protocols, Modbus, Bacnet, Profibus etc.," Harty said.
Product parade
"It is commonly known that distinguishing between steam, dust particles and smoke particles can be a challenge for some detectors. They also find it challenging to detect very light smoke with small particles produced by some open wood fires, particularly what are known as open cellulosic (wood) fires defined in practical tests as TF1 fires," said Kahn. "In the past, smoke from such fires could only be reliably detected using multicriteria sensors or ionisation detectors, the latter consisting of a small amount of radioactive material that detects any invisible smoke particles floating in the air and sets off an alarm.
Bosch has adopted a dual-optical approach in its new precision Dual Ray technology. Based on the Mie scattering effect; Dual Ray technology takes advantage of the effect to determine smoke density and particle size from the ratio between the intensity of scattered light from two LED sources of differing wavelength (one infra-red LED and one blue LED).
"The smoke density and particle size are used by the detector's fire-detection algorithm to provide even more reliable differentiation between smoke particles and other particles caused, for example, by disturbances such as dust and steam. This leads to earlier, more reliable fire detection and fewer false alarms," Kahn added.
He said that there is a move to less obtrusive, more compact design being implemented in fire detectors. "The improved aesthetic will result in more use being made of such fire protection, especially in public areas."
Smiles said that a number of manufacturers have made inroads with new products. "These new products include the Advanced Electronics range which are distributed with the Apollo detector protocol by Technoswitch and are offered as a turnkey solution using the AV range of devices by Masc Solutions.
"ADI offers the Kantech range of addressable and conventional fire control panels with the Apollo detection devices. Honeywell Safety Systems has launched the UL/FM listed/approved range of equipment by Notifier," he added.
The fire detection market internationally is regulated, therefore innovation does not occur at the same rate that is seen in the electronic security industry, however, some obvious improvements are:
* Analogue addressable detectors with built-in isolators, eliminating the need for separate line isolation devices.
* Increased number of line devices supported per loop, for example, some panels offer support for over 200 devices per loop when the norm has been a maximum of 128.
* Electronic sounders that support voice commands.
* Control equipment that offers greatly improved commissioning tools, such as built-in oscilloscopes to test detection line condition.
* Automated self-addressing devices.
* Standard Bacnet interfaces for linking to BMS systems.
* Greatly improved remote diagnostic and programming tools.
* Full Internet Protocol support to enable browser-based connectivity to the control equipment via the web.
"The Xtralis OSID is going to make a difference in the way beam detection will be designed in future. This is a very innovative product offering early detection and response," said Harty.
Training and standards
The Fire System Inspection Bureau (FSIB) was launched two years ago by Keith Norgate as an offshoot of his company Fire Systems Training, which provides training courses on industry standards.
Norgate said that the Automatic Sprinkler Inspection Bureau (ASIB) provides extensive training courses on water sprinkler design and most contractors provide in house training for their staff.
"Training persons on standards does not always lead to them applying these standards in the field. The establishment of an organisation providing inspection facilities of installations allows us to follow through from classroom training to the application of this knowledge into the final product," said Norgate. "There is generally resistance from people when someone wants to check their work. However, with insistence from the Fire Detection Installers Association (FDIA) that members will have a selection of their work inspected for compliance with standards and the support of the insurance industry, the FSIB has seen an increase of requests for third-party inspections. Although the first time pass rate is very low at present, the educational aspect of a third party inspection is doing a lot to educate and uplift standards within the industry.
"We are currently trying to change the perception of the FSIB being the policeman of the industry to one of assisting with the improvement of the final quality of installations. This will go a long way in allowing acceptance of third party inspections in the fire detection and gaseous extinguishing industries," he said. "Certification of systems is provided by the FSIB and ASIB. While persons with a knowledge of the fire industry accept this certification as valuable, it still has no official legal standing.
"The engineering sector of the fire industry is self-regulating via organisations like FDIA and ASIB and training is organised and conducted by them with little recognition or support from outside or government sources.
"The reason that these courses are not SAQA approved is that there is no recognised SETA that the fire industry can report to. Efforts have been made to get cooperation from the Forestry SETA, the Security SETA and various engineering SETAs, but we have no home. So no progress has been made on this front," Norgate said.
The largest problem still facing the industry is the appointment of the fire consultant.
"These are either self-professed fire experts most of whom have no official or recognised training on fire, or they are the electrical and mechanical engineers appointed for their expertise on other aspects of the building services. This leads to poorly written specifications, incorrectly designed systems and, in some cases, systems that may not work efficiently.
"The professional team controlling fire engineering generally rely on the contractor to use his experience and expertise to guide this aspect of the building services. The contractor's selection of system or product type is sometimes erroneous, leading to the large number of inferior systems abounding in the industry," Norgate added.
Smiles concurred and said that he believes the enforcement of the standards has greatly improved awareness by all involved in the fire industry including end users. "In the past, adherence to the standards was the exception rather than the rule and I believe the statistics will indicate that as high as 90% of installations carried out in the last 10 years are not compliant. The two most commonly fire Standards referenced are SANS10139 2007 and ISO 14520-1: 2008 which is the Standard for Clean Agent Fire Suppression Systems such as FM200, Novec, Inergen, ProInert and Argonite, which are the most commonly used products in SA," Smiles clarified. "The current Standard for Sound Systems for Emergency Purposes is SANS7240 part 16 and part 19 which has replaced SANS 60849:2005."
"While South African standards are comprehensive and on a par with many international codes, they fail to achieve the desired result as they are not mandatory. A closer relationship between the fire standards and the OHS act and addressing risks, identified in its context through the fire codes, would positively influence the installation of the correct level of fire system in more buildings," said Sher.
"The newest standard worth knowing about is SANS 50054-20, which classifies aspirating smoke detection systems to ensure the most cost-effective design for the risk and can assist in reducing equipment costs dramatically," Drummond explained.
"The SANS 10400 Building Standards has been updated this year and is also quite specific on the type of new buildings requiring fire detection and what level of detection is required," Sher added.
"There remains a huge problem due to the number of companies that continue to offer fire detection systems but have no expertise or knowledge of the standards and how these should be applied. The FDIA has been working very hard to increase the number of member companies, there are currently about 100 members and between them control over 80% of the sales, installation and preventative maintenance of fire detection in SA," said Smiles.
The manufacture, project design and installation of fire detection systems are regulated by SANS10139:2007. "This standard calls for the protected building to be categorised and this process determines the level of fire detection and alarms that must be provided. There are a number of new standards relating to voice alarm systems that have recently been launched, however, these standards have caused confusion within the industry as the specifiers/consultants are not familiar with the standards and are not interpreting them correctly, which often results in over specifying voice alarm systems," Smiles said.
UTC weighs in
UTC Fire & Security's response to our fire feature is summarised below.
According to John Davies, regional director UK-ROI and SSA of UTC: "In Western Europe, and especially the United Kingdom, the specification of loop powered combined audio visual/speech sounders with a multicriteria sensor on a single mounting point is increasing, particularly in the hospitality and educational sectors. In Sub Saharan Africa we have seen a steady increase in specification of compliant systems starting with the cabling infrastructure.
"There are numerous offerings on the market of audiovisual/speech devices and radio fire sensors which lend themselves well to meeting DDA compliance and ease of installation in difficult areas," he added. "With the introduction of EN54 pt 25 the market will also see a substantial shift in the acceptance of standalone and or hybrid radio fire alarm systems."
Davies believes that consultancy houses are in general fully aware of the requirements and applicable standards as are many installation/distribution companies. "However, in the main, installations in SSA are to a bill of materials derived from a competitive tender which detracts from a fully compliant solution.
"It is therefore perhaps more important for the end user and building owners to understand the requirement of a full fire solution and compliance to local codes of practices, that is, to BS5839 pt 01 or SAB 0139, including the need to install fully approved components of EN54 pt 2/4 and the associated line device standards. Building owners should also request a compliance certificate on completion of works. This approach would inevitably drive the industry towards the requirements and need for complete fire solutions."
"As compliant fire systems are driven and dictated by standards and local codes of practices, integration is often a moot subject. In general there are two methods of integration, the simplest being via contacts which ideally should be fully monitored by both the fire system and the system being integrated into. The other method, often referred to as high level integration is a software level integration utilising either bespoke or open protocol communications provided by the fire system," said Davies.
"The most important factor to consider when considering an 'integrated' fire alarm system for a building, however, is not to substitute or compromise key features and recommendations of codes of practices pertaining to the fire alarm system," Davies added.
"For instance, integrated graphics packages offer end users a multitude of management tools for their alarm system including, in many instances on large sites, quick reference to the location of an event.
They should not, however, be utilised as the primary audio visual display for a fire alarm system as this detracts from codes of practice and can, in the event of PC failure, jeopardise the safety of occupants," he concluded.
Further reading:
Fire Beam Xtra covers up to 160 metres
October 2019, Technoswitch , Products, Fire & Safety
The Fire Beam overcomes traditional beam detection challenges where building movement and accessibility made beam detection unreliable and laborious to commission and maintain.
Read more...
---
Emergency voice communication system
October 2019, Technoswitch , Products, Fire & Safety
The Technoswitch Emergency Voice Communication Systems concept offers fire telephone and disabled refuge systems, as well as integrating emergency assist alarm systems in a single solution.
Read more...
---
Fast detection of smoke and flames
October 2019, Bosch Building Technologies , Editor's Choice, CCTV, Surveillance & Remote Monitoring, Fire & Safety
Video-based fire detection AVIOTEC from Bosch has been optimised for tunnels to provide early and reliable detection of smoke and flames in these dark environments.
Read more...
---
Choosing the right fire detection system
August 2019, FDIA (Fire Detection Installers Association) , Fire & Safety
Charles Thiong'o from the FDIA highlights important factors to consider when choosing a fire detection system.
Read more...
---
Local security technology manufacturer
August 2019, Technoswitch , Fire & Safety
Technoswitch, a South-African manufacturer, importer and distributor of fire detection and suppression equipment turned 45 this year.
Read more...
---
Fire detection and suppression for server cabinets
August 2019, Technoswitch , Fire & Safety
The TEC601, designed and manufactured by Technoswitch, is an all-in-one fire and extinguishing rack-mountable control system designed to protect electronic equipment in 19-inch server room cabinets.
Read more...
---
ORYX conventional fire panel range
August 2019, Technoswitch , Fire & Safety
The ORYX range of conventional panels from Technoswitch offers 2, 4 and 8 zone options, including weatherproof versions (with or without DIN rail) specifically suited to industrial applications.
Read more...
---
Next generation BlazeCut T-series
August 2019, Technoswitch , Fire & Safety
Designed to protect small enclosed spaces with greater risk of fire, the BlazeCut T-series system is easy to install.
Read more...
---
Emergency lighting and fire detection combination
August 2019 , Fire & Safety, Products
Hochiki Europe has launched FIREscape+, a system which combines emergency lighting, fire detection and wayfinding technology.
Read more...
---
Introducing Gulf Security Technology
August 2019, UTC Fire & Security SSA , Fire & Safety
Gulf Security Technology manufactures more than 16 million detectors and modules and more than 120 thousand control panels per year, making it one of the largest fire detection manufacturers in the world.
Read more...
---