printer friendly version
Biometrics and information security management systems
August 2010
Access Control & Identity Management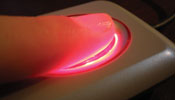 A number of surveys recently reaffirmed the fact that insiders are now committing most of the economic crime within organisations. Two global surveys, by Ernst and Young and Pricewaterhouse Coopers highlight the fact that insider crime is on the increase and is being fuelled by the economic downturn.
We see there being another factor that is driving the growth of insider crime: passwords. Organisations simply have to stop using them.
Migrating biometrics into ISMS
For several years now, we have been replacing traditional cards, passwords and PINs with biometrics. In a huge diversity of workplaces, they are an accepted component of physical access control and workforce management solutions. So why has it taken so long for biometrics to migrate into IT security? The answer is that there has been a lack of competent software to allow professional integration of biometrics within IT systems: Consequently, we had to develop our own: SuperSign. And that did not happen overnight. There are several years of development work behind our password replacement solution and we have had to spend a lot of time in Europe and the United States in order to perfect it.
First, SuperSign is an IT security solution that provides a deterrent and a protection against insider crime: Biometrics is the only technology that can link who did what, where and when within an IT system. It is a deterrent because of the unbreakable bond it forms between users and their transactions. It is a protection because it enables the most stringent access controls.
Data loss prevention
DLP is a hot topic because of the challenges presented by increased data mobility. This does not just mean the mobility enabled by portable devices or the cloud: Sometimes referred to as 'information leakage', data security is certainly not a new problem and people have been battling with it for years. Its roots lie in the fact that digital information is mobile by its very nature. The Information Security Forum (www.securityforum.org) provides a wealth of insight into how leakage occurs and ways to prevent it happening.
The Forum describes information leakage as "an incident where the confidentiality of information has been compromised, typically as the result of unintentional insider action". The disclosure of business information outside of its intended audience has been an information security-related issue for many years, but the term information leakage has recently seen increasing use in the media, which is keen to draw attention to high profile breaches of confidentiality in large public and private organisations.
The insider who accesses your PC or laptop without permission may not necessarily have a major criminal intent, but could just be a sneaky snooper. It is not always about someone trying to rip you off.
Data-loss threats will vary from company to company, but the simple fact remains that traditional passwords and PINs create massive vulnerabilities. These can be exploited intentionally by the criminally minded, or lead to inadvertent losses through people doing things they are not trained or authorised to do.
The root of all data evil?
Controlling access to devices, data, applications and networks has traditionally been a complex challenge for IT departments. As authorisations alter to meet changing business requirements, users and administrators struggle with antiquated processes for managing user-names, PINs and passwords.
Not only are the old processes time-consuming and costly, their shortcomings actively encourage all of us to simplify sign-ons by writing passwords on post-it notes, re-using the same logon credentials or sharing passwords. Driven by the need for speed and convenience, this activity is routine and happens every day in offices all over the place.
Unauthorised access to IT systems through the abuse of passwords, PINs and usernames is universal and extremely damaging. Stewart highlights some of the dangers as follows:
* Illicit payments.
* Unauthorised access and transmission of information.
* Loss of confidentiality.
* Unauthorised changes and deletions.
* Loss of operating capacity and costs of downtime.
* Increased recovery and system restoration costs.
Biometric sign-on
Eliminating the dangers and losses from these wide-ranging threats has to start by addressing the gaping hole in IT security: passwords. SuperSign replaces passwords and PINs with fingerprints and it integrates with most applications, including Web applications, with no custom scripting or development.
Very often, IT managers are rightfully concerned about the addition of applications and solutions to their existing infrastructures. Start with straightforward biometric sign-on. This will not instantly close all the loopholes in your IT security, but it is the first step in implementing a solution that can then be extended to deliver other, organisation-specific benefits.
Although SuperSign can be used with a range of traditional cards, tokens and credentials, fingerprints are the obvious platform for securing IT systems: Biometric sign-on is just as fast as using passwords – if you can remember them all – but that is where the similarities end. No replacements, minimal administration and they form an irrefutable link between the user and the systems they accessed.
With absolute certainty, biometric based sign-on links the user to their transaction. By doing this, it creates a powerful monitoring and audit trail – who did what, where and when. Fingerprints really can make passwords and all the damage they cause a thing of the past."
For more information contact SuperVision Biometric Systems +27 (0) 21 913 6075, www.supervision.co.za
Further reading:
Facial access control for ministry
Issue 1 2020, ZKTeco , Access Control & Identity Management
The Ministry of Culture in Saudi Arabia has adopted ZKTeco's facial recognition technology and fingerprint biometrics to manage access control into its building.
Read more...
---
New Door Pilot app from dormakaba
Issue 1 2020, dormakaba South Africa , Access Control & Identity Management
With new dormakaba Door Pilot, automated doors can also now be operated on the basis of remote control technologies. The system, comprising the Door Pilot app for smartphones and a Wi-Fi interface for ...
Read more...
---
Identity lifestyle
Issue 1 2020, Suprema , Access Control & Identity Management
Once the technology of the future, biometrics has quietly snuck into our daily lives through smartphones and access controls into our places of work.
Read more...
---
Securing BP's new head office
Issue 1 2020, ISF SFP , Access Control & Identity Management
ISF SFP was awarded the contract to secure the first development phase for Oxford Parks, the new head office for BP South Africa.
Read more...
---
Combining aesthetics and access control
Issue 1 2020, Turnstar Systems , Access Control & Identity Management
Prestigious law firm Bowman Gilfillan recently upgraded its physical security with the addition of four Turnstar Speedgate Express access control lanes.
Read more...
---
Video doorbells from Ring
Issue 1 2020 , Access Control & Identity Management
Ring has a number of video doorbells available in South Africa that run off batteries or power and enable users to answer their doors from anywhere.
Read more...
---
Centurion to unveil new product
Issue 1 2020, Centurion Systems , Access Control & Identity Management
Centurion Systems will be hosting its third Access Automation Expo this year, with dates confirmed for Durban, Johannesburg and Cape Town.
Read more...
---
Looking ahead with mobile access technologies
Access & Identity Management Handbook 2020, Technews Publishing, HID Global, dormakaba South Africa, Salto Systems Africa, Suprema, Gallagher , Access Control & Identity Management, Integrated Solutions
Given the broad use of smartphones around the world and the numerous technologies packed into these devices, it was only a matter of time before the access control industry developed technology that would ...
Read more...
---
Mobile access is more secure than card systems
Access & Identity Management Handbook 2020 , Access Control & Identity Management
The ability to use mobile phones as access credentials is one of the biggest trends in a market that historically has been slow in adopting new technology.
Read more...
---
This is the future. This is what we do.
Access & Identity Management Handbook 2020, ZKTeco , Access Control & Identity Management
ZKTeco has created a unique range of visible light facial recognition products combined with a flexible Android platform.
Read more...
---