printer friendly version
Challenging corporate thinking
August 2010 Access Control & Identity Management, Healthcare (Industry)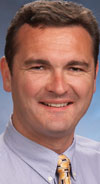 Organisations around the world are facing more security threats to their business than ever before. Breaches of confidentiality, crippling cyber attacks and data theft by their own employees are just some of the issues that companies now have to contend with and plan for. These security threats can also necessitate taking a more tangible approach to security where controlling physical access to premises is high on the agenda for many companies.
As soon as lurking security risks are exposed, they can exact a costly penalty in terms of reputational damage, eroding the confidence of investors and the market. This can be disruptive to a company's operations and can even have a knock-on impact on customer service.
At the same time, companies are also wrestling with swathes of regulations like Sarbanes-Oxley, ISO 9000 and Basel II that require them to take a more consistent and comprehensive approach to risk management, corporate governance and compliance in their day-to-day operations.
Successfully managing physical and logical access to high-value resources or sensitive data is one of the most effective ways for companies to protect themselves against the barrage of threats they now face. Driven by these corporate imperatives, identity and access management (IAM) is fast securing its position as a cornerstone of information security, with a growing number of organisations recognising the potential benefits of an effective IAM programme in terms of cost savings, better service levels, tighter IT governance and improved regulatory compliance.
A survey carried out by technology and market research firm, Forrester, found that over 75% of enterprise IT security professionals in the UK, France and Germany feel that governance, risk and compliance are motivating them to consider IAM solutions for their organisation. So if the majority of IT professionals recognise the need to implement IAM, why has this so far failed to translate into wide-scale adoption?
Costs hindrances
One of the foremost barriers to adoption cited by companies that have considered – but reluctantly decided against – IAM is the cost issue. The ravages of the recession have blown a sizeable hole in the IT budgets of many organisations, with other corporate issues sometimes prioritised over IT security. However, when a company slashes its IT budget, it can leave itself dangerously exposed to security and financial risks where the money saved by reducing budgets can soon be more than swallowed up by the costs of security breaches. While it is impossible to wholly quantify the financial impact of security incidents, the Ponemon Institute estimates that data breaches cost around £60 per compromised record. Furthermore and according to a survey by Datamonitor, smartcard security solutions can actually result in a savings of more than $2 million for every 2000 employees.
A further reason why IAM has not yet been broadly taken up by organisations is because it is still viewed in some quarters as a tactical rather than a strategic implementation. Too many companies still treat IAM as a series of ad hoc projects instead of a process that is as dynamic as their company itself. But adopting a scattergun approach to IAM across an organisation can be counterproductive to say the least.
Juggling multiple, mutually exclusive systems is doomed to failure. Not only is this an expensive and resource-intensive way to approach IAM, but the lack of integration or coordination between these systems generates substantial – and unnecessary – complexity. This often leads to a lack of buy-in from senior management and thus a lack of engagement amongst employees themselves.
Where to start
IAM can seem like a bit of a minefield for companies that know they need to implement it, but do not know where to start. For many businesses, the obvious place to begin is with smartcards. Let us call out one of the biggest bugbears for corporate IT departments: managing identities is inherently difficult at the best of times, but the existence of multiple, disparate identities for each user within the companies is nothing short of a nightmare for IT managers. If users are utilising several identities to access information stored in multiple locations, it can be very complicated to bring this information together into a single format when systems are combined.
A recent survey by IT security firm, Sophos, revealed that a third of respondents use one password across multiple sites. This means that if one account is compromised, all accounts are vulnerable. A username/password combination is still the most popular method of accessing IT systems, but its shortcomings are well documented.
Companies at the cutting edge of secure corporate ID cards have developed a novel two-factor authentication approach to managing and protecting access control within their organisations. The user has to provide a hardware token (corporate identification card) in addition to a secret PIN number to strengthen the overall security of a desktop log-on. Even better, the very same smartcard can be used to control physical access to the company's premises, making this kind of solution one of the most effective, cost-saving methods to protect workplace and data security.
Smartcard technology is becoming increasingly advanced; cards can now offer three levels of security: single, dual or three-factor authentication. With single-factor authentication, using the card on its own will grant access to a system or open a door. Dual-factor authentication adds an extra level of security in the form of a PIN number. Three-factor authentication goes a step further, using a PIN number and an extra security measure such as a biometric scan.
Expanding card usage
Smartcards are also finding effective applications outside the corporate world. Smartcard technology is now helping to solve some long-standing thorny issues in the healthcare sector, such as safeguarding patients and staff while protecting confidential patient information. In the UK, for example, many hospitals are now waking up to the benefits of using smartcards to control physical access to their buildings and adding logical security to the IT networks that house confidential patient data.
In the past, it was relatively easy for an intruder to walk unchallenged around a hospital, accessing areas meant only for authorised staff. In rare cases, this led to security breaches where babies were removed from paediatric wards. Smartcards are addressing this physical access problem by using encryption to offer differing levels of building access to certain staff.
Medical professionals are also using their smartcard to quickly access sensitive patient data on a network. So, in addition to safeguarding the security of patients' personal information, using a smartcard for logical security can also create efficiencies in terms of time.
Properly implemented, identity and access management solutions can help companies by fortifying the security of their data and their business while making it far easier for users to access the information they need. In simple terms, the challenge for any organisation implementing an IAM system is to bring together physical access control and logical security to establish how they can work better for their customers.
In today's increasingly risk-conscious environment, IAM is fast becoming a basic, non-negotiable part of corporate IT infrastructure – although IAM is designed to deal with some big security challenges, it does so with a straightforward, common sense approach.
Portable and secure, smartcards are becoming an increasingly valuable tool for safeguarding physical security and guaranteeing the privacy of sensitive electronic information across corporations, hospitals, government agencies and any organisation seeking heightened security solutions. When you weigh up the benefits of identity and access management solutions against the costs of reputational damage, security breaches and non-compliance, IAM can offer outstanding value by saving time and money while protecting an organisation's assets.
For more information contact HID Global SA, +27 (0)72 923 9426, jlakin@hidglobal.com, www.hidglobal.com
Credit(s)
Further reading:
Paxton10 for smart buildings
Issue 5 2020, Paxton Access , Access Control & Identity Management
Paxton10, offering access control and video management on one simple platform, is available in the South African market.
Read more...
---
Suprema enhances cybersecurity
Issue 5 2020, Suprema , Access Control & Identity Management
Suprema BioStar 2 is a web-based, open and integrated security platform that provides comprehensive functionality for access control and time and attendance.
Read more...
---
A wizz at visitor management
Issue 5 2020 , Access Control & Identity Management
WizzPass is a locally developed software platform for managing visitors to businesses, buildings or business parks.
Read more...
---
Contactless at the game
Issue 5 2020, IDEMIA , Access Control & Identity Management
IDEMIA partners with JAC to successfully test frictionless biometric access technology at Level5 Stadium in Japan.
Read more...
---
Focus on touchless biometrics
Residential Estate Security Handbook 2020, Hikvision South Africa, Saflec, IDEMIA , Suprema, Technews Publishing , Access Control & Identity Management
The coronavirus has made touchless biometrics an important consideration for access control installations in estates and for industries globally.
Read more...
---
Providing peace of mind
Residential Estate Security Handbook 2020, ZKTeco , Access Control & Identity Management
Touchless technology embedded with face and palm recognition sensors provide 100% touchless user authentication for a variety of applications.
Read more...
---
Frictionless access with a wave from IDEMIA
Residential Estate Security Handbook 2020, IDEMIA , Access Control & Identity Management
Platinum Sponsor IDEMIA displayed its frictionless biometric reader, the MorphoWave Compact, at the Residential Estate Security Conference.
Read more...
---
Cost effective without compromising security
Residential Estate Security Handbook 2020, Bidvest Protea Coin , Access Control & Identity Management
Bidvest Protea Coin offers a range of services, all integrated to offer a future-proof and cost-effective security solution for estates.
Read more...
---
Broad range of estate solutions
Residential Estate Security Handbook 2020, Hikvision South Africa , Access Control & Identity Management
Hikvision offers residential estates a range of systems and solutions that deliver security, from the gate to the individual's own home.
Read more...
---
Excellerate looks beyond traditional guarding
Residential Estate Security Handbook 2020, Excellerate Services , Access Control & Identity Management
Excellerate Services has a suite of best-of-breed technologies that have been integrated into a sophisticated SLA, incident and people management system.
Read more...
---