printer friendly version
Finding the real value in IP video
August 2010
Conferences & Events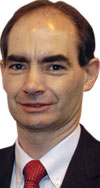 The advent of IP systems over the past 10 or more years and their relatively slow adoption rate (only 32% of the EMEA market by the end of 2009 according to IMS Research) points to the fact that widespread acceptance of any product must be driven by the value it brings to its users.
This can be highlighted by the speed of the transition that took place from VCRs to DVRs in the '90s. The transition was driven not by the technology, but by the value derived from that technology. VCRs provided low picture quality and limited retention timeframes. In addition, smaller systems required multiplexers to capture as much camera information as possible. The DVR captured high-resolution images and retained them for significant amounts of time, at a price point that allowed them to compete in a typical VCR-style application. The value was quickly seen by industry stakeholders and within a short period of time the DVR became a critical component in almost every application.
In recent years, IP video has been one of the most talked about technologies in the security industry; however, the industry remains dominated by analogue systems. Early adopters of IP video systems found value in leveraging their internal network and not directly in the IP solution. The value was not in the IP CCTV system itself, but in the means of transmitting signals. Historically, IP systems were challenged when compared to analogue systems for several reasons:
* IP camera images were not significantly better, yet they commanded a significant price premium.
* Performance in low light was a challenge.
* IP systems required an investment in IT infrastructure (servers, storage, bandwidth, etc.).
* Most video management systems focused on large scale systems and did not scale down well.
* IP systems were designed from an IT perspective and were far more complex to design, install and support than the typical analogue system.
In other words, the security-conscious end user could not find much value in IP systems—nor could the traditional CCTV integrator. And the hype surrounding IP over the past several years has simply not resulted in rapid adoption because of this critical value equation.
If IP is to achieve its promise, it must deliver real value to integrators and end users that is easy to see and easy to understand. A winning IP value formula is to provide high quality video in an easy to use system that does not have a large adverse impact on network infrastructure.
Technology that drives value
Do customers ask for IP, analogue, or hybrid systems? Or are they looking to solve issues in the most efficient and cost effective way possible? The typical end user is searching for a solution to their problems—but they're not looking for a specific technology. Integrators and manufacturers tend to put technology first and value second.
Today, IP is beginning to drive value, similar to the way DVRs did in the past. The advent of 720p/1080p technology is introducing cameras that provide a quality of picture that is simply better and more easily demonstrated. Suppliers are developing technologies that can maintain this high quality image in low light (normally a significant barrier to adoption). In addition, compression technologies are driving the cost of network infrastructure and storage down dramatically. And all of this is occurring as market prices begin to seriously compete with analogue systems.
Complexity vs. simplicity
As manufacturers find ways to improve the performance of IP cameras, it is important to remember that they are only part of the solution — video management software also plays a critical role in driving value. Upon review of most video management systems on the market, it appears they have grown out of the IT industry. The setup, programming and maintenance feel like other IT products. This does not translate well into the security space, whose players have been raised on analogue systems that are easy to install. Additionally, end users with a working knowledge of an analogue system or DVR may not have the skill-set required to make a smooth transition to IP video management solutions.
We face competing choices: either sell and use the product you know you can manage efficiently, or invest in the training and certifications necessary to install, manage, support and use an IP video management. The migration from analogue to IP can be daunting in many areas that are key to end users. In mass-market style applications, how many end users have IT departments suited to support IP systems?
The best way to overcome these challenges is for suppliers to provide video management systems that are so easy to set up, install, support and use that they blur the line between analogue and IP. Do end users even care how the data was transmitted? Sometimes they may, but usually they care much more about the quality of the data and their own ability to use and manage it effectively without the need of an IT specialist.
Currently, most video management systems are designed for large-scale solutions at organisations with IT departments. The security world has been challenged to adopt technologies that drive cost up but effectiveness (and profits) down. And the largest portion of the surveillance market is not large-scale systems. Attempting to fit a large-scale system into a scaled down market will be difficult, time consuming and expensive.
Creating video management solutions that incorporate wizards, pre-set configurations, self-enrolment of cameras, and other ease of use software is commonplace in other arenas, but not security. The adoption of standards such as ONVIF and PSIA will also dramatically reduce the complexity of the installation and affect an integrator's ability to offer support over the long haul.
We are in a time when integrators and end users can find video management systems designed as security platforms instead of IT platforms, when IP cameras can provide a total cost of ownership that rivals analogue systems. And we have entered a time when IP systems finally begin to deliver on the hype.
A solution for an end user should never be technology for technology's sake; it should drive real, demonstrable value. This is when technology drives rapid adoption. In a few years, we will look back to now and mark today as the time when the transition from analogue systems to IP systems began with finding the real value in IP video.
For more information contact Honeywell Systems Group, +44 1928 754023, nick.honess@honeywell.com, www.honeywell.com
Credit(s)
Further reading:
How to choose which webinars to attend after lockdown
Issue 5 2020, Regal Distributors SA , Conferences & Events
The Regal Learning Academy has decided to provide training via live webinar streaming.
Read more...
---
Paxton expands free education offerings
Issue 4 2020, Paxton Access , Conferences & Events
In response to the recent global pandemic, Paxton has expanded its online installer training platform and launched a series of informative webinars.
Read more...
---
Open Source Intelligence post COVID-19
Issue 3 2020 , Conferences & Events
ASIS South Africa hosts Craig Pedersen in a webinar focused on open-source intelligence (OSINT).
Read more...
---
Making estate security work in the real world
Issue 2 2020, Technews Publishing , Conferences & Events
Hi-Tech Security Solutions is proud to have the CEO of Cotswold Downs, Shantelle Walters, presenting at the Residential Security Conference on the topic of 'Invisible Efficiency and Security.'
Read more...
---
The blessing and curse of communications
Issue 2 2020, Technews Publishing , Conferences & Events
In the Residential Security Conference 2020, Craig Rosewarne will delve into the murky world of cybercrime, while Rudi Potgieter will discuss the possibilities and benefits of a unified network.
Read more...
---
Technology at work to optimise security
Issue 2 2020, Technews Publishing , Conferences & Events
Artificial intelligence (AI) and drones are the latest additions to the security options for residential estates which will be discussed in the Residential Estate Security Conference 2020.
Read more...
---
Efficient and cost-effective risk management for estates
Issue 2 2020, Technews Publishing , Conferences & Events
Identifying your estate's vulnerabilities is key to being able to manage and maintain them effectively.
Read more...
---
Surveillance augmented by technology and people
November 2019, Technews Publishing , CCTV, Surveillance & Remote Monitoring, Conferences & Events
iLegal 2019 examined how the surveillance industry is being enhanced through the intelligent integration of the latest technology and the best people have to offer.
Read more...
---
Residential Estate Security Conference 2019
October 2019, Technews Publishing , Editor's Choice, Residential Estate (Industry), Conferences & Events
Hi-Tech Security Solutions hosted the Residential Estate Security Conference in August, focusing on the people, technology and processes involved in an effective security solution for estates.
Read more...
---
Securex West Africa returns in 2020
October 2019 , Conferences & Events, News
See more than 100 exhibitors over two days and join over 2500 professionals from more than 20 countries.
Read more...
---