printer friendly version
The buzz at IFSEC UK
July 2010
Conferences & Events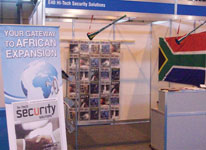 The recession hit the UK much harder than it has affected South Africa to date. There was therefore quite some concern as to the impact IFSEC would have on the security market in general, and whether it would be worthwhile for vendors, distributors and the like to make the effort to exhibit in 2010.
The good news is that it was. The exhibitors at this year's IFSEC were all impressed by the calibre of attendees as well as the number of leads generated at the show. There were some grumblings about the show being smaller than the previous year and fewer attendees showing up, but as a whole the mood was positive, not only about the show, but about the potential for business throughout the coming year.
The Hi-Tech Security Solutions stand was well attended and received interest from Europe as well as a number of attendees from north of our borders. Once again, the view of the South Africans attending was positive, with some complaining they never had a moment's rest during four busy days.
When asked about his impressions of the show in general, Gus Brecher, marketing director of Cathexis noted there were more megapixel IP cameras from the East at this year's show and more thermal cameras available from more sources than ever before. Thermals are definitely a technology to watch as they decrease in price.
Brecher did note that he did not see much innovation this year, but more jockeying for position in the IP world. "Probably the most interesting was to see the adoption of the ONVIF and PSIA IP video standards. The general feeling is that these standards will eventually merge as there are pros and cons to both. ONVIF is leading the race amongst the exhibitors at IFSEC, but it will be interesting to see what the balance is at the shows in the USA."
There was a drive on the intelligent analytics side of things, but Brecher says he "got the feeling that it has been oversold and has under-delivered." There was one disappointment for Brecher as he noticed a distinct lack of integrated solutions on offer.
The chairman of the South African Institute of Security, Terry Scallan, was also at the show and the conference held alongside the exhibition where Scallan also presented. He says his experience of the event was "extremely successful" and that the conference "puts the event way ahead of others", adding, "This exhibition remains the best in the world without a doubt."
Scallan addressed a full house at the conference on the topic of Safety and Security at the FIFA 2010 World Cup: Is South Africa Ready?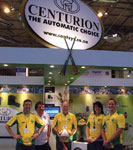 And the winners are
IFSEC Security Industry Awards were presented at a gala function to a lucky few that managed to crack the nod in a competitive race. The 10 winners were chosen for the award in recognition of their people, products and technological advancements over the past year. This year's winners were:
Access Control Product of the Year: Smarti Guardeon, Tab Systems.
CCTV Camera Equipment Product of the Year: WV-CP500, Panasonic System Networks Europe.
CCTV System Product of the Year: BriefCam VS Online, BriefCam.
Communication Product of the Year: QlinQ, SafelinQ UK.
Guarding Service. Product of the Year: Marks and Spencer Plc, Securitas Security Services.
Integrated Security Product of the Year: Closed IP TV, Dedicated Micros.
Intruder Alarm Product of the Year: Moviwall, Hymatom.
Physical Security Product of the Year: Terra Mount Blocker, Frontier Pitts.
Policing Partnership Product of the Year: Westfield Shoppingtowns/VSG/Police Service of Northern Ireland – Westfield CastleCourt and Belfast CitySafe Retail CrimeWatch Partnership.
Security Project or Installation Product of the Year: South African Airports, DVTel (see 'ACSA boards with DVTel').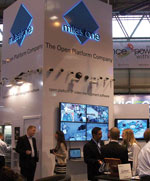 Points of interest
It is impossible to do justice to a show as large as IFSEC UK in a single article. Not that we will not try. What follows is a brief look at some of the stands the Hi-Tech Security Solutions' team and some of the people we spoke to found interesting at this year's show. We start off at the Tyco Security Products stand, where we found a host of products on display and first learned that the company was strengthening its presence in South Africa with the appointment of dedicated staff members – see 'Tyco Security Products expands SA operations'.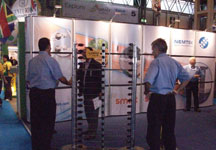 Tyco Security Products
The Tyco stand hosted some of the most recognisable brands in the industry, including CEM, American Dynamics, DSC and Bentel Security:
American Dynamics was showing off its new VideoEdge IP SpeedDome, a HDVR (hybrid digital video recorder) and the latest version of the Intellex digital video management systems. DSC was demonstrating ALEXOR (featuring a voice dialer) and a new 2-way wireless security suite. ALEXOR is a wireless control panel, the virtual brain that communicates wirelessly to DSC wireless peripherals.
Bentel Security highlighted its range of intrusion security and fire alarm control equipment, keypads, GSM and IP communications and accessories. CEM Systems demonstrated its latest access control technology including the new CEM S3020f portable fingerprint reader, a handheld card reading and fingerprint verification device that can provide security at temporary checkpoints where no power is available.
Axis Communications
Axis held a press briefing at the show. Axis CEO, Ray Mauritsson noted that the volume of visitors at the show echoed his view that demand for CCTV was on the increase. He also reported that Axis had grown by 21% during the first quarter of this year. Mauritsson also announced that Axis had already launched more products during 2010 than it had during the whole of 2009. And, on the first day of IFSEC, Axis officially introduced three new outdoor-ready HDTV PTZ domes to market.
Axis product manager, Kent Fransson was next to take to the floor to discuss the technology drivers behind the company's recent product portfolio. Demonstrating the broadcast image clarity offered by one of the Axis HDTV network cameras launched at the show, Fransson was keen to point out that Axis fully supports the SMPTE HDTV standard which guarantees better colour resolution, full frame rates, guaranteed resolution and wide screen format.
Last to speak was chairman of ONVIF, Jonas Andersson. He stressed ONVIF's mission: To facilitate the development and use of a global open standard for the interface of IP-base physical security products. He also informed the audience that ONVIF is moving towards global interoperability and that it plans to extend its scope to Physical Access Control Systems (PACS) and other new areas in the future.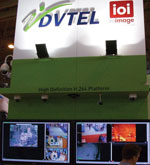 ASL Vision
Not a newcomer to the pages of Hi-Tech Security Solutions, ASL Vision brought its edge video analytics to IFSEC, a content analysis suite that enables detection, classification and tracking of abnormal events in infrastructure, retail and commercial sectors.
ASL's Combine allows 12 video images to be integrated into a single panoramic view, enhancing the situational awareness of end-users at any location. Multiple camera inputs are presented in combination with configurable display formats, optimising a control room operator's understanding of site layout.
At IFSEC, ASL demonstrated how video scene stitching can be performed seamlessly when operating on a vehicle in motion, combining camera views while driving through a town. The technology can also be applied to stationary CCTV.
Installers and end-users that need to increase situation awareness beyond a camera's default field of view will be interested in the Earwig intelligent CCTV eavesdropper. This automatically highlights the camera area where an unusual audio event such as a cry for help, commotion associated with an assault or vandalism is occurring. The unit has both safety and commercial usage; pilot applications include reports for a train operating company on sound that is consistent with attempted theft from ticketing machines.
When encountering unexpected levels of noise, the Earwig will show the relevant area on a video wall, allowing operators to take control of the relevant camera and assess the incident. The technology is aimed at surveillance and safety usage for remote monitoring of public transport, car parks, site perimeters and retail locations.
Barix
Another company focused on IP-based audio, intercom, control and monitoring solutions at the show was Barix. Headquartered in Zurich, Switzerland, the company specialises in research and development of IP-based communication and control technology. In particular, it also has the technical capabilities to use voice monitoring as a security measure. Should a particular sound be heard that could be interpreted as a person in distress, for example, the company's audio solutions can trigger an alarm or focus operators' onto the area of the problem.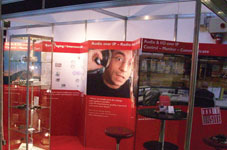 Barix offers a variety of hardware devices capable of integrating with IP video cameras and recording technology:
* Exstreamer: A range of IP audio decoding devices for streaming voice and audio from a central location to loudspeaker points over PA systems.
* Annuncicom: A range of two-way Audio over IP devices for intercom communications, with I/O capability for direct connections to microphones and pushbuttons at intercom stations. Annuncicom devices also provide SIP functionality for interfacing with telephone and PA systems.
* PS16: A multifunction master station for use in IP intercom, paging and voice over IP applications including: group call, public address broadcast, per location audible call identifier, remote relay operation and unattended mode operation.
Avigilon
Avigilon used IFSEC to announce that its Avigilon Control Center software has been integrated successfully with a variety of access control, critical communication, alarm monitoring, intrusion detection and visitor management systems. Control Center now combines the engine of a high-definition video platform with third party access control and intrusion detection capabilities for improved security management.
Avigilon Control Center includes a number of integration options that enable the exchange of high definition, IP and analogue video with events between Avigilon Control Center and other physical security systems. It integrates associate HD and other video information with relevant security events such as forced doors, ID badge swipes and intercom activation to deliver immediate verification and improved security management.
The company also announced that it has added a dedicated manufacturing facility to boost its production capability to efficiently meet customer demand for its HD surveillance solutions. A major player in the global HD surveillance market, Avigilon maintains 100% of the company's development and manufacturing in Vancouver, Canada.
Synectics
Synectics announced that it would be expanding its focus to target mid-size organisations with the technology preview of a new hybrid H.264 DVR/NVR appliance. The new system, a compact A/V recording and storage solution is a 16-channel appliance featuring low power consumption, broadcast quality and can operate as a standalone unit with an onboard Synergy GUI and standard VGA output for localised control. It is expected to be released by September 2010. It is compatible with Synectics's Synergy security management software for centralised command and control.
The company was also talking up Dataveillance, which it describes as 'the convergence of video and third party content which creates a corporate-wide video area network (VAN) that extends productivity and financial returns beyond the surveillance department across the entire organisation'.
"The ability to mine and extract relevant data, tie it to video, and present it in a way that enables entry-level security personnel to react quickly and appropriately to events that matter most is now becoming a vital function of a well-designed surveillance system. Video Productivity Solutions can generate more intelligent analysis for forensic reviews, customer behaviour, marketing opportunities, etc. This kind of advanced, integrated data correlation is only made possible when combining information from discrete and disparate surveillance, security, accounting and customer relation management (CRM) systems operating in a business. By identifying the fraud indicators that exist within third party systems and integrating the data into the VAN, the system can proactively generate alerts for potential fraud or other activities that require some human interaction to make a decision."
Tab Systems
Tab System's Smarti Guardeon unit was declared the Access Control Product of the Year at the IFSEC 2010 Security Industry Awards. The product is a high-security unit that combines TAB Systems' core biometric access control with a built-in proximity card reader and multimodal biometric face and voice recognition providing higher security and inhibiting system abuse.
An advantage of this product is the integration of multiple additional features (complete time and attendance, building automation, video intercom, video and IP phone, video messaging and video surveillance system) into one compact device. Smarti is protocol independent and can therefore be used to control almost any kind of electronic device (different sensors, electronic locks, lights, alarm systems, finger print scanners and so on).
HID Global
HID Global was once again present with a large stand representing its complete portfolio of physical access, logical access and secure issuance solutions. Volker Kunz, HID Global's director of sales, Continental Europe, Identity & Access Management, was part of IFSEC Seminar Programme and explored the benefits and considerations associated with implementing multiple applications on a single contactless smartcard or credential. Kunz's presentation resulted in increased visitor traffic to the HID stand with many wanting to find out more about HID's solutions, such as the previews of HID's new printing and encoding FARGO Direct-to-Card printers and HID's next-generation technology, multiCLASS Magnetic Stripe reader line.
As noted, IFSEC UK is too big to cover in any depth, but if the positive outlook at the event holds, it bodes well for an IFSEC South Africa Securex 2010 event which will be held from 31 August to 2 September 2010 in Johannesburg.
Further reading:
SMART Surveillance Conference 2023
Technews Publishing Editor's Choice Surveillance Conferences & Events
Some people think the future is all about cloud technologies, but the SMART Surveillance conference demonstrated that AI is making edge surveillance much more attractive, over distributed sites, than ever before.
Read more...
---
Milestone celebrates women in security
Milestone Systems Technews Publishing Editor's Choice News & Events Conferences & Events
The Milestone Systems' African team wanted to express their appreciation for the incredible contributions of the women in the security industry and held a breakfast in honour of the hard-working women in the industry on 8 August.
Read more...
---
Record number of visitors attend Securex South Africa 2023
Technews Publishing Securex South Africa Editor's Choice News & Events Conferences & Events
The turnout at Securex South Africa, held from 6 to 8 June 2023, was staggering, with a record number of 6401 Securex visitors crossing the threshold at Gallagher Convention Centre in Midrand.
Read more...
---
Connecting the ecosystem
Axis Communications SA Technews Publishing Conferences & Events Surveillance
The Connect by Axis function was aimed at discussing the latest solutions, technologies, and strategies shaping the surveillance industry's future with customers and partners.
Read more...
---
Dahua AIoT Summit 2023
Dahua Technology South Africa Surveillance Conferences & Events
Dahua Technology's annual summit recognised the company's partners and highlighted a variety of new products and solutions the company has on offer to specific verticals and the market in general.
Read more...
---
Robots: a security opportunity or a threat?
Editor's Choice News & Events Conferences & Events
Professor Martin Gill, Director of Perpetuity Research & Consultancy International and the School of Criminal Justice at the University of South Africa (UNISA), will be holding a Global Thought Leadership Security webinar on 22 June 2023 to discuss the contentious issue of robots operating in the security industry.
Read more...
---
UNISA sponsors Securex seminars
Editor's Choice News & Events Conferences & Events
As part of UNISA's 150-year birthday celebrations, UNISA has sponsored the Securex Theatre Seminar Programme, which will include a number of prominent industry specialists, academics and security practitioners focusing on a number of themes.
Read more...
---
The latest security trends at Securex South Africa 2023
Securex South Africa News & Events Conferences & Events Training & Education
Security technology evolves at a blistering pace, so it's important to keep up to date with changing trends in order to ensure maximised safety of human and personal assets. The Securex Seminar Theatre, powered by UNISA, is the place to be.
Read more...
---
The conduit to fire detection compliance
Securex South Africa Conferences & Events News & Events
To be held at the Gallagher Convention Centre in Midrand from 6 to 8 June 2023, Firexpo 2023 will include a line-up of trending technology and services, centred on ensuring the safety of a building's occupants.
Read more...
---
Providing an interactive branding platform
Securex South Africa News & Events Conferences & Events
Now in its 30th year of providing security technology and services providers with a platform for increasing their brand exposure, Securex South Africa will be held at the Gallagher Convention Centre in Midrand, from the 6th to 8th June 2023.
Read more...
---