printer friendly version
Access the premier African security event
June 2010
Conferences & Events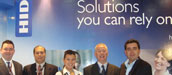 Following a successful event in 2009, South Africa's premier security exhibition, incorporating the broadest range of security companies, products and services in Africa under one roof, IFSEC South Africa Securex 2010 will once again be shaping the industry from 31 August 2010 to 2 September 2010 at the Sandton Convention Centre in Johannesburg.
The inaugural IFSEC South Africa Securex 2009 proved to be a huge success. The event enticed more than 200 companies and in excess of 5500 security professionals from 48 countries, cementing the show's place as the definitive security, safety, fire and protection, and safety and health event for the African market.
To ensure attendees obtain the optimal benefit from this year's IFSEC South Africa Securex 2010 exhibition, the organisers have decided to run the IFSEC Interactive Theatre on the show floor. This theatre provides attendees with free access to a host of short presentations by the various exhibitors, focusing on issues, technologies and products pertinent to the local security market. Entrance is free and attendees will receive a programme when entering the venue.
Exhibitors wanting to present in the interactive theatre can contact the organisers to ascertain if any slots are still open.

Surveillance world
As usual, visitors can expect to see the latest in surveillance solutions on display. Sasha Davidson, marketing manager at Axis Communications says the major trends the company is seeing in the surveillance market includes a strong focus on image quality, high-definition resolution technology, as well as compression standards, intelligence at the camera level and cameras that focus on ease of installation. "However it is important to keep in mind that the most pressing surveillance trend in the market presently would be the inevitable shift in the market from analogue to IP (Internet protocol)," Davidson adds.
Miro's Riandi van Niekerk agrees, saying "The surveillance market is heavily moving into IP-based security and away from analogue, making use of IP cameras and network video recorders. The move to IP surveillance opens up so many doors regarding viewing cameras over the Internet, and integrating camera systems with any other computer IP system that you can think of.
"In recent months, Axis has launched numerous new generation products, all of which will be on display at this year's IFESEC SA Securex," Davidson says. "We will be focusing on our HD range, including the new HD PTZ (pan/tilt/zoom), as well as our new 5 Megapixel camera with multiple video streams and P iris control. Our new thermal offering, the Q1910 range, will also be showcased."
Miro will be displaying the latest Vivotek cameras on the show, including its newest 5 Megapixel IP camera, which produces seven times greater viewing clarity than any analogue-based camera. Other items on show will include the company's range of network video recorders, as well as its Voice-over-IP based security cameras, which mark a new step forward in unified security communications.
When asked which one issue is vital to the success of a surveillance project, Davidson says a key issue is support and management from the vendor. "From the commencement of the project, the vendor should be concerned in product selection, design and placement, technical support right to the delivery and after sales maintenance."
As to the most important part of a surveillance project, Van Niekerk says it is proper planning. "With IP surveillance anything is possible, but an appropriate plan of action before an installation commences is key to a successful implementation. Decide what is needed or required, and talk to someone who knows the products. From there you should have infinitely less hassles."

Controlling access
Access control may not have the excitement surrounding it that surveillance does, but it is still a crucial cog in the security wheel. True to form, IFSEC SA Securex will incorporate access control solutions from multiple companies, including HID Global.
John Lakin, sales manager, Sub-Saharan Africa for HID Global says there is an increased emphasis on using one's existing infrastructure in access control today, which is driving the interest in IP technologies.
"This is reflected in the demand for more functionality and the integration of systems from all disciplines to provide a security solution rather than individual systems working in isolation," Lakin says. "We are also seeing value for money becoming a key driver and 5-year cycles becoming more evident rather than short-term immediacy. The result is that customers are prepared to pay a higher up-front cost if the overall cost of ownership can be shown to be competitive."
To support this, HID will be demonstrating a broad range of products at the show, including logical access products, biometric products, contactless smart cards and card issuance products. Lakin adds that products are only part of the story, however. Key to a successful implementation is communication. "A full understanding from the integrator of the customers' needs and requirements and communication of the solution being offered is always the starting point of a successful implementation."
Visit the ESDA Village
IFSEC South Africa Securex 2009 was a good year for members of the Electronic Security Distributors' Association (ESDA). This year the organisation is once again encouraging and supporting members to join their peers at the show.
Apart from individual stands, ESDA members will also be able to take part in the first ESDA Village this year. The idea stems from ESDA's own show, which it used to host annually on a small scale. The ESDA Village now allows members to be part of a village environment with its own hospitality area, while also being a part of the largest security exhibition in Africa.
VideoIQ launches three new products
Straight from its successful Webinar series with Hi-Tech Security Solutions, VideoIQ is set to introduce its new range of products.
* iCVR-MP cameras are devices that deliver full 1080p resolution and frame rate, zero bandwidth recording, full Megapixel analytics and support for IQTrack – automatic digital PTZ and track. With up to a half-terabyte of intelligent, onboard network video recorder (NVR) storage within each camera, the iCVR-MP Megapixel cameras eliminate the need for expensive centralised storage – reducing deployment costs, system complexity, infrastructure, time and resources. Additionally, VideoIQ's embedded, adaptive analytics automatically calibrate in minutes, delivering superior real-time threat detection and forensic evidence at no additional cost.
* iCVR dome cameras are the world's only cameras with adaptive analytics, onboard network video recorder (NVR) and an advanced video management system (VMS). VideoIQ iCVR dome cameras build upon the success of VideoIQ's iCVR box cameras and encoders, which have achieved rapid market adoption and industry award recognition.
iCST streaming cameras and encoders are designed for use in environments with central storage and 3rd party video management systems. All feature VideoIQ's award winning video analytics for the most accurate real-time threat detection. With VideoIQ's embedded, adaptive analytics, iCST cameras and encoders automatically calibrate in minutes, delivering superior real-time threat detection while reducing installation time, resources, complexity and cost.
Further reading:
The latest security trends at Securex South Africa 2023
Securex South Africa News Conferences & Events Training & Education
Security technology evolves at a blistering pace, so it's important to keep up to date with changing trends in order to ensure maximised safety of human and personal assets. The Securex Seminar Theatre, powered by UNISA, is the place to be.
Read more...
---
The conduit to fire detection compliance
Securex South Africa Conferences & Events News
To be held at the Gallagher Convention Centre in Midrand from 6 to 8 June 2023, Firexpo 2023 will include a line-up of trending technology and services, centred on ensuring the safety of a building's occupants.
Read more...
---
Providing an interactive branding platform
Securex South Africa News Conferences & Events
Now in its 30th year of providing security technology and services providers with a platform for increasing their brand exposure, Securex South Africa will be held at the Gallagher Convention Centre in Midrand, from the 6th to 8th June 2023.
Read more...
---
Book a stand and capitalise on four popular co-located industrial shows
Securex South Africa Editor's Choice News Conferences & Events
Now in its third decade of matchmaking security technology and service providers with organisations seeking security solutions, SECUREX South Africa is joined by sister shows A-OSH EXPO, Facilities ...
Read more...
---
Residential Estate Security Conference 2022
Technews Publishing Residential Estate (Industry) Conferences & Events
The first Residential Estate Security Conference since March 2020 discussed the people, technology and processes involved in mitigating risks to deliver smart, secure living.
Read more...
---
Hikvision aims for solutions
Technews Publishing Hikvision South Africa Editor's Choice CCTV, Surveillance & Remote Monitoring News Integrated Solutions Conferences & Events
Hikvision recently held a roadshow titled Industry X, where the company highlighted its latest products and solutions, supported by partners and distributors.
Read more...
---
ESDA's annual charity fundraiser
ESDA(Electronic Security Distributors Association) News Conferences & Events Associations
The ESDA Annual Charity Fundraiser, part of the Electronic Security Distributors Association's Golf Day, will take place at Benoni Lake Golf Course on Wednesday, 21 September 2022.
Read more...
---
IDEMIA and Ideco demonstrate their value stacks
Technews Publishing Ideco Biometrics IDEMIA Conferences & Events Access Control & Identity Management News
Ideco and IDEMIA recently hosted a travelling show where attendees were given an update on the companies, as well as the full value stack they offer.
Read more...
---
Sustainability, trust and predictability
Technews Publishing Bosch Building Technologies Conferences & Events CCTV, Surveillance & Remote Monitoring News Integrated Solutions
The future for Bosch Building Solutions is focused on predictive solutions based on sustainability and trust in an AIoT world of cloud services.
Read more...
---
Securex back with a bang
Technews Publishing Editor's Choice News Conferences & Events
After a long absence, Securex 2022, the 29th edition of the event, went ahead without a hitch and received positive reviews from visitors and exhibitors.
Read more...
---