printer friendly version
A layman's view on courts
January 2010 News, Retail (Industry)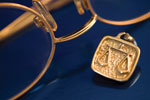 This article briefly conceptualises the South African courts from a retailer's point of view and explains how to deal with an offence that occurred in your store.
The law, courts and criminal procedure could seem daunting to any person without a legal background. Yet it is something that at some or other time affects most people. The article will also include a few hints on how to deal with a suspect at a store in order to improve the prosecution process. Additionally, the online article will conclude with practical hints on how to testify in a court of law.
Dealing with shoplifters
When faced with a shoplifter, the eyewitness of the offence (this may include anyone, for example the store manager or the security guard) may carry out what is known as a citizen's arrest. According to the Criminal Procedure Act (Sec 42 of Act 51 of 1977) a private person may, without a warrant arrest any person:
* Who commits a serious (schedule 1) offence in his/her presence or
* Whom he reasonably suspects of having committed such an offence, or
* Whom he believes is busy fleeing from the premises or escaping after being legally detained.
Once the suspect is arrested, he/she may be searched. The search has to be conducted in accordance with the suspect's fundamental rights as depicted in The Constitution (Act 108 of 1996), especially where dignity and privacy are concerned, eg:
* A female suspect may only be searched by another female and
* A male suspect may only be searched by another male.
The misconception that a male suspect may consensually be searched by a female can result in the company being held liable in a civil case of Crimen Iniuria, based on the invasion of privacy/dignity (as outlined in an interview with Advocate André de Vries).
Although the law prescribes that the arrested suspect has to be handed over to the police as soon as possible. This implies that the police can be called out to the store premises to collect the suspect. If the manager is confident that his/her safety is not in danger, he/she may transport the suspect to the nearest police station (Act 51 of 1977 article 42 read with article 50).
The role of the police
Once the police have taken custody of the suspect (which implies he is being kept in a holding cell), it is their responsibility to conduct an investigation in order to gather all the necessary evidence to prove a criminal case. Therefore any items that have been seized from the suspect are considered evidence and have to be handed over to the police. Photos should preferably be taken of perishable items, which would, instead of the rotten items, be presented to court as evidence. Such items will not necessarily have to be present in court but could, with the permission of the police, be destroyed. Other valuable items might, on the discretion of the police, be safeguarded by management as evidence and kept until needed in court.
The police will register a case and issue a case reference number (CAS number) to the complainant (store manager or his representative) which can be used for further reference. For shoplifting cases, if requested by the suspect, the police have the power to grant bail. The amount paid as bail is not a fine, but serves as a form of assurance that the suspect will, on his own accord, appear in court on the predetermined date (normally within 72 hours).
Overview of South African courts
South African courts are arranged in such a way that lower courts will deal with less serious crimes and the higher courts, where more severe penalties are required, deal with the more serious crimes. The diagram illustrates this hierarchy: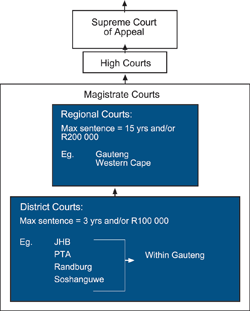 Retailers and general business will in the case of shoplifting mostly deal with Magistrate's Courts where first offenders will be dealt with. Repeat offenders and more serious crimes could be referred to regional courts. The maximum sentence a Regional Court can impose is a prison sentence of 15 years and/or a fine of R200 000. The maximum sentence a District Magistrate's Court can impose is three years and/or a R100 000 fine. It is important to note that the court system is divided in geographical areas and can only try a case that occurred in their prescribed areas of jurisdiction.
Court procedure
In most cases the accused will not have legal representation at the first appearance and the police investigation will be incomplete. In such instances the case will (most probably) be postponed to give the accused an opportunity to find legal representation and the investigation completed. It is here where shoplifting courts can make a big difference; they have legal representation available immediately, therefore if enough evidence is available during the initial investigation, the case can continue.
Usually in shoplifting cases the evidence is so compelling that the accused pleads guilty and the case is finalised. However, if there is no-one from the store (either the manager or security guard) to testify that the evidence was handled correctly and nothing (evidence) was tampered with, etc, the accused may be released, even though he/she has pleaded guilty. There needs to be supportive evidence in the form of verbal testimony from a witness before an accused can be convicted. Evidence in the form of exhibits, declarations (affidavits) etc, without the confirmation of verbal testimony is not enough to convict a criminal.
In some previous cases security guards were not given permission by their employer to testify in court due to work constraints. The law states that anyone who has received a summons to testify in court has to be present on the date that is specified. If not it could result in a charge of contempt of court against such a witness. The workers should be granted a paid day's leave to comply with the summons.
Sentences that could be imposed
Generally, for first time shoplifting offenders, the norm is a R1000 to R1500 fine suspended for three years. If a more serious offence was committed, such as burglary, the convicted criminal may receive a prison sentence of 4–15 years. Should the offender commit a similar offence within this suspension timeframe, the remainder of his/her sentence is enacted which means that the accused could be sentenced to prison for an apparent minor offence. Often shoplifters form part of syndicates. When a syndicate member receive a fine as punishment the other syndicate members pay the fine on their behalf. Such an offender is subsequently released, just to commit further crimes to repay his/her debt to the syndicate. When such a person is re-arrested for a similar offence it often happens that due to lack of follow up procedures, the court is unaware that the accused is in fact a second offender. It is therefore recommended that shoplifting courts be instituted where dedicated prosecutors learn to know their 'clients'.
Practical hints when testifying
The defence has many ways of trying to confuse the state's witness. The online table shows some of these methods used by defence attorneys in all types of hearings that could be useful to be aware of when testifying.

(Adapted from Jobber, 2001:334)
Conclusion
The criminal justice process may seem daunting to anyone who is not used to it. In many instances it is seen as a waste of good time to attend court proceedings and one is tempted to withdraw. Participating in the justice process should be seen as our social responsibility. Large amounts of money are spent on security systems. It is thus important to remember that when these systems assist in apprehending the criminals it is even more important that everything possible is done to convict them. It is thus essential that the retail industry do everything possible to make witnesses available to testify in court when requested. If this is not done, the money spent on security systems was all in vain.
References
1. Courts and court cases, 1998
Available [O]: http://www.paralegaladvice.org.za/docs/03_full.html Accessed on 28/03/2008.
2. C. Joubert, 2001. Applied Law for police officers. 2nd edition. Florida: Juta Law.
3. Interview with Advocate Andrô de Vries, previously Attorney General of the Transvaal division. 14 March 2008.
4. Act 51 of 1977 article 42 read with article 50
5. John Morley, Justice, 2008.
Available [O]:
http://www.quotelady.com/subjects/justice.html Accessed on 31/03/2008.
For more information contact CGC SA, +27 (0)11 789 5777, sb@cgcsa.co.za, www.cgcsa.co.za
Further reading:
Plan your media strategy with Technews Publishing
October 2019 , News
Dear Marketer, Have you ever looked back on a year and wondered how you survived it? For the majority of South Africans, 2019 started benignly enough, cosily wrapped in the blanket of Ramaphoria that ...
Read more...
---
The Open Security & Safety Alliance celebrates first anniversary
October 2019 , News
Membership triples within first 12 months; ongoing industry work reduces market fragmentation and friction across security and safety landscapes.
Read more...
---
AWS launches Equity Equivalent Investment Programme
October 2019 , News
Amazon Web Services launches Equity Equivalent Investment Programme with the department of trade and industry to help more South African businesses to innovate.
Read more...
---
2020 Residential Estate Security Conference in KZN
October 2019, Technews Publishing , News, Residential Estate (Industry)
Meeting the residential security challenges in 2020 and beyond: Hi-Tech Security Solutions will host the Residential Estate Security Conference 2020 in Durban on 12 March 2020.
Read more...
---
Kaspersky uncovers zero-day in Chrome
October 2019, Kaspersky , News, Cyber Security
Kaspersky's automated technologies have detected a new exploited vulnerability in the Google Chrome web browser.
Read more...
---
Drones and Digital Aviation Conference
October 2019 , News, Conferences & Events
Drones have opened airspaces for everyone in ways that humans had not imagined; to the extent that there is a drone to almost every kind of problem on earth. Drones already have the ability to increase ...
Read more...
---
From the editor's desk: What a year it has been!
November 2019, Technews Publishing , News
We've made it to the last issue of 2019. This year has been a tough one for the local security industry with almost everyone feeling the effects of the poor economy that shows no signs of recovery. Naturally ...
Read more...
---
Pelco appoints CEO
November 2019 , News
Pelco announced the appointment of Kurt Takahashi as chief executive officer, effective 1 November 2019.
Read more...
---
SAST demonstrates first open app store for AI video analytics
November 2019 , News
SAST demonstrated its open IoT platform for video surveillance cameras in September, showcasing real-world examples of the SAST camera operating system and global IoT marketplace.
Read more...
---
doculam celebrates 40th anniversary
November 2019, doculam , News
Forty years down the line, doculam has survived 10 South African presidents and grown into a multi-million rand business with five branches
Read more...
---