printer friendly version
On the floor
August 2009
News
Wondering around IFSEC SA provided a smorgasbord of news and insight for the security enthusiast. Here are only a few of the exhibits that caught our eye.
Continuing the march of convergence, this year saw two companies taking the next step and demonstrating their solutions relating to the integration of the physical and logical worlds. The first was HID Global, demonstrating HID on the Desktop, a set of logical access control solutions that are integrated with the customer's physical access infrastructure.
A three-component solution (HID cards, OMNIKEY readers and naviGO software), HID enables users to make use of a single credential for both physical and logical access. Depending on the employee role or job function, a single system can be used to manage different methods of log-on security, including supporting two-factor authentication (using PIN and card).
The company says its naviGO software is a key component of the HID on the Desktop solution, as it extends the Windows authentication model to include HID PROX and iCLASS contactless cards, allowing users the ability to use their existing HID access control badge to log on to Windows.
More integration between the logical and physical world was offered by SCM Microsystems and its subsidiary Hirsch Electronics in their first joint exhibition in Africa. Under the auspices of local partner MEC Security, SCM was able to demonstrate how it combined logical and physical access security using various mobile tokens and physical access control terminals. The combination of the two companies has provided SCM with both the physical and logical access control products to cater for almost any integration project.
Robust all-in-one
MAD (Metham Aviation Design) was also at IFSEC SA, on the Zelda stand, touting its latest innovation, the Panama, an integrated pan and tilt camera that delivers optical quality by using a Pentax C60831WQ 8 to 120 mm, F1.6 lens with 15x optical zoom mounted on a high resolution, low light JVC TK-1480BE colour CCTV camera boasting a 0,5-inch Super LoLux CCD. A full day/night version is also available. A complete solution, the lens, camera and all electromechanical and electronic components are housed in a ruggedised cast aluminium dome for full IP68 environmental protection.

The Panama
An internal cooling fan and wiper are fitted as standard. Configuration and control, including alarms and privacy zones are fully menu driven irrespective of protocol.
A face in a crowd
While there were many companies offering fingerprint biometrics solutions, there were also some touting facial recognition solutions. One of these was Graphic Image Technologies (GIT). Going further than the traditional facial recognition solutions that require the users to stand in front of a camera for a few seconds, GIT distributes Artivision software, which works with various IP cameras to find and identify faces in a crowd as they walk by. As ably proved on the show floor, passing visitors can be captured and identified. Once in the database, the camera covering a corridor or passage can be set to recognition mode and pick out identified faces as they pass by.
The capabilities of the Artivision software will prove useful in any situation where many people pass by, picking up known faces without requiring them to stop what they are doing or even know they are under observation.
A gate to IFSEC
Centurion Systems was also present at this year's event, showing its Big 5 products, which marketing manager, Adam Butchart says were well received by the market. The company also displayed its B1000 cellular based multi-unit intercom system and the Saflec proximity access control system the company is distributing to complement its Solo and Lattice products.
Storage solutions
Drive Control Corporation (DCC) together with Frank Street displayed Western Digital's (WD's) latest in eco-friendly green drive technology as well as AV and surveillance products at this year's exhibition.
The Caviar green desktop drives, for example, incorporate company's GreenPower technology to reduce power consumption compared with standard hard drives. The platform is based on WD's 333 GB/platter technology with 32 MB cache, producing capacity up to 1 TB.
Designed to withstand the stringent environment of the surveillance and security markets, the WD AV-GP line of hard drives for audio and video applications reduces power consumption by as much as 40% over standard drives in their respective classes.
On the topic of storage, Hikvision was touting its mobile solution, the DS-8104HMFI Mobile 4-channel DVR. As a mobile solution, the product includes the company's patented anti-shock technology as well as two pluggable 2.5-inch hard disk drives.
Distributors go large
It is not possible to mention all the companies that spent a pretty penny on their stands, however, two of the larger stands belonged to distributors ADI and Elvey.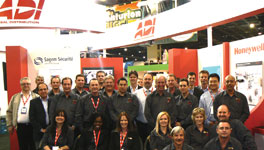 Of the many products on the ADI stand, staffed by ADI employees as well as local and international partners, we decided to highlight two that stood out. The first is the Takex battery-powered, outdoor pet-tolerant PIR. What makes this particular PIR unique is that it offers 180° coverage and is not as easily fooled as some cheap-and-nasty PIRs are.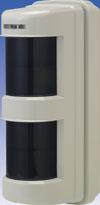 Named the TX-114FR, it has two PIR detector heads (two x wide angle 90° x 12 m). The detector heads are mounted on swivels so users can point them to where they are needed. The fact that they run on batteries also means the PIRs are wireless and can be placed where convenient, not where there are electricity cables available. This also makes them a good choice when a quick or temporary deployment is required.
Mike Burgess from Takex Europe was manning the stand and he estimates that a good PP3 9V battery will last 18 months or more. Of course, this depending how often the unit operates. If you do not need a battery version, the company also offers hard-wired (12/24 V d.c.) versions of the dual and single head units. To raise an alarm, the TX-114 makes allowances for a wireless transmitter to be attached to the mechanism – one is not supplied.
To try and reduce the occurrence of false alarms, the dual head version offers an AND/OR setting, allowing the user to decide whether an alarm should be generated if both detector heads detect movement or if only one detection will raise the alarm.
Another product that caught our eye was from Nedap in the Netherlands. Nedap's handsfree access solution allows companies to maintain strict access control regulations while permitting handsfree access to specific areas. Instead of the usual short-range RFID access badges that people have to badge in with, the handsfree access system is made up of a TRANSIT Entry reader and a tag. TRANSIT Entry readers are installed next to a door or gate. A long range tag visible in line of sight of the reader will be identified at distances up to 4 m.
The TRANSIT Entry reader can also make use of a optional proximity and ISO compliant smartcard interface, which will enable the reader to read standard proximity cards and smartcard CSN at short distances. The interface eliminates the need for multiple readers nearby a door or boom gates.
Nedap also has a solution for fleet owners that need to find a way to log vehicles and their drivers without wasting time by forcing drivers to exit their vehicles to badge in. The company's driver-based vehicle access solution is a combination of an in-vehicle booster that identifies a specific vehicle from as far as 10 m at speeds of up to 200 km/h.
Using the booster, a vehicle can be tracked whenever it enters or exits a premises. However, a driver with an identity badge can slot the badge into the booster to identify the vehicle and driver at once. Not only does this speed the process of passing through access points but allows companies to identify both via a TRANSIT reader at up to 10 m.
An added benefit to a business is that a driver can be linked to a vehicle, ensuring the right people are in the right vehicles before they exit a control point. Supported cards include HID Prox and iClass, Legic, Mifare, EM and Nedap.
Elvey was also on show, taking an assertive stance against the downturn and demonstrating a host of products to visitors. Apart from the formal launch of SureConnect (see last issue), the company also brought a number of international suppliers onto its stand. These included Ahmed Saleh and Hassan Jishi from DSC, Canada; Ryosuke Higo from Optex, Japan; and Kevin Waterhouse from VCA Technology, UK. A selection of the products Elvey had on show can be found on page 20.
This is only a brief overview of some of the sights at IFSEC SA 2009. The exhibition held something for every person in the security market and this year's turnout of both exhibitors and visitors bodes well for next year, when we will hopefully not be in the midst of a recession.
Credit(s)
Further reading:
Olarm launches the Olarm LINK
Olarm Perimeter Security, Alarms & Intruder Detection News Products
Building on the success of smart-enabling, monitoring and controlling alarm panels and electric fences, Olarm has a new solution for customers to integrate gates, garage doors, pumps and other electrical products with the Olarm APP and Olarm PRO communicator.
Read more...
---
Ultimate smart monitoring and reliability
Olarm Perimeter Security, Alarms & Intruder Detection News Products
Olarm is gearing up to unveil its latest product, the Olarm MAX, set to be available in late 2023, which will redefine smart monitoring by offering unparalleled connectivity options and functionality.
Read more...
---
Insights from the 2023 Cloud Security Report
News Cyber Security
Increased costs, compliance requirements, hybrid and multi-cloud complexities, reduced visibility, and a lack of skilled practitioners cause organisations to slow or adjust their cloud adoption strategies.
Read more...
---
New algorithm for OT cybersecurity risk management
Industrial (Industry) Cyber Security News Commercial (Industry)
OTORIO's new risk management model and attack graph analysis algorithm technology, calculates OT cybersecurity threats and provides risk mitigation actions, prioritised according to actual exposure and potential impact on operations.
Read more...
---
Robots: a security opportunity or a threat?
Editor's Choice News Conferences & Events
Professor Martin Gill, Director of Perpetuity Research & Consultancy International and the School of Criminal Justice at the University of South Africa (UNISA), will be holding a Global Thought Leadership Security webinar on 22 June 2023 to discuss the contentious issue of robots operating in the security industry.
Read more...
---
UNISA sponsors Securex seminars
Editor's Choice News Conferences & Events
As part of UNISA's 150-year birthday celebrations, UNISA has sponsored the Securex Theatre Seminar Programme, which will include a number of prominent industry specialists, academics and security practitioners focusing on a number of themes.
Read more...
---
Facilities Management Seminar Theatre
Securex South Africa News
The free-to-attend Facilities Management Seminar Theatre, powered by Broll, delivers information on the latest market trends, thereby keeping attendees up to date on solutions and technology centred on increasing facility system optimisation.
Read more...
---
The latest security trends at Securex South Africa 2023
Securex South Africa News Conferences & Events Training & Education
Security technology evolves at a blistering pace, so it's important to keep up to date with changing trends in order to ensure maximised safety of human and personal assets. The Securex Seminar Theatre, powered by UNISA, is the place to be.
Read more...
---
Sustainability School opens for enrolment
Education (Industry) News Security Services & Risk Management
Three-part programme, first developed for Schneider Electric employees, is now available for free for companies worldwide. Attendees learn how to future-proof their businesses and accelerate their decarbonisation journeys.
Read more...
---
From the editor's desk: Get Smart
Technews Publishing News
Welcome to the fourth issue of Hi-Tech Security Solutions for 2023, which is also the first issue of Smart Security Solutions. As noted in previous issues, Hi-Tech Security Solutions has been rebranded to Smart Security Solutions.
Read more...
---