printer friendly version
Retail Risk 2009 round-up
July 2009 News, Retail (Industry)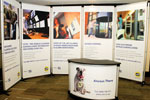 The Retail Risk conference was held earlier
this year. The event dealt with the threats and potential solutions retailers will face in 2010 and beyond, as well as the impact of the FIFA World Cup tournament next year.
The Consumer Goods Council South Africa and Technews Publishing hosted Retail Risk 2009 on 21 May 2009 in Cape Town and on 28 May in Johannesburg. This year's conference provided delegates with a strategic overview of the trends in retail risks in South Africa and globally, as well as how to deal with these issues in the real world. It also covered global best practices in dealing practically with retail risk and security, while examining real-life case studies doing precisely that.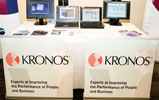 As South Africa is about to host the FIFA 2010 World Cup soccer tournament and hundreds of thousands of people are expected to pour over the borders, the conference also looked at the impact that the FIFA 2010 World Cup and the influx of people is likely to have on the retail industry.
Selma Black, manager of member services at the Consumer Goods Council (CGC) opened the days with an overview of the crime trends the CGC has collected from its members over a number of years. Two disturbing videos of armed robberies in action were used to support the information delivered, giving retailers a few good ideas of what they can expect and, hopefully, prepare for when the crime pandemic hits their stores.

Selma Black
While effective crime prevention and management is the job of the police services, every company and individual must do what they can to play their part in trying to control the crime pandemic the country faces. Of course, being a hero and getting hurt or killed is not going to do anyone any good, but we can all be aware and be prepared. Retailers know they are under attack as they are soft targets, you cannot put security gates around your retail installation and only allow access to certain people – as pleasant a task as that may seem.
Black concluded her presentation with an overview of the FIFA 2010 World Cup and its potential impact. The event could bode well for retailers with additional customers with Euros or Dollars to spend, but there will also be additional card fraudsters and armed criminals looking to profit as well. Black's sage advice to end with: 'be alert, be aware and be safe'.

Hooligans stay home
The keynote presentation in Cape Town was delivered by Terry Scallan, chairman of the South African Institute of Security. The presentation, entitled Identifying Key Risk Scenarios for 2010 and Beyond, looked at the areas that would be at risk during the FIFA 2010 games and the security preparations for dealing with this enormous event.
The security implications for the event are tremendous, requiring thousands of guards and police officers if it is to be handled securely. Scallan touched on the key risk scenarios of robberies, hi-jackings, terrorism, soccer hooliganism and taxi violence. While Europe is prone to soccer hooligans because it is easy to cross borders within the European Union, Scallan says there is little chance of it happening in South Africa. Hooligans with a record will not be allowed into the country in any case.
While soccer hooligans may not be an issue for 2010, taxi hooligans will be. The run-up to the event as well as during the event itself will see almost infinite possibilities for the ethically-challenged taxi associations to cause disruptions at a minimum, and resort to violent acts or terrorism at worst. This is an area the SAPS will need to address well before the games begin.
Scallan did not go into too many details of how the SAPS will be dealing with the challenges, leaving that to the next presenter.
The Johannesburg Keynote was delivered by well-known sportsman and television presenter, Gary Bailey, who was also involved in getting the FIFA 2010 tournament to South Africa. His history in the soccer world allowed him to deliver an educational and entertaining presentation on the tournament and its implications for South Africa, especially, but not exclusively the retail environment. For example, with hundreds of thousands of people arriving in the country over a period of one month, there will be pressure on the retail supply chain as the visitors need to be fed and watered, while local demand will remain the same. Have retailers taken this into account or will we be seeing a shortage of certain items?
Bailey was able to take the experiences of the previous tournament in Germany to offer the welcomed news that the event will not only bring more people into the country during the games (with millions of sausages sold in Germany and copious amounts of beer), but will have a positive impact on tourism in future as well. Germany has seen a long-term benefit in its tourism industry as a result of the positive impressions the 2006 World Cup had on visitors to the country. South Africa should prepare for the same as any benefits will naturally trickle down to the retail world as well.
Of course, this is all dependent on whether the security situation is handled well and people feel safe. Bailey was sure South Africa would and could handle all the demands the 2010 event would present, such as the purchase of over 2000 new buses and the implementation of a rapid transit programme, but the issue of security was the most sensitive and dangerous threat. This was a topic the next presenter was able to expand on.
Following the two keynote presentations, assistant commissioner Ben Groenewald, component head, Operational Support Services at SAPS delivered a presentation examining the readiness of SAPS to handle the challenges of this sporting event. Groenewald detailed the structures that have been put in place to ensure the safety of the teams and tourists during the games, including the guarantees SAPS and the South African government made to FIFA to secure the tournament. From the presentation it was clear to all concerned that the leadership in the SAPS has spent enormous amounts of time in planning and setting up effective structures to deal with any crime issues, from petty theft to terrorist attacks. Training and recruitment is still in process and Groenewald expects to see a secure operation.
The Confederations Cup is the first real proving ground for the entire structure and an opportunity to iron out any wrinkles. Given that the cricket world cup and the 20twenty championship was held without incident, Groenewald is confident the soccer World Cup will be a roaring success on all levels and that security issues will end up being a non-event for visitors and fans.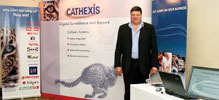 Down to details
One of the greatest risks the influx of people for the FIFA 2010 games will present is that of card fraud. Susan Coetsee, head of the Commercial Crime Office at SABRIC delivered her presentation titled: Credit and Payment Card Risks for Retailers to deal with this issue, especially in 2010. Coetsee's presentation highlighted the trends seen in card fraud over recent years, as well as the potential dangers of ATM crimes and, an area often overlooked, the dangers of Internet crime when using one's card for financial transactions. The sidebar at the end of this article: What Can Retailers Do to Manage the Risk offers some points from her presentation that can assist in better risk mitigation.

Susan Coetsee
The good news is that, across the board, globally there has been a slight slowdown in card fraud, with a slowdown in credit card fraud noticeable in South Africa over recent months. Interestingly enough, a slowdown does not mean the end of this type of crime and Australia is now a prime location for people to use their fraudulent SA credit cards, not only the UK and USA as has traditionally been the case.
Coetsee also highlighted the increasing fraud even with chip and PIN cards, as well as increased instances of skimming and 'shimming'. Shimming is when a very thin circuit board containing active circuitry is inserted into the card slot of a chip and pin terminal. During transaction, it intercepts and records data (track and PIN) as it travels between the card and terminal. Visitors and retail manager should be aware that criminals will be out in force to con visitors during the World Cup.
Another area that needs careful attention in managing retail crime is ensuring staff are vetted and reliable. The following presenter, Trudie van der Merwe, MD of LPS, effectively conveyed the message that pre-employment screening reduces risk. With an estimated R80 billion rand per annum lost to the economy each year due to white-collar crime, finding ways to ensure the integrity of hiring procedures and personnel checks in order to reduce the potential of fraud – especially with the increase in hiring expected for 2010 – is essential.

Trudie van der Merwe
Van der Merwe highlighted the benefits of screening employees before and during employment, and offered two enlightening examples of how missing the warning signs could cost a company dearly. She also presented frightening statistics as to the prevalence of fraud in the workplace.
Retail specialist, Buddy Anderson, followed with a presentation describing the real-world solution he was part of that delivered measurable and predictable reductions in shrinkage. The presentation was based around the premise that reduced shrinkage and increased sales volumes can be achieved through the implementation of an end-to-end process realignment.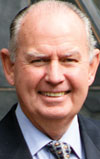 Buddy Anderson
Anderson showed that traditional methods of trying to reduce shrinkage were not delivering the results retailers desired, resulting in the development of the ECR Roadmap. Its implementation relies on tackling the highest risk items in stores and realigning operations and people to reduce loss. The concept works and Anderson showed results from an implementation at Woolworths showing a 68% loss reduction and 23% sales increase, while Pick 'n Pay showed a 61% loss reduction and 37% sales increase.
An important point Anderson raised was that while it is possible to dramatically reduce shrinkage for high-value items, the process must be ongoing because criminals will simply move onto another item if the one they prefer is unavailable due to improved business processes.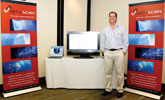 Partnerships and integration
Partnerships create an effective crime prevention solution said Jan Schoeman, MD of Secuscan, as he delivered the next presentation. His modus operandi is that the police should be allowed to do what they are trained to do, with the assistance of private security companies using the latest technologies. The way to make the best use of technology is to implement it via well-planned processes. Without standard operating processes, technology and an endless stream of guards is useless.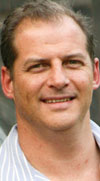 Jan Schoeman
Schoeman promotes the use of offsite video surveillance and auditing with highly-trained personnel in the control room. He does not suggest this is the only security measure retailers need to take, but that these are all components of a solution, glued together by well-planned processes. Through this integrated solution, retailers can anticipate and/or reduce all forms of crime, be it burglaries, armed robberies or traditional supply chain challenges.
Of course, talk is cheap, but for the retailer it is all about a return on investment. The next presentation was delivered by Dereck Sigamoney, strategic engagements executive at Bytes Systems Integration who focused on gaining a Return On Security Solution Investments. An in-depth article looking at how technology can help the retailer save money by reducing costs and shrinkage, and more importantly, increase revenues and profits is printed on page 24.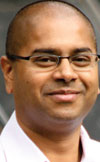 Dereck Sigamoney
Getting technical
Kevin Monk, MD of Technisec, delivered a case study of his company's implementation on an intelligent IP video system at a Spar distribution warehouse. The system installed consists of 128 cameras that are integrated into the client's existing IT infrastructure, making use of intelligent video analysis to raise the alarm when people or equipment broke pre-defined rules. A video in the presentation showed how intelligent analytics raised an alarm when a full pallet was moved onto a truck – the rule broken was that full pallets could be taken off trucks, but not loaded onto them.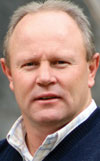 Kevin Monk
In real life, this automated response monitors multiple loading bays at the warehouse to ensure goods delivered are actually delivered and not marked as delivered when they are in actual fact being carted away to be sold on the black market, creating a substantial impact on the bottom line of the company.
Francois Malan, technical director of Camsecure, then gave an in-depth presentation highlighting the benefits of IP cameras as well as the pertinent issues and errors that can cause problems when implementing an IP surveillance system. It's not simply the camera that makes an implementation successful, but, as noted in previous presentations, the planning, processes as well as the rest of the infrastructure, including the networking and storage available. It is often in these ignored infrastructural areas that the smallest oversight can have a multimillion rand impact on the overall budget.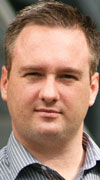 Francois Malan
Malan also highlighted three mega-trends in IP surveillance of pertinence to all companies looking at installing or improving their surveillance capabilities:
<i.* Megapixel/HDTV technology:</i> This technology allows companies to focus on wider areas of interest with a single camera, with clearer resolution and definition.
* H.264 Compression: While HD technology increases bandwidth requirements substantially, H.264 reduces it remarkably without losing quality, making HD a reasonable option for cost-sensitive retailers.
* Analytics: Video analytics is software that analyses the video content for predefined anomalies and will be one of the defining characteristics of IP.
Ending off the day, Roy Alves, country manager at Axis Communications gave the delegates an insight beyond the hype of high-definition television. The presentation highlighted the benefits of HD and how it will improve IP camera operations in the retail environment, covering more, in greater detail. For example, Alves noted that HD boasts over five times more pixels than traditional IP camera images, giving five times the resolution/information than was previously possible.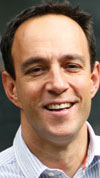 Roy Alves
Moreover, HD cannot be discussed without including H.264 compression. Alves said H.264 is the first, global video standard shared across all industries, which would also reduce the storage requirements for digital video. For example, H.264 reduces the bandwidth and storage consumption compared to Motion JPEG by about 80%, and by around 50% when compared to MPEG-4 part 2.
Given the lack of interoperability standards in the industry, Alves also discussed ONVIF, the Open Network Video Interface Forum launched by Axis, Bosch and Sony. ONVIF is a global and open industry forum for the development of a global interface standard for network video products. The body now has over 57 members.
What can retailers do to manage the risk?
* Vet your staff!
* Train, train and train your staff.
* Join organisations or groups where you can get information on the latest crime trends.
* Read all crime awareness material available.
* Watch out for suspicious behaviour by customers.
* Ask for customers to identify themselves when suspicious or foreign.
* Reward the staff who identify fraud.
* Refer employees to a hotline for reporting of corrupt staff and criminal activity.
* Inspect equipment and search for unauthorised devices regularly.
* Strike a balance between customer focus and risk management.
Further reading:
Milestone cancels APAC/EMEA MIPS conference in Dubai
Issue 2 2020 , News
In response to increasing concern for potential health risks from COVID-19 (Coronavirus), Milestone Systems has cancelled the APAC/EMEA MIPS Conference scheduled for April 20-22 in Dubai.
Read more...
---
The reality of load shedding
Issue 2 2020, Technews Publishing , News
It may be that I am a bit slow on the pick-up, but recent events and conversations have driven the reality of what rolling blackouts (called load shedding by Eskom to make it sound less devastating) are ...
Read more...
---
Ongoing profile and specification development in 2020
Issue 2 2020, Technews Publishing , News
Per Björkdahl says ONVIF has over 500 member companies and around 15 000 conformant products.
Read more...
---
£28 million X-ray agreement for ADANI
Issue 2 2020 , News
ADANI announces £28 million framework agreement with the UK Ministry of Justice for the supply, installation and support of X-ray transmission body scanners.
Read more...
---
Security issues under the spotlight
Issue 2 2020 , News
Security, at all levels, continues to be a major concern across the African continent in 2020.
Read more...
---
Comodo and CONDYN announce strategic partnership
Issue 2 2020, Condyn , News
CONDYN has signed a partnership to offer Comodo's advanced endpoint threat prevention platform to South African enterprise and SMB clients.
Read more...
---
Arcules and Milestone deliver hybrid VMS solution
Issue 2 2020, Milestone Systems , News
Powerful functionality meets hyper-scalability with the introduction of the Arcules-XProtect Hybrid VMS Solution.
Read more...
---
Forbatt SA is an official FLIR distributor
Issue 1 2020, Forbatt SA , News
Forbatt SA has announced that it now has official distribution rights for the FLIR range of products.
Read more...
---
IFSEC rescheduled to 8-10 September 2020 due to coronavirus fears
Issue 2 2020, Technews Publishing , News
IFSEC and co-located shows have been rescheduled to take place on 8–10 September 2020 at London ExCeL.
Read more...
---
Amazon Web Services achieves Level 1 BBBEE status
Issue 2 2020 , News
AWS also invites 100 percent black-owned South African small businesses to apply for the AWS Equity Equivalent Investment Programme.
Read more...
---