printer friendly version
The buzz around H.264
November 2008
News
John Blem examines the hype around H.264.
I was at the ISC West trade show in Las Vegas and IFSEC in the UK. These industry events are always good to get a gauge on market trends and what people are buzzing about. As the CTO of an open platform IP video management software company, it is very important for me to check out what is the real deal and what is simply hot air.
Not being new to these trade shows, I realise that the media wants to report on the latest and greatest. When a particular concept grabs hold, it can seem like they have all hopped on the newest bandwagon to be on the forefront presenting the latest and greatest. Let us remember that just a couple of years ago IP was the hot topic that is now becoming the accepted standard for surveillance as an undeniably vast improvement over analogue technology.
This year, the buzz is about the new video compression standard H.264. This standard has been jointly developed by the two international standards bodies ITU and ISO/IEC and is also known as MPEG-4 Part 10 Advanced Video Coding (AVC).
40–50% reduction in file sizes
Demands in the video surveillance world are increasing for more storage and bandwidth without compromising the high frame rates and high resolutions that are desired these days. More effective compression methods are therefore required. An H.264 encoder can reduce the size of a digital video file by more than 80% against the Motion JPEG standard while maintaining the same visual quality. Compared to MPEG-4 Part 2 Simple Profile (SP), H.264 typically achieves a 40–50% reduction in the size of a video file.
The market uptake of megapixel cameras is growing, but the issue has been the storage requirements that such high-resolution cameras can generate. The use of H.264 will have a significant impact on this going forward.
My personal view is that H.264 will almost obliterate the use of MPEG-4 Part 2 over a period of just a few years. Video management solution providers will be implementing this new functionality in the near future, as eventually, will all major camera manufacturers.
Early stages for high performance hardware
On the flip side, H.264 is in the early stages right now. While it provides a great tool for savings in network bandwidth and storage costs, it will only perform with high performance cameras. The compression standard is more sophisticated than previous standards, with the decoder complexity around two times higher than that of MPEG-4 Part 2 SP, which will translate into higher computational requirements. Even though H.264 is new for the IP surveillance industry, it has been available as a standard for about five years and many areas have absorbed it already, e.g. next-generation, high-definition DVD (Blue-ray) format.
Technical background
H.264 is a block-based, hybrid video coding standard using motion compensation, where motion compensation refers to the use of displacement vectors that are included to aid in the prediction between pictures. The typical high correlation between successive pictures in a video sequence allows for coding the displacement of the different parts of a picture and the prediction difference between the actual picture content being coded and the displaced content from other coded pictures: the so-called reference pictures. This is called inter-prediction.
There are two main types of inter-prediction: prediction based on one reference picture (P-type macroblock) and bi-prediction (B-type macroblock) that utilises a combination of two reference pictures. To facilitate random access and to increase error robustness, the standard also allows for intra-coding where the coded data does not depend on other pictures as is the case for inter-prediction.
The H.264 standard divides a picture into a number of macroblocks that each consist of a 16-by-16 pixels portion of the picture. The macroblocks are grouped into one or more slices, usually in raster scan order. Therefore, one picture may be coded as just one slice or as a number of slices. The use of slices allows different error resilience tools, different macroblock coding types, and such things as the ability to compress the fields of an interlaced picture separately from each other as individual slices.
Colour video is coded with the luminance signal separate from the chrominance (colour) signals, usually with sub-sampling of the chrominance signals relative to the luminance signal for more efficient coding due to the nature of the human visual system. In overall terms, this is not fundamentally different from previous video coding standards (including MPEG-4 Part 2), which are also block-based hybrid video coding standards.
Coding tools and enhancements
Yet H.264 does introduce a number of new coding tools, along with enhancements to other coding tools. The most significant of these is an in-loop adaptive de-blocking filter that helps reduce blocking artifacts, storing more than two reference pictures for better prediction, sub-division of macroblocks into smaller blocks (down to 4-by-4 pixels), prediction in intra-coding, and the use of an integer transform instead of the DCT transform used in previous standards.
Built into H.264 is the concept of a network abstraction layer (NAL) that on top of the video coding layer (VCL) represents the compressed video efficiently to allow for easy integration with a number of different protocols and transport mechanisms – very suitable for IP networks.
The net result of all the coding technology advancements incorporated into H.264 is that it out-performs all previous video coding standards, and is therefore the current state-of-the-art within digital video coding.
In summary, is the media buzz on H.264 worth it? Video compression standards are changing with its advent: being able to maintain or even lower your bit rate and storage requirements while maintaining a high-resolution stream is valuable.
Don't forget, however, that even with this advancement in coding technology and more high-powered megapixel cameras flooding the market, a strong platform is essential as the foundation to build your solutions. Using a truly open IP video platform allows you to integrate these advancements in technology to your existing backbone without having to 'forklift upgrade' your entire system.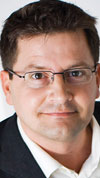 John Blem is the CTO and co-founder of Milestone Systems
For more information contact Courtney Pedersen, Milestone Systems, +45 88 300 300, [email protected], www.milestonesys.com
Credit(s)
Further reading:
Paxton opens first experience centre in South Africa
Paxton News Access Control & Identity Management
The new Paxton Experience Centre in Johannesburg is now open and welcoming security installers and end users who want to see Paxton's products in action.
Read more...
---
Paratus signs re-seller agreement with Starlink for Africa
News IT infrastructure
Pan-African telco and network services provider Paratus Group announced it has entered an agreement as a distributor for Starlink's high-speed services across the African continent, available immediately in Mozambique, Kenya, Rwanda and Nigeria.
Read more...
---
4IR is opportunity
News
In South Africa, digitalisation remains 'at a nascent stage' which means significant work still has to be done when it comes to addressing skills development around 4IR in the country.
Read more...
---
Five ways to reduce your cyber insurance premiums
Security Services & Risk Management News
With the global costs of cybercrime expected to soar to $13 trillion within the next five years, cyber insurance is booming as organisations try to mitigate the risk of financial losses.
Read more...
---
Client satisfaction boosted by 85% at Thungela Mine
Thorburn Security Solutions News Security Services & Risk Management Mining (Industry)
Thorburn Security, a division of Tsebo Solutions Group, has announced its recent collaboration with Kwa-Zulu Natal security company, Ithuba Protection Services, as part of its Enterprise Supplier Development (ESD) initiatives across Africa.
Read more...
---
Fidelity SecureFire steps into critical fire response space
News Fire & Safety
With the majority of fire stations around the country being crippled by a lack of resources to offer effective responses, Fidelity Fire Solutions has launched its own 'first responder' model, Fidelity SecureFire.
Read more...
---
The state of edge security report
News IT infrastructure
Edge computing has grown from being a niche use case in a handful of industries to offering a major opportunity for enterprises across industries to spread computing power around the world.
Read more...
---
CHI selects NEC XON as trusted cybersecurity partner
News Cyber Security Industrial (Industry)
CHI Limited, Nigeria's leading market player in fruit juices and dairy products, has engaged in a strategic cybersecurity partnership with NEC XON, a pan-African ICT systems integrator.
Read more...
---
Collaboration delivers integrated and holistic security
Guardian Eye CCTV, Surveillance & Remote Monitoring News Integrated Solutions
Guardian Eye and Lytehouse have partnered to integrate their speciality solutions and provide a holistic security offering that overcomes the fragmentation of security systems and services.
Read more...
---
Kaspersky appoints new GM for Africa
News Cyber Security
Kaspersky has announced the appointment of Andrew Voges as the new General Manager for Africa to boost regional market positioning and enterprise protection.
Read more...
---