printer friendly version
Securex makes the grade
September 2008
Conferences & Events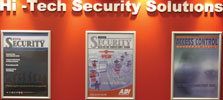 The big news at Securex was that next year's event will be IFSEC South Africa after CMP Information acquired a 50% stake in the local show. South Africa now becomes part of the global IFSEC family. This can only bode well for the future of the exhibition and provide the local security industry with more opportunities and potentially more competition.
Hi-Tech Security Solutions (HSS) asked a few exhibitors to provide us with their opinions of the 2008 event to gauge their satisfaction and find out what made it work for them, or what was missing. Overall, the local security industry was pleased with the 2008 exhibition, although, as always, there are a few concerns and preferences for future exhibitions.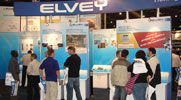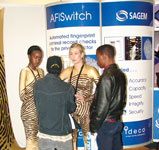 Saflec Systems' Barend Keyser says the company opted for a bigger stand this year and as a result got to see more people, both existing clients and new leads.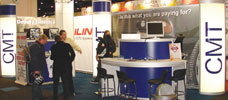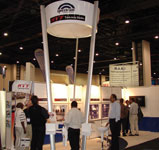 Regal's Mel Labuschagne says the show was a success for his company. His positive view is not as a result of seeing more people at the show, but because Regal took the strategic decision to change its focus at Securex 2008 and expose all its products to attendees instead of only a subset and to concentrate more on its high-end communications solutions. Moreover, Labuschagne notes that Regal was able to convey the message that it was a one-stop-shop, providing products as well as solutions. Many of the business people who stopped at the stand were more interested in solutions than individual products, making this change in strategy the right one for the show.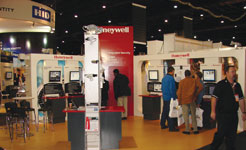 Another regular exhibitor that again took a large stand in 2008 was Impro. The company's Barry East was pleased with the event, but noted a change in the type of visitor as there were more end users than trade representatives on the floor. East sees this as a change in the decision matrix in the security industry as users are making brand decisions for themselves instead of simply taking the advice of their solution providers. And as users become more knowledgeable, the onus is on the industry to improve its knowledge and provide better advice and service.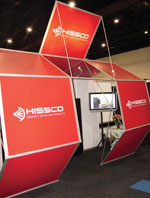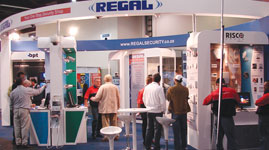 Impro has geared up for this change and is able to handle direct user enquiries as well as any technical issues its channel raises. Due to the high turnover of staff in the channel Impro retains its own skilled technical employees to deal with high-end queries and issues its channel partners are not always able to handle. Of course, this does not mean it sells direct to end users, but is in a position to assist its channel in dealing with queries and concerns.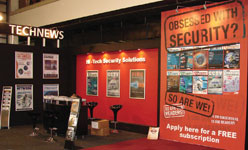 Keyser feels there were less people at this year's show, although the numbers seem to indicate the same as last year. [The organisers said there were 5634 visitors. – Ed.] He also notes that most attendees were from the security industry, whereas last year saw more potential customers from government, financial institutions and other interested vertical markets. East agrees that numbers were not all that encouraging, but he notes this is in line with international trends. He says the number of people was steady as compared to last year, but the industry has grown by about 15%, an increase in feet would be welcome. People are also using the Internet to educate themselves today, with the result that fewer are going to trade shows.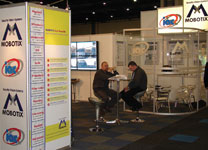 Overall, Keyser notes his satisfaction with Securex 2008 and Saflec will be back in 2009. Labuschagne was also happy with the process, although he was somewhat perturbed that a company with a substantial stand and multiple onsite staff should only be provided with one parking ticket. Perhaps the organisers could deal with that one in 2009.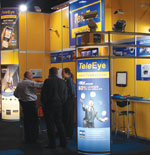 One thing East would like to see at future shows, however, is more attendance by people from African countries. Securex and next year's IFSEC South Africa are the only shows of this nature on the continent and should therefore include more of the growing economies to the north.
The few minor criticisms aside, Securex 2008 proved to be a great success for all concerned. So great, in fact, that industry is now looking forward to seeing what IFSEC South Africa 2009 will bring to the security industry and its customers. IFSEC South Africa will take place from 1–3 July 2009 at the Sandton Convention Centre.
Credit(s)
Further reading:
Are you your insider threat?
Technews Publishing Editor's Choice Security Services & Risk Management Commercial (Industry)
Insider threats are a critical aspect of risk management today, but what happens when it is the owner of the company acting fraudulently and making sure none of his staff can catch him?
Read more...
---
Passion, drive and hard work
Technews Publishing Editor's Choice CCTV, Surveillance & Remote Monitoring Security Services & Risk Management
Colleen Glaeser is a leader in the security market, having made her mark in the male-dominated security industry through determination and hard work, along with a vision of making the world a safer place.
Read more...
---
System integrators and surveillance
Technews Publishing Stallion Security G4S Secure Solutions SA Integrated Solutions
Hi-Tech Security Solutions asked two system integrators if they are seeing an upturn in the market and if projects are back on track despite the economic slowdown and supply chain chaos?
Read more...
---
Leaning into the edge
Technews Publishing Axis Communications SA Forbatt SA Hikvision South Africa Editor's Choice CCTV, Surveillance & Remote Monitoring Integrated Solutions IT infrastructure
Video storage and analytical processing, with the help of artificial intelligence on the edge, is simple today with the powerful and advanced camera technology we have available.
Read more...
---
From the editor's desk: The last CCTV Handbook
Technews Publishing News
Welcome to the CCTV Handbook 2022, I hope the headline caught your eye. This really is the last CCTV Handbook Hi-Tech Security Solutions will ever produce, but it is not the last handbook about surveillance ...
Read more...
---
Tracking surveillance into the future
Technews Publishing Bosch Building Technologies Cathexis Technologies Axis Communications SA Arteco Global G4S Secure Solutions SA Editor's Choice CCTV, Surveillance & Remote Monitoring Integrated Solutions
Hi-Tech Security Solutions asked six industry experts to join us around a table to discuss the state of the surveillance industry and where it is going.
Read more...
---
Supply chain woes
Masc Solutions Technews Publishing CCTV, Surveillance & Remote Monitoring
Hi-Tech Security Solutions asks Mark Kane from Masc Solutions about the supply chain issues the industry has been facing for far too long.
Read more...
---
Video management and beyond
Technews Publishing Genetec CCTV, Surveillance & Remote Monitoring
Hi-Tech Security Solutions asked Quintin Roberts, regional sales manager for Genetec Africa, for insight into how the company's Security Center has evolved.
Read more...
---
The benefits of VSaaS
Technews Publishing Editor's Choice
Video Surveillance-as-a-Service promises to make life easier for customers as they will no longer have the hassles of hardware and software maintenance and they require less backup power. Hi-Tech Security Solutions asked David Arrikum if this is true.
Read more...
---
So what is AIoT?
Technews Publishing LD Africa Bosch Building Technologies CCTV, Surveillance & Remote Monitoring
The Artificial Intelligence of Things has the potential to change everything, but only if openness and the ability to easily integrate diverse technologies becomes the standard.
Read more...
---