printer friendly version
Securex 2007
August 2007
Conferences & Events
The security, safety, fire and protection exhibition was held from 20 to 22 June at the Sandton Convention Centre.
A total of 5750 visitors attended Securex 2007 and saw live demonstrations and products on display, including CCTV cameras, hi-tech security doors and protective clothing to police, monitoring systems and security risk management solutions.
"We were once again pleased with this year's show from the amount of visitors we received to the ground-breaking displays that our exhibitors created," comments Dev Naidoo, director of Securex organiser Exhibitions for Africa.
Securex, which concentrates on security, protection, fire and safety in the context of effective business management, attracts exhibitors and visitors both local and international. "The international security market is becoming increasingly sophisticated and the local market is certainly no exception," says Naidoo.
Technology is constantly advancing and with this comes new security products and solutions to combat crime and prevent unwanted intrusion. Securex 2007 definitely highlighted this with numerous exhibitors launching products at the show (see Securex Preview in Hi-Tech Security Solutions, June 2007).
"The show went very well. We introduced 'Go Patrol', a simple handset that allows for GPS positioning of high-risk personnel on a continuous basis and it was met with great enthusiasm. We achieved overwhelming success from the introduction of this new product," says Lisa Lewis, PRO for Geotab.
Other products that were launched included the J-Series multispectral fingerprint sensors from Biomotic. Powered by multispectral imaging, the sensors are able to capture nine different fingerprint images in a fraction of a second, each using unique illumination and polarisation to capture from both the surface and beneath the skin. The demo model at the show even captured prints under running water!
Another product was the EasyLobby Visitor Management solution, which captures visitor information from a business card and prints out customised badges for visitors for secure entering and exiting of identified, and also identifiable, visitors.

Stand winners:
Elvey Security Technologies (Elvey) scooped the 'Best Large Exhibitor' award for the second consecutive year at Securex 2007, South Africa's growing international security industry trade show. Quality of merchandising, customer orientation, user friendliness and the judge's overall impression of the stand determined the winner of the coveted prize. On the stand, international guests from suppliers DSC, Optex, GE Security, SouthWest Microwave, GSC, Bentel Security and Bunker assisted visitors with product demonstrations and queries.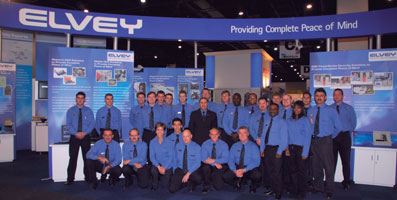 The Elvey team on their stand
Hall 1
Small stands: Highly commended:
Spectrum Communications
Betafence
Dex-IT
Fibre Based Integrations
RDC Radio Data Communications
FSK Electronics
Winner:
Digital Surveillance Systems
Medium stands: Highly commended:
Transaction Control Technologies
Security & Communication
Warehouse
Gunnebo
Geovision SA
Winner:
Impro Technologies
Large stands: Highly commended:
Norbain
Regal Eltro
Alltech
Winner:
Elvey Security Technologies
Hall 2
Small Stands: Highly commended:
Stallion Security
Global Vision
Civic Automation Systems
Winner:
i to i technologies
Medium stands: Highly commended:
Eagle CCTV
Hi-Tech Security Solutions
Winner:
R&D Screening Technologies
Large stands:: Highly commended:
ADI International
Siemens
Winner:
Biomotic South Africa
The show now moves to the Western Cape where Securex Cape Town 2007 runs from 26 to 28 September at the Cape Town International Convention Centre and Securex 2008 runs from 25-27 June at the Sandton Convention Centre.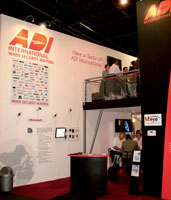 Comments from visitors
"The exhibition was a good idea. It was good to have all the different security equipment here under one roof so we could compare prices and quality." – Mlungisi Wambi.
"The exhibition was good. It is nice to know that these products exist. I feel much safer now." – Alicia Selby.
"This was a very well prepared exhibition, very professional and user friendly." – Henry Davids.
"Good presentation." – Riccardo Markson.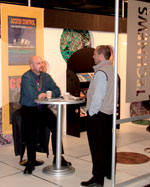 Comments from exhibitors
"Being acclaimed 'Best Large Stand' was an added bonus for Elvey. We were delighted with the turnout and the level of interest and enthusiasm created by the release of our new products and stand design. It is always exciting to be part of an event such as Securex. It was a great success for Elvey and I thank Exhibitions for Africa for the opportunity to participate in such an exciting show. We look forward to an even bigger Securex 2008." – Jack Edery [Elvey Security Technologies]
"I must admit that visitors to the exhibition were very focused. They knew what they wanted and how much they wanted to spend. We had a lot of foreign visitors who were very keen to find out what Geotab had to offer. Overall it was an excellent show and was very well organised." – Lisa Lewis [Geotab]
"It was worthwhile to be at Securex. Some very interested people stopped by our stand." – Itumeleng Mafata [Naphtronic]
"People stopped by and have shown some interest so that has been very good." – Louisa Garland [Imperial Armour]
"It went well, busier than usual. Many people have been interested in the Panasonic arbitrator, a monitoring system for the police." – Natasha Govender [Panasonic]
"We have been really busy. A big thumbs-up to Exhibitions for Africa." – Waldi Smit [CMT Trading]
Further reading:
How to choose which webinars to attend after lockdown
Issue 5 2020, Regal Distributors SA , Conferences & Events
The Regal Learning Academy has decided to provide training via live webinar streaming.
Read more...
---
Paxton expands free education offerings
Issue 4 2020, Paxton Access , Conferences & Events
In response to the recent global pandemic, Paxton has expanded its online installer training platform and launched a series of informative webinars.
Read more...
---
Open Source Intelligence post COVID-19
Issue 3 2020 , Conferences & Events
ASIS South Africa hosts Craig Pedersen in a webinar focused on open-source intelligence (OSINT).
Read more...
---
Making estate security work in the real world
Issue 2 2020, Technews Publishing , Conferences & Events
Hi-Tech Security Solutions is proud to have the CEO of Cotswold Downs, Shantelle Walters, presenting at the Residential Security Conference on the topic of 'Invisible Efficiency and Security.'
Read more...
---
The blessing and curse of communications
Issue 2 2020, Technews Publishing , Conferences & Events
In the Residential Security Conference 2020, Craig Rosewarne will delve into the murky world of cybercrime, while Rudi Potgieter will discuss the possibilities and benefits of a unified network.
Read more...
---
Technology at work to optimise security
Issue 2 2020, Technews Publishing , Conferences & Events
Artificial intelligence (AI) and drones are the latest additions to the security options for residential estates which will be discussed in the Residential Estate Security Conference 2020.
Read more...
---
Efficient and cost-effective risk management for estates
Issue 2 2020, Technews Publishing , Conferences & Events
Identifying your estate's vulnerabilities is key to being able to manage and maintain them effectively.
Read more...
---
Surveillance augmented by technology and people
November 2019, Technews Publishing , CCTV, Surveillance & Remote Monitoring, Conferences & Events
iLegal 2019 examined how the surveillance industry is being enhanced through the intelligent integration of the latest technology and the best people have to offer.
Read more...
---
Residential Estate Security Conference 2019
October 2019, Technews Publishing , Editor's Choice, Residential Estate (Industry), Conferences & Events
Hi-Tech Security Solutions hosted the Residential Estate Security Conference in August, focusing on the people, technology and processes involved in an effective security solution for estates.
Read more...
---
Securex West Africa returns in 2020
October 2019 , Conferences & Events, News
See more than 100 exhibitors over two days and join over 2500 professionals from more than 20 countries.
Read more...
---