printer friendly version
Insights into IFSEC 2004
June 2004
News
IFSEC lived up to its reputation of being one of the best security exhibitions in the world again in 2004. It was my fourth visit to IFSEC and the scope of the exhibition continues to amaze me. With more than 600 exhibitors and over 25 000 visitors, it is a massive occasion.
What is remarkable is how IFSEC has continued to grow in scope and activities on a regular basis over the past number of years. The stand sizes of the major exhibitors, unlike our own South African shows, remain big and bold and out to impress. There is not much indication of cutbacks in expenditure and all the big names are there. Another development is the expansion of seminars and talks provided on a complementary basis on various key topics during the four days of the exhibition. There is something for everyone, and in addition, a conference that runs alongside managed by the British Security Industry Association, with some excellent speakers.
There has been some consolidation at IFSEC, but this relates more to what is displayed rather than in the nature of the exhibition itself. In my last visit, DVRs had hit the market and literally hundreds of small manufacturers, largely from places like Taiwan, were all over the CCTV village and other areas. The DVR industry has obviously matured quickly and the established names now incorporate the technology into their product lines leaving little space for the small independent manufacturers.
There was, however, a strong showing by the Koreans who had a number of smaller stands in a Korean village and given the global success of a company like Samsung, it will be interesting to see how the Koreans impact on the industry in the future. Consolidation was reflected in the fact that in discussions I had with people attending the show, it was felt that new products showed an evolutionary progress rather than any revolutionary developments.
The affordability and quality of DVR systems is creating more acceptance of these, although clearly there are low-end and high-end systems in the market. With the common acceptance of the role of DVRs, the major players have also refocused back on the whole security system. New technologies like IP devices, wireless and enhanced interfaces are prominent but not being afforded all the attention and there is still a strong showing of more conventional equipment.
More attention is being paid by providers to their software interfaces and how to gain maximum benefits from information that is available. NICE showed a development copy of the interface to manage its DVR system that was probably one of the best I have seen and was notable for its ease of use and intuitive nature.
Technology
There is more recognition among most technology providers that just getting data is not enough, and it is how things can be analysed and used that provides the value and importance to the end-user. However, the combining of data from different security systems is not where it should be yet, with CCTV and alarm systems probably the aspects most linked together in line with traditional thinking. It struck me that the companies which make more provision for linking to other types of systems and databases are those that are most likely to be successful. Software interfaces that are proprietary, closed, and dedicated only to one aspect of the security system are simply not going to be acceptable in an environment where things increasingly need to be integrated.
IP and wireless devices were highlighted by various exhibitors as key developments at IFSEC. True digital cameras being emphasised as something that is now more commonly available with some of these becoming smaller yet more powerful and more versatile.
It is reported that the organisers claim IFSEC is the biggest IP/networking event in Europe and these themes were reflected almost everywhere. In discussions with Charlie Pierce who was visiting IFSEC from the US, it came through that most people still have not established ways to maximise the benefits of handling the data potential from technologies such as digital cameras. This should start coming through more as the systems mature and the capabilities of the software start catching up with the technology capabilities.
Certainly, many of the seminar lectures within IFSEC dealt with providing information to end-users on how to get more familiar with IP related issues. A camera system using thermal imaging alongside the more traditional cameras provided some interesting capabilities with further reported advantages in being able to overlay thermal and normal camera views. On the wireless side, anything from control panels to cameras are being wireless equipped and this is likely to add to flexibility of systems. MPEG4 seems to be emerging as the default of choice in the newer releases of IP equipment.
Cameras
Intelligent video analysis based options or 'content analysis' for use with cameras or DVRs is becoming increasingly common. Much of this is aimed at basic recognition of movement with a VMD type function, or alternatively of objects that do not move in order to be able to recognise packages that are left lying around which could be bombs. There is a strong emphasis in many of the exhibitors' marketing literature on detection of objects left by themselves, and interestingly enough, I did not find one rubbish bin at the various train stations I passed through - probably a result of security precautions against bomb targets and the strong security awareness in the UK at present. A few vendors did show more advanced 'intelligent systems' for processing camera views with this trend set to continue.
Automated recognition
Automated number plate recognition (ANPR) is becoming more mainstream and a presentation I attended at the conference by John Dean, National coordinator for ACPO (Association of Chief Police Officers) ANPR scheme was quite eye opening. With all 43 police regions in England and Wales now using number plate recognition, increases in arrest rates for police using the technology have increased from 10 per officer annually to about 100 due to vehicles being stopped due to various number plate related issues. These issues could be based on historical contraventions or receiving notification of involvement of a particular vehicle with a registration number at a crime scene. Another presenter at the conference was discussing how cameras could be used as smoke detectors using an algorithm which could even distinguish between smoke and steam. In many cases, in particular with high roofed buildings, this technology is superior to normal fire detection methods. This raises the question of to what extent video based intelligent analysis may replace traditional intrusion detection and fire warning devices in the future. While techniques like ANPR do things that human operators could never do, an interesting aspect was that the police running the largely mobile ANPR systems themselves picked up 20% of cases based on their own observations of vehicles and the drivers. This tied in well with a presentation I did at the conference on the importance of behavioural observation for CCTV operators where the message that operators need training in body language went down extremely well - it seems that we in South Africa are still ahead of places like the UK on this aspect of CCTV.
Panels
Ergonomic design for control rooms reflected the move to flat panels discussed in an article in this magazine a couple of months ago (Hi-Tech Security Solutions, March/April 2004, 'The future is flat - the move to flat screens in control rooms'). The two main console designers at the show showed a couple of examples of this, although their stands were still dominated by the traditional solid wood console with CRT monitors. Large display environments were being demonstrated by Barco and another exhibitor - the first time I have seen this at IFSEC - and like the earlier article mentioned, this seems set to become an increased feature of the CCTV environment.
After a day and a half at IFSEC and the resulting meetings with people, attending and presenting at the conference, and moving around the various stands I still had not covered it fully. IFSEC is an experience well worth attending. This view is obviously shared as there were large numbers of people from Eastern Europe, parts of Africa and the Middle East, and the US besides the traditional European markets. I am sure there will be more on new developments at IFSEC in the next edition as other South Africans return with their impressions and a broader coverage of what was available at the exhibition.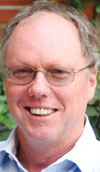 For more information contact Craig Donald, Leaderware, 011 787 7811, craig.donald@leaderare.com, www.leaderware.com
Dr Craig Donald is an industrial psychologist and specialist in human factors in security and CCTV. He is the co-developer of the Surveillance and Monitoring Assessment Exercise (SAMAE) for the selection and placement of CCTV operators and presenter of the CCTV Surveillance Skills training course.
Credit(s)
Further reading:
Olarm launches the Olarm LINK
Olarm Perimeter Security, Alarms & Intruder Detection News Products
Building on the success of smart-enabling, monitoring and controlling alarm panels and electric fences, Olarm has a new solution for customers to integrate gates, garage doors, pumps and other electrical products with the Olarm APP and Olarm PRO communicator.
Read more...
---
Ultimate smart monitoring and reliability
Olarm Perimeter Security, Alarms & Intruder Detection News Products
Olarm is gearing up to unveil its latest product, the Olarm MAX, set to be available in late 2023, which will redefine smart monitoring by offering unparalleled connectivity options and functionality.
Read more...
---
Insights from the 2023 Cloud Security Report
News Cyber Security
Increased costs, compliance requirements, hybrid and multi-cloud complexities, reduced visibility, and a lack of skilled practitioners cause organisations to slow or adjust their cloud adoption strategies.
Read more...
---
New algorithm for OT cybersecurity risk management
Industrial (Industry) Cyber Security News Commercial (Industry)
OTORIO's new risk management model and attack graph analysis algorithm technology, calculates OT cybersecurity threats and provides risk mitigation actions, prioritised according to actual exposure and potential impact on operations.
Read more...
---
Robots: a security opportunity or a threat?
Editor's Choice News Conferences & Events
Professor Martin Gill, Director of Perpetuity Research & Consultancy International and the School of Criminal Justice at the University of South Africa (UNISA), will be holding a Global Thought Leadership Security webinar on 22 June 2023 to discuss the contentious issue of robots operating in the security industry.
Read more...
---
UNISA sponsors Securex seminars
Editor's Choice News Conferences & Events
As part of UNISA's 150-year birthday celebrations, UNISA has sponsored the Securex Theatre Seminar Programme, which will include a number of prominent industry specialists, academics and security practitioners focusing on a number of themes.
Read more...
---
Facilities Management Seminar Theatre
Securex South Africa News
The free-to-attend Facilities Management Seminar Theatre, powered by Broll, delivers information on the latest market trends, thereby keeping attendees up to date on solutions and technology centred on increasing facility system optimisation.
Read more...
---
The latest security trends at Securex South Africa 2023
Securex South Africa News Conferences & Events Training & Education
Security technology evolves at a blistering pace, so it's important to keep up to date with changing trends in order to ensure maximised safety of human and personal assets. The Securex Seminar Theatre, powered by UNISA, is the place to be.
Read more...
---
Sustainability School opens for enrolment
Education (Industry) News Security Services & Risk Management
Three-part programme, first developed for Schneider Electric employees, is now available for free for companies worldwide. Attendees learn how to future-proof their businesses and accelerate their decarbonisation journeys.
Read more...
---
From the editor's desk: Get Smart
Technews Publishing News
Welcome to the fourth issue of Hi-Tech Security Solutions for 2023, which is also the first issue of Smart Security Solutions. As noted in previous issues, Hi-Tech Security Solutions has been rebranded to Smart Security Solutions.
Read more...
---