printer friendly version
Digital integration must be the way to go
July 2003
CCTV, Surveillance & Remote Monitoring

Refer to the article in the May 2003 issue of Hi-Tech Security Solutions by Dr Craig Donald, 'Practical perspectives in evaluating digital surveillance systems' and you have quantifiable options for a clearly laid out plan and strategy on what you might need when considering digital surveillance options.
By taking up the points raised, admittedly by someone with limited knowledge on technical systems and specifications, this should be a benchmark for all end users, installers and project integrators who often may not `see the wood for the trees' with all the technical speak and complexities different suppliers introduce these days.
1. The first question Dr Donald identified was, can the system handle the data requirements at resolution and frame rate? This has been a key factor for many in choosing a digital video recorder (DVR), yes of course we all want realtime but at what cost in resolution (quality of picture) and how much are you prepared to pay for storage. No doubt, the DVR market can supply you varying frame rate systems right up to 25 fps per channel, but what of the quality of the picture and of course what file size do they give you? Vision Catcher concentrates on quality of picture, and in some cases this does reduce frame rate - but what is the point of having a system if you cannot see who did it.
2. Dr Donald went on to identify and highlight the ergonomic importance of monitoring systems. How many of us really sit in front of a screen for hours on end watching a realtime display? The maximum attention span for an individual looking at a screen is approximately 20 minutes - yet we expect operators to observe for hours on end. How do we resolve this problem in the easiest manner to ensure that we are able to deal with incidents when they happen, as a simple standalone DVR may not suffice?
3. Add to this the ability to review and audit, Dr Donald's third point. Here you have the direction that we need to move in; we need to be able to review recorded information at a quality and with an auditing ability allowing full access to a series of events. This leads to his final point for any system; that is to be able to use the information and evidence for prosecution, be it at company disciplinary level or into the Courts. There are of course other factors, but in general we want an overview of what is going on with the relevant detailed information available at the touch of a button and most importantly the final ability to prosecute the infraction!
Management information systems
Dr Donald has very simply pointed out the areas of concern of any company in business, and highlighted in his own view the practical extrapolated key points from his particular meeting, as above. The direction is precisely what management information systems (MIS) have provided over the past few years, a simple means of extrapolating all information through one common system at the touch of a button.
Breaking this down in stages; any company can use existing CCTV and or other security systems and integrate them individually into a control room solution, but this is not necessarily what we mean by MIS. For example:
* CCTV - take your CCTV cameras, capture and store the images into a format that allows for not only local monitoring and review, but to export, review remotely or integrate them with other systems. A DVR should be able to give you these options, many do not.
* Alarms, passives and panic buttons - routed through alarm panels to an outside rapid response company, but as we all know, false alarms are the biggest problem; a leading company reported receiving more than 60 000 false alarms a month. We need to combine them with a means of confirmation that the event is real.
* Stock, POS and ATM - information can be reviewing quickly through database analysis but can we put a face or a product to the bar code, swipe card or other means of interaction? We need some form of alternate verification.
* Fire and building management systems - in each of these areas there is a varying degree of reaction required dependent upon the priority of the trigger. A fire needs urgent resolution, but at varying levels as do the contents of the deep freezers in a major store, airconditioning in sensitive areas, etc. How can we verify what reaction needs to be taken?
* Access control - permit or restrict access for relevant people into general use areas or high security - but what additional cross checks can be made to confirm correct access control?
We know that most of the above highlighted systems provide off-site monitoring to a limited extent, but how many can provide a fully interactive option across the whole spectrum without proprietary restriction? This is where an open architecture MIS comes to the fore with the easily written software drivers allowing full integration of one or the full array of systems above.
I wholeheartedly support Dr Donald's article and its basic tenets. Your DVR is no good to you if you cannot review information with a clear resolution to identify the perpetrator of any deed! I have observed the integration of a large number of DVRs in a situation where they cannot remotely review the information because the DVR cannot remotely playback, this is okay if you are only using it for onsite monitoring and review, but what about when you do want to centralise the information into a central control room or through an MIS - bad luck, you cannot.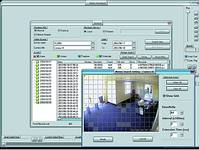 Smart search detail allows one to review information with a clear resolution to identify the perpetrator of any deed
The integration route that Vision Catcher has followed on a number of key projects worldwide has incorporated all that Dr Donald recommends in ensuring that the basis of information is there in a useable quality. The key for Vision Catcher is to be able to utilise our recorded material from CCTV, POS, ATM, alarm triggers, etc, with the key information from other systems in a format that allows a total picture to be presented; Who entered the premises? What ID did he/she use? What did they take? What other factors were involved? Is it recorded? Is it visible? Is it auditable? Can I add other services and upgrade the system as newer technologies arrive? This is in simple terms a true management information system.
Consider in detail each part of the solution you need to prioritise on, what aspects are currently most important and what roll out of integration through phases you will complete this year, next year and so on. The result will be a system that gives you the ability at the touch of one button to observe the full details of an event with access to all key elements as required by each department, but most importantly it is a quantifiable event and therefore it can now be costed and evaluated. Thus giving you a real return on investment.
For more information contact Niall Beazley, 011 463 9797, info@visioncatcher.co.za
Further reading:
The importance of correct specifications
Issue 2 2020, Sensor Security Systems , CCTV, Surveillance & Remote Monitoring
To prevent the incorrect specification of CCTV equipment, Sensor Security has a comprehensive checklist to complete.
Read more...
---
Dahua unveils core products for 2020
Issue 2 2020, Dahua Technology South Africa , CCTV, Surveillance & Remote Monitoring
Dahua Technology unveiled its 2020 core products in Intersec Dubai, enabling and accelerating its AIoT transformation.
Read more...
---
Wireless HD CCTV network
Issue 2 2020 , CCTV, Surveillance & Remote Monitoring
Infinet Wireless' wireless solutions have been deployed in Ipswich town centre to improve safety and ensure hassle free HD surveillance.
Read more...
---
Hikvision launches LED display product line
Issue 2 2020, Hikvision South Africa , CCTV, Surveillance & Remote Monitoring
Hikvision has launched a full range of internally manufactured LED displays, providing high-definition colour imaging.
Read more...
---
End-to-end surveillance upgrade
Issue 2 2020 , CCTV, Surveillance & Remote Monitoring
An upgrade of a video surveillance solution composed of video management software and 425-plus new cameras has transformed security operations for the Central Bank of Jordan.
Read more...
---
Reinventing network camera security
Issue 1 2020, Axis Communications SA , CCTV, Surveillance & Remote Monitoring
Now in its seventh generation and celebrating its 20th anniversary, the Axis ARTPEC chip was launched in 1999 designed to optimise network video.
Read more...
---
Cloud-based fleet and driver management
Issue 1 2020, Graphic Image Technologies , CCTV, Surveillance & Remote Monitoring
Graphic Image Technologies (GIT) has announced the availability of a cloud-based dashcam designed to improve on-the-road behaviour and assist in improving fleet management.
Read more...
---
Cathexis specialises in integration
Issue 1 2020, Cathexis Technologies , CCTV, Surveillance & Remote Monitoring
The integration of multiple systems is intrinsic and essential to the goal of creating an effective and efficient operational environment.
Read more...
---
Do wireless networks meet modern surveillance demands?
Issue 1 2020, Duxbury Networking, RADWIN , CCTV, Surveillance & Remote Monitoring
It is predicted that video will account for 15,1 zettabytes (1 zettabyte = 1 trillion gigabytes) of data annually, which is more than any other IoT application.
Read more...
---
Traffic doesn't have to be this way
Issue 1 2020, Dahua Technology South Africa, Axis Communications SA , CCTV, Surveillance & Remote Monitoring
More effective traffic management is something that would save us all a lot of frustration and wasted time, and it's one of the areas where AI and big data can have a significant impact.
Read more...
---