printer friendly version
Comparing South African security internationally
June 2003
News
Just how good are South Africans at security compared to the rest of the world? With Ifsec having been held recently and a number of people from this country visiting what is probably the best exhibition of security in the world, it is a question most of us probably ask ourselves at one time or another.
Ifsec is unique, however, in that it defines the current benchmark for technology, but not necessarily for the practice of security. The main suppliers from all over the world are showing the latest technology at Ifsec and many of them launch the technologies at the show. These take some time to filter through to the suppliers, installers and then ultimately the clients. Indeed, somebody who comes back and asks their installers about technology seen at Ifsec may well be ahead of the knowledge curve, although you will find representatives of most of the key South African security installers and providers there.
A few years ago when I became more involved in the security industry, my views that the relatively poor pay of security workers and particular guards, high turnover, and lack of training within guarding companies was a uniquely South African problem. It is not, and in fact it is typical of the industry wherever you go. Like some companies in South Africa, some overseas ones market themselves on a higher basis than the typical industry norm and you get very good service providers both here and there. Pay scales also vary, and my initial personal impressions of Australia or Canada are probably that they pay better for security relative to the rest of the workforce. On the other hand, the UK is probably somewhat similar to South Africa.
Dealing with the issues
While we have one of the worst crime rates relative to the world, it also makes us more expert in dealing with it. That probably means both the man (or woman) in the street on the lookout for hijackings, as well as our security specialists. We really believe crime takes place and we have almost everyday experience with it. It is a little like overseas doctors coming to South Africa to be exposed to violent trauma injuries - they can get more experience in three months here than in three years in most places. When I was discussing the extent of crime in a CCTV surveillance training course in Canada two years back, many of the delegates were not really convinced that they would be faced with people stealing in the workplace. Similarly, there is not the same acceptance in Western Australia that people are as likely to steal as we would think. Because we think that much more strongly about it, we tend to take stronger measures, think through things more, and are more active in our strategies to combat crime.
Overseas recognition
There are numerous instances of South African security personnel being recognised and even placed overseas. You will see South African companies and their products being displayed at exhibitions from ASIS to Birmingham to Dubai. South African authors are featured on a fairly regular basis in overseas security magazines, and South African companies are often mentioned and used as case studies. Many security managers are in awe of the number of cameras at some of our sites that can easily range from 600 to 800 cameras. Our casino operators here are, in my and others opinion, the best in the world and there was even a film released recently called 'Croupier' that uses the ex-South African working in London as the star.
I am proud that our Leaderware products to select CCTV operators and X-ray screeners are used widely overseas, with the X-ray product used by all BAA major airports responsible for screening some 60% of international aviation passengers. Our CCTV operator surveillance training course has been done on four continents. An ex-South African, Ken Pearce, from the Borough of High Wycombe recently won the CCTV Manager of the year award at the CCTV User Group conference in Bolton in the UK, and the graciousness of his speech would have made many of us proud. At the same conference a colleague from De Beers and I presented a paper on intelligent security systems, and the delegates were truly amazed at just how far De Beers had gone with this. South Africans seem to be driving security expansion in Africa, with Siemens and Securicor being just two of the companies I am familiar with, successfully operating across several countries including Nigeria, Tanzania, Namibia, Zambia and Mozambique.
So it looks like South Africans in security, like many other fields, are pretty good. However, what drives security in different countries and what is emphasised, varies considerably. I have recently had some exposure to the security intelligence community in Australia and was highly impressed by what I saw in terms of the professionalism and approach.
The same CCTV User Group mentioned above and run by Peter Fry is an international resource that has no parallel in this country and has a number of South African members (and probably should have a lot more). At the Bolton conference, they had a representative from government discussing the new requirements for registration of security officers and the training requirements that they would have to undergo. The depth and detail, and the consultation, planning process and timing that the UK has gone into in this regard is something that the South African authorities could seriously learn from. So to, is the way that law and implications for personnel are taught in the UK, although they also struggle to get commitment to training the same way that we often do. The scope and emphasis on procedure and systems in the US appears far more advanced than here, with the evacuation procedures and regular comprehensive fire drills at the World Trade Centre having been seen as a major reason that there were not far more fatalities due to 9/11.
UK aviation security is probably the best in the world and the procedures and guidelines in place across most industries in the UK are usually comprehensive. The British Standards that often drive the development of European standards also provide a strong base for use in South Africa. Many managers in the CCTV area here would have had exposure to the Police Scientific and Development Branch (PSDB) documentation initiated by Jim Aldridge which probably had a greater influence on the practice, standards, and implementation of international CCTV than any literature I have seen since.
Finally, the British Council provided inputs on stadium security last year at a SAFA focus on soccer at the Sandton Convention Centre - it was based on lessons learned from their own experiences and the Ellis Park episode and others demonstrate that we still have much to learn as part of the day to day management of stadium security (Cricket World Cup successes aside).
I would like to say that South Africans are the best in the world at security, but I cannot. We are really good at some things, not so good at others. Perhaps the area that we can learn most from is the extent to which countries like the UK put in guidelines, standards, and embark on a search for common understanding and acceptance of what should be done. This is a key strategy in ensuring that people do not repeat the mistakes of others. It also provides a basis for common discussions between clients, and the security technology providers and installers. We are not the best at that yet, but one of our attributes is we are always willing to learn and seem to be really good at getting things to work.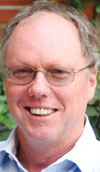 Dr Craig Donald is an industrial psychologist and specialist in human factors in security and CCTV. He is the co-developer of the Surveillance and Monitoring Assessment Exercise (SAMAE) for the selection and placement of CCTV operators and presenter of the CCTV Surveillance Skills training course. He can be contacted on telephone: 011 787 7811, fax: 011 886 6815, or e-mail: craig.donald@leaderware.com
Further reading:
New hires at iPulse
Issue 7 2020, iPulse Systems , News
iPulse has welcomed two new employees into its ranks. Shai Weil has been appointed as operations director, while Corneli Botha is the new customer sales liaison.
Read more...
---
HID Global acquires Access-IS
Issue 7 2020, HID Global , News
HID Global acquires provider of miniaturised reader devices that combine key technologies for mission-critical markets.
Read more...
---
Securing digital transformation
Issue 7 2020 , News
Schneider Electric partners with Fortinet to strengthen ability to secure operations across the business lifecycle and unlock the advantages of a secure IIoT.
Read more...
---
Suprema integrates with Paxton's Net2 access control
Issue 7 2020, Suprema , News
Suprema has announced it has integrated its devices with Paxton's access control system, Net2.
Read more...
---
Free cybersecurity courses
Issue 7 2020 , News
Check Point Software partners with Harvard and MIT-founded edX to deliver free online courses to help close the cybersecurity skills gap.
Read more...
---
Fidelity partners with Auto & General Insurance
Issue 7 2020, Fidelity Security Group , News
Fidelity Services Group in partnership with Auto & General Insurance has launched Fidelity InSure, a comprehensive vehicle, home, and building insurance offering.
Read more...
---
More apps for open camera OS
Issue 7 2020 , News
The App Challenge will result in 21 new apps running on the Security & Safety Things' camera OS, based on the Android Open Source Project.
Read more...
---
Milestone Systems announces Thomas Jensen as new CEO
Issue 7 2020, Milestone Systems , News
Milestone Systems announced that its board of directors has appointed Thomas Jensen as chief executive officer. Jensen will assume the role on October 1, 2020.
Read more...
---
Suprema announces its first virtual event
Issue 7 2020, Suprema , News
Suprema will be hosting its first virtual event, Suprema Connect 2020, which is scheduled to take place over one month from September 15.
Read more...
---
From the editor's desk: Waiting for PoPI
Issue 7 2020, Technews Publishing , News
A while ago we heard of yet another cyber breach, this time from Experian.
Read more...
---