printer friendly version
Preventing retail store crime
December 2002
News & Events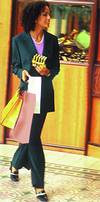 As the Christmas season approaches, the retail sector can expect an upsurge in criminal activities. Retail store owners and their staff should therefore be very vigilant and take all necessary crime preventive measures in order to avoid being victimised.
Crime risk factors
Because of the nature of their activities and the presence of goods and merchandise, retail stores are amongst the businesses most at risk of criminal attacks. Shoplifting, grab and run, theft, cheque and credit card fraud and armed robbery are the most common crimes affecting retailers during business hours. Employees' dishonesty and carelessness also constitute an important crime risk factor.
In the days preceding Christmas, the risk for any of the above type of crimes to occur increases. In fact, criminals take advantage of the opportunities offered to them by the increasing flow of shoppers' traffic in and out of stores, the resulting confusion and the fact that they are not easily identifiable as suspects.
Preventing retail store crime
The following are recommended strategies which retailers should adopt for the prevention of crime during business hours:
* Always be alert and aware of your surroundings. On your way to and from the store, be on the look-out for the same person(s) or vehicle(s) following you. In such a case proceed to a police station or enter a safe area and ask for help.
* On arrival at the store, be on the lookout for suspicious individuals or vehicles in the immediate vicinity. Who or what can be considered as suspicious looking? Persons or cars, for instance, that have been repeatedly seen at the same place; individuals standing on street corners, especially if wearing disguises which render personal identification difficult such as sunglasses, hats or scarves.
* Avoid opening your store alone. Opening time is always critical; arrange with a member of staff to keep a careful eye from a safe distance and have access to a remote panic transmitter linked to security.
* When entering the store, always lock the door behind you and open only to members of staff until all is set for opening.
* Always ask couriers, delivery personnel and salespeople to produce proper identification. In the absence of this, their company should be contacted to confirm identity.
* Establish and keep eye contact with each customer entering the store. Deal with only one customer at a time. Show only one item at a time to one customer as a precaution against distraction theft.
* Be extra careful when dealing with expensive items such as jewellery. Always apply the 'serve one customer at a time, show one item at a time' rule. Keep every slot in display trays filled with either jewellery or markers in order to avoid distraction theft. Consider asking for identification before showing very high value items (stating that your insurance requires you to do so). This is a common practice in the United States and in Canada.
* Keep showcases displaying valuable merchandise locked at all times. Limit the number of duplicate keys and restrict the number of personnel handling keys. Lock keys in the safe when closing.
* Never concentrate high value merchandise in one area (especially when dealing with jewellery); rather display it in different and safe areas, away from the entrance/exit.
* Keep crime prevention in mind when you arrange your store's layout. Allow for good visibility of all the store area (both from inside and outside). Have your store properly lit up. Adequately position your counters, shelves and till. Good visibility of the store area can help deter a criminal attack, as criminals hate being observed during their unlawful activities.
* Be suspicious of individuals showing visible signs of nervousness, speak with an altered voice and appear to be constantly looking towards the entrance and surveillance cameras.
* Make use of an agreed upon code phrase whenever suspicious individuals are noticed in the store and colleagues need to be alerted.
* Be extra careful at closing time. Arrange with a member of staff to check the external environment. Is there anything suspicious in the vicinity of the store? If so, call your security contractor and lock up in their presence. It may also be advisable, depending on the degree of risk perceived, to ask security to escort you to your car or even to your home.
* Report all suspicious activities to the police and security and make it your duty to notify other retailers in your area. In this regard, a crime/incident information form should be immediately completed (when the memory of the event is still fresh), forwarded to the local police station and security and circulated amongst all retailers in the area. Remember to always keep a copy of this form for future references.
* As a general rule, trust your instincts; do not neglect the instincts given by your first impressions.
* Consider the installation of the following security systems:
- An intruder detection and panic system linked to security.
- A chime system to be constantly alerted of customers entering and leaving the store.
- A CCTV system with strategically positioned cameras and video recording capability. It is advisable to advertise by means of signage that this measure is in place. According to Jewellery Vigilance Canada, statistics show that more than 60% of jewellery stores' daytime claims came from stores which were not protected by CCTV systems.
- Burglary resistant glass to prevent smash and grab and night time break-ins.
- Pick-resistant locks on showcases. The glass must be secured against any lifting action by means of adhesive tape, metal trim or clips.
- Electronic article surveillance systems near the exit door. Some high value items can be individually protected by means of electronic devices which will sound an alarm if the article is removed from the shelf.
Conclusion
By adopting rational behavioural responses and specific security methodologies, as discussed above, retail store owners and their staff can defend themselves against crime and ultimately make their businesses and lives safer. As each store is different in its outlay and therefore no standard easy fix solutions exist, it is advisable to contract crime prevention specialists to assess your individual store security needs and advise on safeguarding it adequately against criminal events. Cost vs profit is a crucial issue as security without proper rationalisation, can be very expensive.
About the author:
Elio Zannoni is a criminologist and specialist in crime risk factors and prevention strategies. He can be contacted at International Threat Analysis, a division of Corporate Confidential Solutions on 011 792 3739, fax: 793 2337, info@c-c-s.co.za
Further reading:
Helping South African university students and staff to stay safe
News & Events
Buzzer is a free mobile app that allows users to quickly and easily report incidents of crime, violence, or harassment to campus security and other relevant authorities.
Read more...
---
Tech developments lead hologram growth in 2024
News & Events Security Services & Risk Management
Micro-lenses, micro-mirrors and plasmonics are among the rapidly-emerging optical devices that have evolved on the back of holographic and diffractive technologies, and are seen as part of the natural evolution of optical science by R&D teams.
Read more...
---
Trellix detects collaboration by cybercriminals and nation states
News & Events Information Security
Trellix has released The CyberThreat Report: November 2023 from its Advanced Research Centre, highlighting new programming languages in malware development, adoption of malicious GenAI, and acceleration of geopolitical threat activity.
Read more...
---
People are craving connection
News & Events
As 2023 nears its close, global security manufacturer Gallagher Security is sharing key observations from some of the year's biggest industry events, chief among them the rising importance of community building these events facilitate.
Read more...
---
ePSiRA online system
PSiRA (Private Security Ind. Regulatory Authority) News & Events
[Sponsored] As part of the digitisation of the security industry, the Private Security Industry Regulatory Authority (PSiRA) introduced the ePSiRA online system, which allows clients to transact online.
Read more...
---
New generation of cyber-focused controllers
Gallagher News & Events Access Control & Identity Management Products & Solutions
The C7000 gives users an opportunity to leverage their hardware and firmware to build a platform designed to catapult their organisation into the future, with cybersecurity baked in from inception.
Read more...
---
New T&A terminal features revolutionary AI technology
Suprema News & Events Access Control & Identity Management AI & Data Analytics
Suprema has launched BioStation 2a, the world's first deep learning-based fingerprint recognition solution, providing powerful access control features and an improved ability to extract templates from low-quality fingerprints.
Read more...
---
South African Cyber Risk Survey 2023
News & Events
Aon South Africa has released its 2023 Cyber Risk Survey for South Africa, providing insights on current trends in cyber risk governance practices being deployed by South African companies in various market segments.
Read more...
---
Africa Online Safety Fund announces grant winners
News & Events Information Security
The Africa Online Safety Fund (AOSF) has announced the winners of this year's grants; among them are five organisations operating in South Africa to educate people about online risks.
Read more...
---
From the editor's desk: Convergence is real
Technews Publishing News & Events
      SMART Security Solutions has been talking about convergence for a long time; in other words, the intersection and even integration between the physical and information security worlds. Before writing ...
Read more...
---