printer friendly version
From the editor's desk: Dark times
April 2019
News
Although the timing is more coincidence than anything else, this issue includes a feature on power management. Given the latest news we're hearing and experiencing from Eskom and the length and breadth and depth of its corruption and incompetence, however, it couldn't have come at a better time.
Sadly we don't have enough pages to include all of the editorial we have on power management, but if you want to find out more, there will be a few additional articles online which will also be featured in Hi-Tech Security Solutions' newsbriefs throughout the month of April.
I was asked recently how long it would take the country to recover from the losses incurred as a result of there being no electricity for businesses. Of course, I am not qualified to answer a question like that, but common sense would dictate that a recovery, if we ever reach the stage where we can start recovering, would take years, if not decades. I hope I'm wrong.
A question I have is who could possibly think that just ignoring equipment would not have a detrimental effect on it? We service our cars, even fridges and microwaves need a bit of attention now and then. But apparently power generation plants and distribution centres run forever because Harry Potter put a never-break spell on them.
You have to feel sorry for our current president. Apart from experiencing the efficiency of South Africa's rail system (although he had bodyguards so he wasn't attacked, murdered or thrown off a train, or all three), he basically caught a hospital kick. His predecessor and his pals looted to their hearts' content and he's left playing political games with politicians who refuse to stop the looting irrespective of the consequences (consequences to the country and its people, we know they will never pay for their crimes) while being side-swiped by Eskom and all the other bits and pieces of South Africa that are falling apart. I wonder how long it will be before water shedding becomes a common word?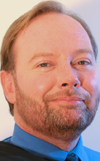 It's not all gloom, however. At the end of 2017 direct foreign investment in SA was at a low point, the lowest in a decade thanks to the looters, but at the end of 2018 there had been an increase of over 400% by some reports, with large pledges of more to come. Of course, not too many people will invest billions if their businesses sit in the dark for half the day (or more since Eskom is said to be preparing for stages 5 and 6 mass blackouts, I mean 'load shedding').
I suppose we should all hope that the conspiracy theorists are right and that there will be a miracle cure for Eskom just before the elections, or maybe the Chinese will take it over, they seem to be quite efficient. What a change that will be.
Andrew Seldon
Editor
Credit(s)
Further reading:
TAPA: The role of an effective treasury function in business risk management
June 2019, Technews Publishing , News
Neil Le Roux, the Founder of Diligent Advisors will speak at the TAPA SA (Transported Asset Protection Association) annual conference on 26 July 2019.
Read more...
---
iLegal 2019: Putting a face on surveillance services
August 2019, Technews Publishing , News, Conferences & Events
iLegal 2019 will be held on 12 September 2019 at The Rosebank Crowne Plaza in Johannesburg. iLegal is the surveillance industry's premier one-day conference hosted jointly by Hi-Tech Security Solutions and Dr Craig Donald.
Read more...
---
Residential Estate Security Conference 2019: Making AI work for you
August 2019, Technews Publishing , News, Conferences & Events
Gerhard Furter will deliver the keynote at the Residential Estate Security Conference 2019, providing a brief introduction into what AI really is and its application in estates.
Read more...
---
From the editor's desk: The difference between potential and skills
August 2019, Technews Publishing , News
This issue of Hi-Tech Security Solutions includes our annual Local Manufacturing feature and it's great to know that local security manufacturers are still going strong, even if the general manufacturing ...
Read more...
---
A customised solution for backup power
August 2019, Specialised Battery Systems , News, Integrated Solutions
Specialised Battery Systems designed and implemented a bespoke solution for Stallion Security Electronics to deploy at almost any site.
Read more...
---
Patient critical – healthcare's cybersecurity pulse
August 2019, Wolfpack Information Risk , News, Cyber Security, Healthcare (Industry)
The healthcare industry has become one of the leading cybersecurity attack vectors worldwide for several reasons.
Read more...
---
Is security broken?
August 2019 , News
New VMware research reveals how South African businesses continue to try to battle sophisticated security threats in a digital age, with the same old tools.
Read more...
---
Milestone partners prove their skills
August 2019, Milestone Systems , News, CCTV, Surveillance & Remote Monitoring, Training & Education
Within the span of one week in mid-May, the Milestone Learning & Performance group celebrated important benchmarks: 200 000 course registrations and tutorial views, and 10 000 certifications.
Read more...
---
ONVIF Hosts 20th Developers' Plugfest
August 2019 , News, CCTV, Surveillance & Remote Monitoring
ONVIF, the global standardisation initiative for IP-based physical security products, hosted its twentieth ONVIF Developers' Plugfest in early June in Tokyo.
Read more...
---
24-hour emergency response for staff
August 2019 , News, Security Services & Risk Management
The FirstRand Group has partnered with PanicGuard to create a 24-hour emergency response programme for staff.
Read more...
---