printer friendly version
The future's not what it used to be
February 2019
News
It struck me the other day that I was talking to people about what we will do in 2020. Time certainly flies, 2020 is less than one year away. Whatever happens this year, one thing we are guaranteed is that it won't be boring with political shenanigans playing an ever more important role in business. Hopes are things will calm down in South Africa after the elections, but many think the unstable situation in South Africa at the moment won't allow that to happen.
If you're in East Africa things may start to look up as the Stratfor Decade Forecast for 2015 to 2025 (https://worldview.stratfor.com/forecast/decade-forecast-2015-2025) tells us that this region (including Ethiopia, Kenya, Tanzania and Uganda) is in for some major manufacturing investment due to their low costs. Of course, the stability of the countries will determine if this actually happens or not. Other beneficiaries, now that China's manufacturing is on the wane (due to higher costs), includes countries such as Mexico, Peru, Vietnam, Cambodia and others.
In the technology world, artificial intelligence and all its offshoots will be making headlines this year, some of them actually doing things not possible before instead of just rebranding existing products with an AI sticker. The impact of AI will only grow.
And while the impact of AI will be tremendously exciting for anyone interested in technology, there is also a downside to all these advances. Those who have read Kai-Fu Lee's book AI Superpowers will have seen the depressing news that 50% of our jobs will vanish in the next 15 years due to AI developments. (If you haven't read it, it is definitely worth getting a copy.)
Many say that these job losses will be offset by new jobs we have never even thought of. Sadly, this is a catch-all for people who don't want to shrug their shoulders and look stupid because they can't (or won't) answer the question: What new jobs? If one considers the current education system in South Africa and the renewed rush to emigrate (if you believe the populist media), we'd better hope this country suddenly discovers huge oil reserves.
Of course, I may be a touch cynical. Not all future expectations actually happen. For example, in 1966 Time magazine said that by 2020 "machines will be producing so much that everyone in the U.S. will, in effect, be independently wealthy" (http://content.time.com/time/subscriber/article/0,33009,835128-5,00.html).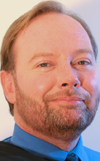 More realistically, reports from PricewaterhouseCoopers in 2017 and from Harvard Business Review in 2016 make it clear that drugs will be an acceptable part of the workplace of the future. Sadly, these will be drugs that enable people to work harder for longer hours. I don't know about you, but the harder and longer is already a reality for some of us, but as yet we don't have the drugs – not legal ones anyway.
What are your expectations for 2019? Let me know at andrew@technews.co.za
Andrew Seldon
Editor
Credit(s)
Further reading:
Retail solutions beyond security
Issue 8 2020, Axis Communications SA, Technews Publishing, Hikvision South Africa , Editor's Choice, CCTV, Surveillance & Remote Monitoring
The need for security technology to deliver more than videos of people falling or stealing from retail stores is greater than ever.
Read more...
---
Black Point Tech continues the tradition
Issue 2 2021, Black Point Tech cc t/a BPT , News
Black Point Tech, trading as BPT, is a new company that inherits the history of others that, in the past, have distributed solutions in the fields of intercom systems, parking management as well as general access control solutions.
Read more...
---
Suprema ranks first in survey
Issue 2 2021, Suprema, neaMetrics , News, Access Control & Identity Management
In a recent survey conducted in Korea, Suprema was chosen as the top brand for access control management software and mobile access solutions.
Read more...
---
Suprema integrated with Nedap
Issue 2 2021, Suprema , Access Control & Identity Management, News
Suprema recently announced that it has integrated its latest facial recognition devices into Nedap's access control system, AEOS, to enable organisations to manage their access control by making use of Suprema's latest facial recognition technology.
Read more...
---
Commercialising vehicle security monitoring services
Issue 2 2021 , News
To protect connected vehicles around the world against cyberattacks, Panasonic and McAfee will build vehicle SOCs that enable accurate detection and early response to attacks and help strengthen cybersecurity measures in the automotive industry.
Read more...
---
Fidelity ADT expands security footprint
Issue 2 2021, Fidelity ADT , News
Fidelity ADT has concluded an agreement with National Security & Fire in the Vaal and KZN South Coast areas whereby it will be taking over the monitoring and armed response service contracts in these areas as of 1 April.
Read more...
---
AURA expands into East Africa
Issue 2 2021 , News
South African business, AURA, is expanding its operations into East Africa with new Kenyan office and general manager.
Read more...
---
From the editor's desk: Maybe security should STTFS
Issue 2 2021, Technews Publishing , News
The IT industry has an acronym, RTFM, Read the Manual; you'll notice I left the F out. The same can be said for the security industry, but a recent experience has shown me that both industries, even as ...
Read more...
---
ONVIF reaches milestone of 20 000 conformant products
Issue 2 2021 , News
ONVIF has announced that more than 20 000 security products are now conformant to its various profiles, indicating the strong market demand for interoperability of hardware and software offerings and the relevance of ONVIF as a driver of open standards within physical security.
Read more...
---
Suprema's fingerprint recognition algorithm supplied to Samsung Galaxy S21 series
Issue 2 2021, Suprema , News
Suprema announced that it supplied BioSign 4.0, its under-display fingerprint recognition algorithm to the Samsung Galaxy S21 smartphones with support from Qualcomm Technologies.
Read more...
---