printer friendly version
The role of security manager in 2012
August 2012
News
In a day and age where crime has hit record levels in South Africa, there can be no argument that in-house security has become one of the cornerstones of operating a successful business in the country.
We can no longer afford to rely only on a police force, guarding company or armed response that despite the dedication and professionalism of many of its officers and staff is over-worked and under-resourced – we also have to embrace internal measures to counter crime and avoid becoming yet more victims of workplace fraud or corruption.
In-house security managers should be viewed as positive change agents with the task of developing consensus within an institutional climate of diverse activities and often conflicting regulations imposed by institutions with regulatory jurisdiction.
If a company is not in a position to appoint an in-house security manager, serious consideration should be given to appointing an independent security manager that can be on site on a full time basis or offer a certain number of days per week.
Intellectual leadership at this level will ensure that risks are made known to senior management and boards, thus ensuring their active support in terms of companies' structures of governance. The loyalty of the security manager will be to the company and not to a service provider.
All relevant legislature needs to be fully understood and adhered to by in-house security managers, who are generally responsible for securing the following areas of operation:
* Information,
* Human resources (HR),
* Ethics and reputation,
* Financial assets,
* Transport,
* Distribution and supply chains,
* Legal,
* Physical,
* Premises, and
* Health and safety.
In-house security managers therefore require a broad and diversified set of skills to handle the above-mentioned areas, which include knowledge of:
* Physical security,
* Personnel security,
* Information security,
* Communication security,
* IT security, and
* Security investigations.
Accordingly, it is good practice for companies to ensure that their in-house security management conduct and attend regular, security-related courses and conferences. In so doing, they will ensure that these key security operatives are well informed on current and potential legal regulations and changes.
Fundamentally, the security industry includes in-house security, contracted security or a combination of the two. The South African industry is governed by the Private Security Industry Regulation Act 56 of 2001 ('the Act'), which contains detailed rules to which all role players have to adhere strictly.
The Act came into effect in February 2002 after the repeal of the Security Officers Act of 1987 (Act No. 92 of 1987), with the intention of regulating the security industry. In terms of Section 35, the Minister of Safety and Security is empowered to implement and amend regulations as he deems fit.
In-house security managers need to be aware of a clause in the Act pertaining to companies wanting to hire the services of external security contractors. Essentially, the clause states that anyone knowingly or without the exercise of reasonable care who contracts for the rendering of security services in contradiction with the provisions of the Actor Levies Act is guilty of an offence. In the event of a contravention of the Act, the offender would be liable for a fine and/or imprisonment for a period of up to 10 years.
Effectively this means that any person (and in the case of companies, those liable would be the directors) who contravenes or fails to comply with provisions of this act could be jailed or fined.
It is therefore highly recommended that time is spent on reviewing the Act, which can be located on the Private Security Industry Regulatory Authority (PSIRA) website: www.sira-sa.co.za
Things a security manager should be aware of
As a consumer of security services, the Private Security Industry Regulation Act (Act 56 of 2001) places an explicit legal onus on you to use only legitimate and registered security service providers. Consumers can be found guilty of a criminal offence and can be prosecuted for intentionally or negligently using the services of a security business which is non-compliant with the Act.
Any security service provider has to be registered with PSIRA (Private Security Industry Regulatory Authority). A registration certificate to this effect must be made available on request. Employees deployed to render a security service also have to be registered with PSIRA. Registration certificates as well as the last PSIRA audit inspection report to this effect must be made available to you on request.
The security officers deployed to provide a security service must be in possession of the necessary training certificates from accredited training establishments. Security officers deployed to provide a security service must be paid at least minimum statutory wages applicable in terms of the Sectoral Determination 6 for the private security industry issued by the Minister of Labour.
Your security provider must guarantee that all security officers deployed on your premises will adhere to the statutory code of conduct applicable to all security service providers. Your security provider must also guarantee that its security officers are specifically trained for the tasks to which they have been allocated.
All security officers are required to be members of a provident fund with staff and the company contributing a percentage of their salaries. Your security service provider must be able to produce a letter of good standing from its provident fund administrator in this regard and at your request.
Ensure that your security provider is registered as a taxpayer and that it has tax clearance certificates and proof of that its contributions are up-to-date. Check that your security provider or business is registered with Workmanship Compensation and that the company can provide you with a letter of good standing.
The Security Association of South Africa (SASA) is driving compliance of security service providers hard and in order for a security service provider to be a member of the association, annually they have to provide copies of their statutory documents and these are independently verified. Companies which make use of SASA gold member services can rest assured that they are legally compliant.
Definitions
The following definitions provide further clarification of the Private Security Industry Regulation Act 56 of 2001:
Security service provider is a person who renders a security service to another for remuneration, reward, fee or benefit. The definition includes those not registered in terms of this Act.
Security officer is any natural person, including an organ of State, who receives or is entitled to receive from such other person any remuneration, reward, fee or benefit, for rendering one or more security services.
Security service is one or more of the following services or activities: Protecting or safeguarding a person or property in any manner, and/or giving advice on the protection or safeguarding of a person or property, or any type of security service as defined in this section of the Act.
Registration of security providers. Chapter 3 of the Act is particularly relevant for in-house security managers since it deals with the subject of registration of security service providers. Following on this is Section 20, which deals with obligations to register and exemptions, which may be granted by the Minister after consultation with the Private Security Industry Regulatory Authority (PSIRA) and provided the exemption does not prejudice the achievement of the objectives of the Act.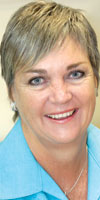 Jenny Reid
For more information contact iFacts, +27 (0) 82 600 8225, jenny@ifacts.co.za, jenny@orangebusinessboost.co.za
Credit(s)
Further reading:
Gallagher to resell Invixium
Issue 3 2021 , News
Gallagher and Invixium recently announce a global agreement in which Gallagher will distribute Invixium products for access control.
Read more...
---
Innovation drives secure eSignature solutions for Africa
Issue 3 2021 , News
Impression Signatures and Striata recognised the need for secure, efficient and easily manageable eSignature solutions and have partnered to ensure easy access to safe, efficient eSignature solutions.
Read more...
---
Roy Alves appointed as national sales manager for J2
Issue 3 2021, J2 Software , News
As part of its global expansion strategy, cybersecurity firm J2 has appointed Roy Alves as its national sales manager to enable African businesses to identify and address their cyber capacity needs.
Read more...
---
Video security primer released
Issue 3 2021 , News
The right video management system can make an organisation smarter and more efficient, as well as more secure according to Eagle Eye Networks' new guide on evaluating cloud video surveillance systems.
Read more...
---
ACDC expands in Longmeadow
Issue 3 2021 , News
ACDC Dynamics and ACDC Express are hosting a customer day in Longmeadow, Edenvale on 28 and 29 May 2021.
Read more...
---
Urban branches bring the human connection back into the suburbs
Issue 3 2021, Fidelity Services Group , News
Advances in technology and evolving crime patterns have changed the face of the security industry, introducing a highly systems-driven approach to provide communities with the necessary support and technology innovation.
Read more...
---
Linking HR and security
Issue 3 2021, iFacts , Access Control & Identity Management
Employee screening is implemented to ensure the risk of the company is managed and fraudsters do not enter the workplace, but the results of the vetting are not often linked to other areas in the business.
Read more...
---
Integrated video telematics solution
Issue 3 2021 , News
Webfleet Solutions, part of Bridgestone, launched Webfleet Video into the market. With Webfleet Solutions and Lytx integrated on one platform, users can access and manage both their vehicles and their ...
Read more...
---
From the editor's desk: Privacy is your responsibility
Issue 3 2021, Technews Publishing , News
We have a look at the Protection of Personal Information Act (PoPIA) in this issue, which is set to become a reality as of 1 July. We didn't have space for much information, but more on the topic will ...
Read more...
---
iPulse to distribute Hitachi's VeinID products
Issue 3 2021, iPulse Systems , News, Access Control & Identity Management
Hitachi Europe, a pioneer of finger vein biometric technology and iPulse Systems have announced a partnership to allow iPulse to distribute Hitachi's VeinID products and solutions in Africa.
Read more...
---