printer friendly version
Biodegradable security seals for SA
April 2019 Editor's Choice, Asset Management, EAS, RFID, News, Security Services & Risk Management, Commercial (Industry)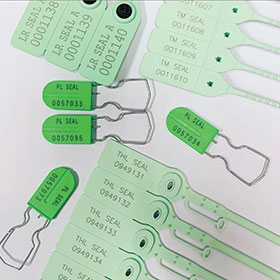 The problem of billions of non-biodegradable plastic straws ending up in the world's oceans has received much attention of late. This prompted local security seal specialist, TruSeal, to investigate environmentally friendly options for its range of tamper-evident plastic security seals.
"We use a lot of plastic in the security seal industry, the seals are used to secure moveable goods and high-value assets in several logistics-based industries, including the retail and supply chain environments. They are ubiquitous and, once used, have the potential to become an environmental nuisance if not properly managed," says TruSeal director, Brent Cramer.
"Currently, plastics only break down into smaller constituent parts. While saving landfill space, this has remained a source of concern for some time and so we're pleased to have sourced a green solution to the issue of using once-off-use plastics, adding to the carbon footprint of several client industries," explains Cramer.
The new TruSeal product extension is produced from a special biodegradable material sourced from Malaysia. Once this material comes into contact with an environment like a landfill – or even a compost heap – where certain naturally-occurring microbes are present, it will begin to biodegrade. "This is an incredible solution to a burgeoning issue for our industry," adds Cramer.
Biodegradable security seals are used by a mere handful of companies across the globe, with TruSeal being the first in South Africa to roll out this green solution. The company says it is preparing
250 000 biodegradable security seals for delivery across South Africa in the first quarter of 2019. From this first green option, TruSeal will eventually phase in a biodegradable option across all of its product lines.
For more information contact TruSeal, +27 11 762 1040, sales@truseal.co.za, www.truseal.co.za
Credit(s)
Further reading:
The same security assessment for different reasons
Issue 7 2020, Alwinco , Editor's Choice
Like everything else in life, a security risk assessment also has two sides: one is the proactive approach, and the other is the approach taken 'after the fact'.
Read more...
---
Risk intelligence the key to a sustainable future
Issue 7 2020 , Editor's Choice
Only by building risk intelligent organisations will leaders be able to overcome six distinct global threats identified by the Institute of Risk Management South Africa (IRMSA).
Read more...
---
Profile D for access control peripherals
Issue 7 2020 , Editor's Choice
Profile D provides interoperability for devices such as locks, credential/biometric readers, PIN pads, LPR cameras, door phones, sensors and displays.
Read more...
---
Security investments and culture
Issue 7 2020 , Editor's Choice
Organisations must embed security into the culture of the company and approach security investments with this culture in mind.
Read more...
---
Elastic storage pricing
Issue 7 2020 , Editor's Choice
With elastic pricing, users can switch from one storage model to another without having to pay a premium or a penalty, and without having to physically move any data.
Read more...
---
Use technology as a differentiator
Issue 7 2020 , Editor's Choice
Juni Yan, director of Transport, Logistics and Automotive at BT, shares her insights on how logistics companies can leverage digital transformation to become a real market differentiator – no matter the state of the pandemic.
Read more...
---
Management of PPE allocation made simple
Issue 7 2020, Powell Tronics, Technews Publishing , Editor's Choice
Of all the roadblocks and challenges COVID-19 has introduced us to over the past few months, one of the tasks organisations have to manage is the issuing of PPE to staff.
Read more...
---
Robots in warehousing and freight, a security perspective
Issue 7 2020, FSK Electronics , Editor's Choice
The logistics industry needs support from technology to meet its ongoing demands and ongoing security concerns.
Read more...
---
The new training normal
Issue 7 2020, Leaderware , Editor's Choice
Insights from running my first CCTV Surveillance Skills and Body Language and Advanced courses at physical training venues since COVID-19 started.
Read more...
---
An exciting journey in security
Issue 7 2020, Technews Publishing, BTC Training Africa , Editor's Choice
Errol Peace describes his 40-plus year career in the security industry where he was and is a great proponent of training as an "exceptionally exciting journey".
Read more...
---