printer friendly version
Early warning smoke detection
February 2019
Fire & Safety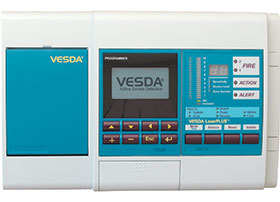 Firstly, it is important to clarify the difference between early warning smoke detection (EWSD) and very early warning smoke detection (VEWSD) as these terms are sometimes used interchangeably in the industry, which can be confusing.

Brett Birch.
An EWSD system provides detection of a fire condition prior to the time that it becomes threatening to the occupants of a building. A typical example of this would be a paper basket fire within a standard office. Shortly after the paper has ignited, smoke will generate and rise to the ceiling, and be detected by standard point-type optical detectors. The detection is early enough to alert the occupants of the building and get them to evacuate the premises safely.
By contrast, a VEWSD will detect smoke at the incipient fire stage, namely before the human eye can see smoke particles but the smell may be present. Only a VEWSD is able to detect a potential fire at this very early stage. A typical example would be the overheating of electronic components on a printed circuit board in a server cabinet.
Very early warning smoke detection
Confining this discussion to VEWSD systems, there are basically two main categories of these on the market, namely aspirating smoke detection (ASD) systems and high-sensitivity, point-type detectors.
ASD systems make use of a network of pipes through which air is sampled and drawn back to the central detector for analysis. ASD type systems are by far the most prevalent type of VEWSD system on the market. The main reasons for the success of ASD systems over high-sensitivity, point-type detectors is that the point-type detector remains a 'passive' detector as it waits for the smoke to rise to it. In environments with high airflows the smoke is often carried away from where the point detector is positioned.
By contrast, the ASD system is actively drawing air in through a number of sampling holes which can easily be positioned in the most likely air flow path. In addition, ASD systems are very flexible in terms of the environments in which they can be used. Although the technology was originally developed for cleanroom applications such as telecommunications and data centres, it can also be used in very dirty, dusty industrial applications by making use of external filters, as well as in cold storage applications by using special sampling points that prevent ice from forming in the sampling holes (although in these harsh environments, the ASD systems are not able to provide true VEWSD and only operate as EWSD systems).
ASD systems are typically utilised in a wide variety of applications, including cleanrooms, cold storage, cultural/heritage sites, data and telecom centres, hospitals and healthcare, nuclear facilities, oil and gas, portable switch rooms, power generation, records storage, transportation, wind power generation and warehousing/ distribution centres.
The VEWSD point detectors would be best suited to clean environments with low levels of airborne contamination, together with low air flows.
Choosing the best option
There are a number of ASD systems available in South Africa and there are some key factors that need to be taken into account when selecting one. One of the most important factors is that the system should meet the relevant international ASD product performance approval which is EN 54-20, a mandated standard in Europe against which all ASD systems are third-party tested and certified. South Africa has adopted the standard locally as SANS 50054-20.
The EN 54-20 standard has been specifically developed to ensure that the critical factors affecting the performance of ASD systems are documented and tested. Just because an ASD system is installed does not automatically guarantee that VEWSD is achieved. In fact, ASD systems are sometimes specifically installed in applications where only EWSD performance is required. As a result the EN 54-20 standard classifies three different sensitivity classes for ASD systems, as shown in Table 1.

So what should a specifier or purchaser look for in an ASD system? The most important factor would be the required Class (A, B or C) and area coverage. Many ASD systems claim they can achieve Class A sensitivity, however if you look at the detail, they may have to limit the number of holes in the sampling pipe to a maximum of 10 to achieve this, whereas a competitor's product may offer 30 Class A holes in the sampling pipe. The additional number of Class A holes provides increased coverage and reduces the number of ASD units required to cover a specific area.
Additional factors to consider would be things like additional product features; design, application and technical support; professional support from global distribution partners; low maintenance costs; and stability of the detector in the intended environment.
What Technoswitch offers
Technoswitch has been the primary distributor for Xtralis ASD systems for the past nine years. Xtralis invented VESDA very early warning aspirating smoke detection (ASD) and is recognised as the world's leading ASD brand. Xtralis has the broadest range of ASD systems amongst all ASD manufacturers and its full range is supplied and supported by Technoswitch. This includes:
• The new VESDA-E range, featuring VESDA Smoke+ which offers dramatically increased sensitivity – up to 15 times greater than previous models.
• The tried and proven VESDA VLF, VLC and VLP ranges, offering different coverage areas from 250 m² to 2000 m².
• The industrial VESDA VLI, which has been purpose-built to meet the specific challenges of industrial applications up to 2000 m².
Credit(s)
Further reading:
All-in-one signalling device
Issue 2 2021, Bosch Building Technologies , Fire & Safety
The Avenar all-in-one 4000 offers a complete solution through the optional combination with all Avenar fire detectors as well as an innovative power concept that permits up to 125 devices per ring bus.
Read more...
---
Complete fire safety in any environment
Issue 2 2021, XtraVision , Fire & Safety
Fire safety on the African continent needs to consider the many applicable and different relevant standards, regulations and installation rules.
Read more...
---
Early fire detection for central distribution
Issue 2 2021, G2 Security , Fire & Safety
With a substantial value of goods housed in Spar's large complex warehouse facility, early fire detection is essential and the best solution is aspirating smoke detection, also referred to as high sensitivity smoke detection.
Read more...
---
Early warning fire detection for clean rooms
Issue 2 2021 , Fire & Safety
Securiton SecuriSmoke ASD 53x series aspirating smoke detectors address all the key challenges and deliver early and reliable fire detection in clean rooms and associated controlled environments.
Read more...
---
Fire-safe security cabinets
Issue 2 2021, Gunnebo Africa , Fire & Safety
The Chubbsafes Fire File 31-inch is a four-drawer filing cabinet that offers a reliable and efficient storage solution with the added benefit of fire resistance for up to two hours.
Read more...
---
Fire safety for petrochemical environments in Ghana
Issue 2 2021, XtraVision , Fire & Safety
Hochiki Europe has supported the construction of a new petrochemical storage and distribution facility in Ghana, by supplying a range of innovative fire detection and alarm equipment.
Read more...
---
Wireless fire safety for office block
Issue 2 2021, G2 Security , Fire & Safety
It's an old story: much planning has gone into the new office block and just as they are doing the final touches, someone points out there is no fire detection.
Read more...
---
Empty buildings pose a potential fire hazard
Issue 2 2021, Fidelity Services Group , Fire & Safety
With so many corporates having opted to work from home this past year, there is a much higher chance of maintenance and upkeep being neglected and a fire going undetected or starting unexpectedly.
Read more...
---
700 Series conventional fire detectors
Issue 1 2021, Johnson Controls Global Products , Fire & Safety, Products
New 700 Series fire detectors have built-in microprocessors that monitor and respond to smoke density, fixed temperature and rate-of-rise of temperature, while the drift compensation feature extends service life and reduces maintenance needs.
Read more...
---
Video-based fire detection in darkness
Issue 1 2021, Bosch Building Technologies , Fire & Safety
Reliable early detection of flames and smoke in environments without visible light through newly developed AI algorithms.
Read more...
---