printer friendly version
Cam Era launches security franchise
October 2018 Editor's Choice, CCTV, Surveillance & Remote Monitoring, News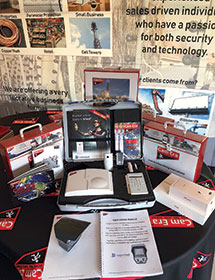 If you have the ability to sell and are an independent operator, Bill Sandham and Cam Era have a franchise opportunity you may be interested in. The franchise focuses on visual verification as a means to protect homes and businesses.
Sandham says the franchise model has been nine years in the making and offers a simple manner in which individuals can build their own security business. He says the only qualification required is the ability to sell yourself and work inter-dependently. All the technicalities are taken care of by the franchise partners.
Sandham refers to the franchise opportunity as a Business-in-a-Box due to its simplicity. Everything the franchisee needs is in a box, including the legal documentation, training manuals, sales approaches, how to conduct a scientific risk assessment for potential clients, and so on.
Cam Era also supplies direct training to its franchisees, ensuring they are able to ascertain whether a potential customer is the right fit for the solution. This will ensure a smooth operation with no unhappy clients expecting more than they get.
The franchise is based on a single product, Videofied's visual verification technology. Franchisees will sell verification solutions to clients, get the order and pass it on to Macado who handles the installation and monitoring. The franchisee will receive 70% of the gross profit from the sale and 30% of the monthly subscription fee.
Macado runs the largest Videofied monitoring control room in South Africa and monitors installations around the clock. The benefit of this approach, and the way in which costs are controlled, is that someone isn't watching your cameras all the time. Videofied is a motion detector with a camera built in. When it detects motion, it sends a message to the control room.
Once triggered, it sends a 10-second video clip to the control room and the operators can decide on the next step – call the police, ambulance or a security response company, or cancel the alarm as someone forgot to deactivate the alarm when coming in, for example. This approach will also avoid complications with privacy laws.
What makes the Videofied system applicable for South Africa is that it is Eskom-free. The system runs on batteries, which can last up to four years depending on how many activations occur.
To ensure all the franchisees are able to make a good living from their business, a limited number will be allowed in each area. Sandham says he prefers it if they actually live in the area in order to build a sense of community. If a franchisee sells a solution out of their area, they will still be rewarded, but the amount will be shared with the individual responsible for that area.
The Videofied product is integrated with a number of security management platforms (such as Listener) and users can also connect a mobile app that will alert them and allow them to view their own alarms.
Sandham says the concept is proving popular and two franchises were sold on the launch day. For more information, prospective franchisees can contact Cam Era at franchise@cam-era.co.za or www.cam-era.co.za
Credit(s)
Further reading:
FortiGuard labs reports disruptive shift of cyber threats
Issue 1 2021 , Editor's Choice
Threat intelligence from the second half of 2020 demonstrates an unprecedented cyber-threat landscape where cyber adversaries maximised the constantly expanding attack surface to scale threat efforts around the world. Adversaries proved to be highly adaptable, creating waves of disruptive and sophisticated attacks.
Read more...
---
The year resilience paid off
Issue 8 2020 , Editor's Choice, Security Services & Risk Management
Hi-Tech Security Solutions spoke to Michael Davies about business continuity and resilience in a year when everything was put to the test.
Read more...
---
Retail solutions beyond security
Issue 8 2020, Axis Communications SA, Technews Publishing, Hikvision South Africa , Editor's Choice, CCTV, Surveillance & Remote Monitoring
The need for security technology to deliver more than videos of people falling or stealing from retail stores is greater than ever.
Read more...
---
AI-powered hardhat detection
Issue 8 2020, Hikvision South Africa , Industrial (Industry), CCTV, Surveillance & Remote Monitoring
Hardhats save lives, but only if people wear them. Intelligent, AI-powered hardhat cameras are helping to ensure workers in dangerous locations stay safe at all times.
Read more...
---
Beating cybercriminals at their own game with AI
Issue 4 2021 , Editor's Choice
AI is a powerful technology that holds great potential for exploitation by cybercriminals; the only way that security leaders can stay ahead is by gaining a true understanding of how this technology can be weaponised.
Read more...
---
PoPIA: De-identifying, matching and filing
Issue 3 2021 , Editor's Choice, News, Security Services & Risk Management
Three of the crucial areas in organisational PoPIA compliance that must be discussed include de-identifying, information matching programmes and filing systems.
Read more...
---
ONVIF releases Profile M
Issue 3 2021 , News, CCTV, Surveillance & Remote Monitoring
ONVIF has released Profile M to address the dynamic video analytics market as well as expanding the pathways for the use of metadata and event handling into other systems, such as access control, cloud services and IoT platforms.
Read more...
---
Top cybersecurity considerations for SMEs in 2021
Issue 3 2021 , Cyber Security, News
Cisco has published its 2021 SMB Security Outcomes Study, highlighting what SMB leaders are doing to thrive in today's ever-evolving threat landscape, as well as offering actionable insights on where they should focus.
Read more...
---
A resilient video surveillance market despite Covid-19
Issue 3 2021 , Editor's Choice
Novaira Insights, a new video surveillance market research provider, has released its first report, The World Market for Video Surveillance Hardware and Software – 2021.
Read more...
---
From the editor's desk: A storm in the cloud
Issue 4 2021, Technews Publishing , News
The latest ransomware attack, named Kaseya after a company that provides a number of tools to customers all over the world, has hit a number of companies 'downstream. In other words, some of the companies ...
Read more...
---