printer friendly version
GNL Cyber launches South African operation
August 2017 Editor's Choice, Cyber Security, News, Training & Education
Gold N' Links Cyber (GNL) has established its presence in South Africa. Its launch event at its new Johannesburg offices in July was attended by a variety of dignitaries, key leaders in business, as well as VIPs such as the outgoing Israeli Ambassador.
GNL is part of the global Gold N' Links group, headquartered in Israel, where the company provides next generation cybersecurity solutions, services and training in cooperation with a variety of cybersecurity companies, as well as leading tertiary institution, Ariel University, with its a focus on cybercrime training and human resource development.
Locally, the company is headed by Dr Graham Wright, previously CEO of Business Against Crime South Africa, and consultant to the Consumer Goods Council of South Africa. The local team includes Roi Shaposhnik who is responsible for international business development and who travels between Israel and South Africa, as well as Jim Green, the chief technical officer.
Like its head office in Israel, GNL offers a full portfolio of cyber-security services and training opportunities to customers. While both services are run from South Africa, they are linked to the cyber experts in Israel to ensure that the latest information, intelligence, skills and training materials are made available locally.
Security Operations Centre
Visitors to the opening ceremony were split into three interactive groups, each of which was given a tour of the company's facilities.
The first stop was the Security Operations Centre (SOC), where cybersecurity experts are able to manage the security of customers' infrastructures. Large screens provide a visual presentation of security risk alerts, from which first response operations commence. This facility is linked to its Israeli partners who have access to the latest threat intelligence and powerful analytical capabilities.
A dashboard provides operators with a quick overview of the status of GNL's customers' cybersecurity events, threats and incidents across the globe, making use of a variety of sources for information.
The system highlights threats or potential problems that require more investigation, prompting the operators to investigate and take action if required. These issues range from external hacking attempts, right through to internal problems due to fraud and malware infections as a result of phishing such as the recent Petya attacks (www.securitysa.com/57724n).
The well established link with cybersecurity experts in Israel provides the local specialists on the ground with an additional resource of intelligence to warn of pending attacks, or the latest in risk or breach mitigation strategies. Both SOCs, in Johannesburg and Israel, are operational on a 24x7 basis and are therefore in a position to identify problems before customers are even made aware of them.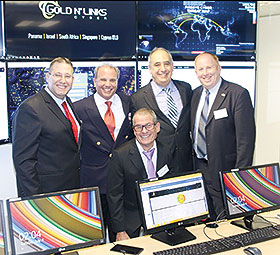 Attending the launch of Gold N' Links South Africa, from left to right: Roi Shaposhnik (GNL Cyber), JB Bloch (PSG), Ambassador Arthur Lenk (Israel), Itai Melchoir (Head of Israeli Trade & Economic Office). Front: Yacoov Haran (CEO of Triple Cyber, Israel).
Training centre
Supporting the SOC is a training centre at which GNL provides training in the latest issues and defences against cyber attacks. The training centre caters for a variety of clients, from the general office worker, to the IT professional and senior company executives. Its purpose is to provide the necessary awareness and critical insight to reduce the risk of cyber attacks in real time.
The training centre is linked to Ariel University where attack simulations can be carried out, allowing trainees – typically IT professionals – to safely test their skills against what could happen in the real world. The benefit of this simulated attack is that the whole process can be reversed and replayed to show people where they went wrong or to allow them to apply their latest training against the latest attack scenarios.
Finally, GNL offers crisis management training for executives in the event of a successful cyber attack, designed to assist in the management of communications with shareholders, stakeholders and the media.
Hacking a bank
The final part of the launch event was a video link to a cybersecurity expert in Israel who demonstrated successful hacks into large organisations, which included a banking website.
Everyone present was astounded at how simple mistakes in the development of a web interface could allow hackers to easily access the bank's site. More shocking perhaps was that they were witness to the fact that it's possible to gain access to accounts without knowing usernames or passwords.
Given the recent spate of well publicised cyber attacks on companies around the globe, GNL has set up shop in South Africa at the right time. While companies here may be reticent to admit when they have been breached and lost sensitive customer information, new laws on the horizon will force them to come clean. These regulations may even hold directors liable for allowing it to happen if adequate measures were not taken to mitigate these risks.
GNL's live SOC and training capabilities, linked with the best cyber expertise globally, may just be the solution some large local companies are looking for.
For more information contact Dr Graham Wright, Gold N' Links Cyber, +27 (0)83 252 5727, grahamw@gnlcyber.com, www.gnlcyber.com.
Further reading:
FortiGuard labs reports disruptive shift of cyber threats
Issue 1 2021 , Editor's Choice
Threat intelligence from the second half of 2020 demonstrates an unprecedented cyber-threat landscape where cyber adversaries maximised the constantly expanding attack surface to scale threat efforts around the world. Adversaries proved to be highly adaptable, creating waves of disruptive and sophisticated attacks.
Read more...
---
The year resilience paid off
Issue 8 2020 , Editor's Choice, Security Services & Risk Management
Hi-Tech Security Solutions spoke to Michael Davies about business continuity and resilience in a year when everything was put to the test.
Read more...
---
Retail solutions beyond security
Issue 8 2020, Axis Communications SA, Technews Publishing, Hikvision South Africa , Editor's Choice, CCTV, Surveillance & Remote Monitoring
The need for security technology to deliver more than videos of people falling or stealing from retail stores is greater than ever.
Read more...
---
Suprema integrated with Nedap
Issue 2 2021, Suprema , Access Control & Identity Management, News
Suprema recently announced that it has integrated its latest facial recognition devices into Nedap's access control system, AEOS, to enable organisations to manage their access control by making use of Suprema's latest facial recognition technology.
Read more...
---
Smart healthcare
Issue 2 2021 , Editor's Choice
In the past year, hospitals, elder care and other healthcare facilities have found themselves overwhelmed with new patients, COVID-19 regulations and other side effects of the pandemic. As efforts focused ...
Read more...
---
Platform-based access management solution
Issue 2 2021, ASSA ABLOY South Africa , Editor's Choice
Available in South Africa and throughout sub-Saharan Africa, new Incedo Business connects all your security software and hardware within one platform. You can easily scale it up or down, based on your needs, to keep your people moving and your business growing.
Read more...
---
FS Systems celebrates 50 years
Issue 2 2021 , Editor's Choice
This year, FS Systems celebrates 50 years in the fire detection and enterprise security market, successfully executing projects in over nine countries in Africa and LATAM.
Read more...
---
Formative AI and distributed cloud among four megatrends revealed at MIPS 2021
Issue 2 2021, Milestone Systems , Editor's Choice
Almost 4000 participants representing end customers, technology partners and media from across the globe attended the first virtual MIPS conference, held over two days in March 2021.
Read more...
---
Kiss passwords G00dby3
Issue 2 2021 , Editor's Choice
Cisco Secure has unveiled infrastructure agnostic, passwordless authentication by Duo which enables enterprise users to skip the password and securely log into cloud applications via security keys or biometrics built into modern laptops and smartphones.
Read more...
---
200 000 daily access transactions
Issue 2 2021, Impro Technologies , Editor's Choice
The University of KwaZulu-Natal's legacy access control system was suffering from increasingly limited support, both in terms of hardware and software, with maintenance becoming a pressing concern as it on-boards approximately 9000 new students each year across five campuses.
Read more...
---