printer friendly version
IBM's integrated security framework
August 2012
Cyber Security
To address the increasing need for an integrated security offering to deal with the growing security threats businesses face, IBM launched IBM Security Systems (ISS) late last year following its purchase of Q1 Labs. Joe Ruthven, business unit executive, IBM Security Systems, IBM Middle East and Africa, spoke to Hi-Tech Security Solutions about the new division.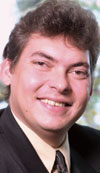 Joe Ruthven
Ruthven says the company had security products in its software portfolio before the Q1 acquisition, but not an integrated Security Information and Event Management (SIEM) system that could consolidate security threats in real-time. Now there is a single brand with a single team behind the security drive.
There are for key trends in the market driving the need for an integrated security offering in business, according to Ruthven. These are:
* The explosion of data in all areas of business, much of it not being secured appropriately.
* Nobody can deny the growth of mobile computing and this is creating a serious security vulnerability. Users are far too trusting when it comes to downloading apps and business must take the appropriate measures to protect itself.
* Cloud computing is also creating a headache for businesses and consumers as they adopt strategies that could see their data held by third parties in a variety of locations.
* Attacks on business IT are also increasing, not only in frequency, but also in sophistication. It's no longer malware or kids having fun, but organised crime is profiting from hacking attacks, making hacking in its various forms the third most lucrative crime in the world.
These trends, among others have made security a pressing concern for business, a concern ISS is addressing through its unified offering. Ruthven says there are four dimensions to ISS's service.
* People: Companies need to ensure the right people have access to the right privileges and access to do their jobs efficiently, but they also need to ensure that the wrong people don't have access to information they don't need, or may want to access for nefarious purposes.
* Data: Securing data is somewhat lower on organisations' priorities, but with mobile and cloud services becoming more popular, as well as the rise of 'big data' along with governance requirements, managing your data is becoming more important than ever.
* Infrastructure: Business is good at securing its infrastructure, but securing the perimeter is no longer enough to protect from attacks.
* Applications: Applications are also under pressure, not from an access perspective, but also regarding how they behave. Again, this is especially relevant in the mobile space.
To support its security service, IBM also has its X-Force research team that monitors the security market. Its IBM X-Force Trend and Risk Report is produced twice per year and provides statistical information about all aspects of threats that affect Internet security, including software vulnerabilities and public exploitation, malware, spam, phishing, Web-based threats, and general cyber criminal activity.
Credit(s)
Further reading:
Retail solutions beyond security
Issue 8 2020, Axis Communications SA, Technews Publishing, Hikvision South Africa , Editor's Choice, CCTV, Surveillance & Remote Monitoring
The need for security technology to deliver more than videos of people falling or stealing from retail stores is greater than ever.
Read more...
---
Protecting business from ransomware at the edge
Issue 4 2021 , Cyber Security
It might not always be possible to prevent ransomware from infecting remote networks, however, a robust backup and disaster recovery strategy can get the business back on track if systems are locked down.
Read more...
---
USBs threats are back
Issue 4 2021 , Cyber Security
Kaspersky has uncovered a rare, wide-scale advanced persistent threat (APT) campaign; initial infection occurs via spear-phishing emails containing a malicious Word document and can then spread to other hosts through removable USB drives.
Read more...
---
Incedo consolidates its cybersecurity defence
Issue 4 2021 , Cyber Security
Check Point Software´s end-to-end solution safeguards Incedo and its customers from a global spike in cyberattacks, while reducing costs and increasing productivity.
Read more...
---
Top 10 security misperceptions
Issue 4 2021 , Cyber Security, Security Services & Risk Management
The Sophos Rapid Response team has compiled a list of the most commonly held security misperceptions they've encountered in the last 12 months while neutralising and investigating cyberattacks in a wide range of organisations.
Read more...
---
Top cybersecurity considerations for SMEs in 2021
Issue 3 2021 , Cyber Security, News
Cisco has published its 2021 SMB Security Outcomes Study, highlighting what SMB leaders are doing to thrive in today's ever-evolving threat landscape, as well as offering actionable insights on where they should focus.
Read more...
---
Local cyber is global
Issue 4 2021 , Cyber Security
Understanding the risks and how cybercriminals implement their attacks allows Performanta to prepare customers for a proactive security posture against these threats.
Read more...
---
From the editor's desk: A storm in the cloud
Issue 4 2021, Technews Publishing , News
The latest ransomware attack, named Kaseya after a company that provides a number of tools to customers all over the world, has hit a number of companies 'downstream. In other words, some of the companies ...
Read more...
---
Winners of the inaugural South Africa OSPAs
Issue 4 2021, Technews Publishing, Secutel Technologies, Cathexis Technologies , Editor's Choice, News, Integrated Solutions, Security Services & Risk Management
The presentation of the first-ever South Africa Outstanding Security Performance Awards (OSPAs) took place virtually on Thursday 3rd June 2021 as part of an internationally attended online thought leadership webinar.
Read more...
---
2000 services in one platform
Issue 4 2021, Technews Publishing , Editor's Choice
Incident Desk allows customers to customise it to include a full range of building management, maintenance and OHS modules, as well as additional components that integrate and turn IoT data into usable knowledge.
Read more...
---