printer friendly version
Aspirating smoke detection on the gallop
August 2012
Fire & Safety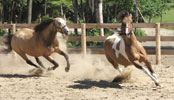 The Australian Equine and Livestock Events Centre (AELEC) is owned by the Tamworth Regional Council and was opened in 2008 as a state-of-the-art facility located in the major regional hub of Tamworth, NSW Australia.
The development was designed to provide facilities for the promotion of Australia's equine industry and world-class livestock events including: show jumping, hacking, dressage, rodeo, campdrafting, team penning, cutting, ponies, harness, miniatures, alpacas and dogs.
In 2010, more than 200 event use days were catered for including 12 230 head of cattle, 5321 horses and 4651 individual competitors.
The AELEC facility was originally required to have a sprinkler system installed to meet the 'deemed to satisfy' building regulatory requirements for the class and size of construction. In view of the type of construction and operation it was recommended that an alternate engineered solution be installed to meet the regulatory performance requirements of the Building Code of Australia (BCA) that would remove the need for the sprinkler system. A suitably qualified fire consultant was engaged to design an alternate solution to meet the performance requirements of the BCA.
The system would need to adequately perform in various environmental conditions, including high levels of dust from active events and varying airflow patterns resulting from the self ventilated building design as well as facilitating evacuation requirements. An analogue addressable point detection system with a combination of heat and ionisation point detectors was ultimately installed supported by extinguishers and hydrants.
The original system as designed and installed was problematic with constant nuisance alarms and maintenance faults leading to unnecessary costs to the client and the eventual unworkability and disablement of the system. The unsuitability of ionisation point detectors mounted at heights above the occupied areas of up to 18 metres virtually guaranteed the system would not meet the performance requirements of the BCA. The problematic performance of the installed detection system led to enquiries to investigate and design a more suitable fire detection system for the facility.
Mecelec Design and Management was engaged as independent consultants to carry out this investigation. The conclusion of the investigation was that the existing smoke detection system was inappropriate for this application. Recommendations for an appropriately installed aspirating smoke detection (ASD) system were presented and accepted.
Mecelec's design proposal coincided with a new ASD product being developed by Xtralis which is particularly suited to this type of environment. A suggestion was made that this would be an ideal opportunity for a field trial. Discussions were held with Xtralis and AELEC operators where a design was prepared by Xtralis for the new ASD system using the VESDA VLI (Industrial detector).
The facility's high ceiling areas were adequately addressed by VESDA VLI since the detectors were located at ground level whilst the extended pipe capability provided a concentrated level of detection coverage. VLI's Intelligent Filter, Inertial Separator, Secondary Filter and Clean Air Zero all combined to make VLI a perfectly suited solution to address the environmental challenges of this facility.
Remote monitoring requirements were also addressed thanks to VLI's BACnet over Ethernet connectivity.
Seven VESDA VLI detectors in total were installed by Dynamic Fire; a local fire company based in Tamworth, and tested using a variety of real test fires. The VESDA VLI detection was very effective, but more importantly the original problematic system issues experienced with dust had been eliminated. The VESDA VLI system has now been installed and operational since March 2011.
The installed VESDA VLI system now not only meets the regulatory performance requirements but will also continue to provide effective smoke detection in this difficult environment as well as providing for ease of maintenance and reduced total cost of ownership for its service life.
Australian Equine and Livestock Events
Centre: Operation started in 2008
Location: Tamworth, New South Wales, Australia
Industry: Cultural/Heritage
Solution: VESDA VLI (Industrial Detector)
Benefits:
* Very early warning smoke detection
* Tolerance of dusty, harsh and dirty environments
* Easy installation and maintenance </i>
For more information, contact Lauren Sher, regional sales manager, Xtralis, +27 (0) 82 446 7602 or lsher@xtralis.com
Further reading:
Local fire safety manufacturing
Issue 4 2021, Technoswitch , Fire & Safety
With headquarters, manufacturing and training facilities in Johannesburg, Technoswitch has been supplying and providing technical support for high-quality fire detection products into sub-Saharan Africa for the past 47 years.
Read more...
---
ORYX conventional fire panels
Issue 4 2021, Technoswitch , Fire & Safety
The recently launched second-generation ORYX conventional fire panels support either two, four, or eight fire zones each, supporting up to 32 devices.
Read more...
---
Fire document holder
Issue 4 2021, Technoswitch , Fire & Safety
The Fire Document Holder, designed and manufactured by Technoswitch, makes storing and protecting all site-related fire documentation simple and effective.
Read more...
---
Fire safety for server cabinets
Issue 4 2021, Technoswitch , Fire & Safety
The TEC601, designed and manufactured by Technoswitch, is an all-in-one fire and extinguishing rack-mountable control system designed to protect electronic equipment in 19-inch server room cabinets.
Read more...
---
ZYTEQfire launches G-One addressable fire panel
Issue 4 2021 , Fire & Safety
ZYTEQfire has launched the G-One addressable fire panel, complementing its existing range of GEKKO and OCTO+ panels.
Read more...
---
New addressable fire control panels
Issue 3 2021, Johnson Controls Global Products , Fire & Safety
Johnson Controls launches FireClass FC600 addressable fire control panels in the UK and South Africa, featuring a new colour 4.3-inch LCD screen with 32 zonal LEDs to ensure intuitive operations for all users.
Read more...
---
All-in-one signalling device
Issue 2 2021, Bosch Building Technologies , Fire & Safety
The Avenar all-in-one 4000 offers a complete solution through the optional combination with all Avenar fire detectors as well as an innovative power concept that permits up to 125 devices per ring bus.
Read more...
---
Complete fire safety in any environment
Issue 2 2021, XtraVision , Fire & Safety
Fire safety on the African continent needs to consider the many applicable and different relevant standards, regulations and installation rules.
Read more...
---
Early fire detection for central distribution
Issue 2 2021, G2 Security , Fire & Safety
With a substantial value of goods housed in Spar's large complex warehouse facility, early fire detection is essential and the best solution is aspirating smoke detection, also referred to as high sensitivity smoke detection.
Read more...
---
Early warning fire detection for clean rooms
Issue 2 2021 , Fire & Safety
Securiton SecuriSmoke ASD 53x series aspirating smoke detectors address all the key challenges and deliver early and reliable fire detection in clean rooms and associated controlled environments.
Read more...
---