printer friendly version
Integrated auto management
CCTV Handbook 2012
CCTV, Surveillance & Remote Monitoring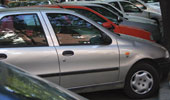 Genetec solves Avis car problems.
With two of the most recognised brands in the vehicle rental industry, Avis Budget Group is believed to be the largest general-use vehicle rental operator in North America. Last year, the car rental giant completed about 27 million vehicle rental transactions worldwide and derived an estimated 80% of their total annual revenue from on-airport locations.
In Canada specifically, the Avis Budget Group is headquartered in Toronto where a large fleet of vehicles is kept in close proximity to service the on-airport location of Pearson International Airport as well as the local greater Toronto branches. On a daily basis at the Canadian headquarters, between 700 and 800 rental vehicles are constantly coming in to get cleaned and serviced, and going out to accommodate the bookings at various branches.
This continuous exchange of vehicles induces vulnerability to vehicle theft and Avis Budget Group was no stranger to that fact. At some point in time, they became aware that certain vehicles that were leaving the lot were no longer coming back. With an on-going investigation about suspected vehicle thefts, Avis Budget Group pro-actively initiated their own search for a new solution that would keep their vehicle fleet safe.
Security needs
As the previous city manager for Avis Budget Group's Toronto Operations, Suzanne Myrand was tasked with finding a new security solution that would help prevent future vulnerability at the headquarters. She was familiar with the AutoVu system and realised its potential, but had a more aggressive plan in mind: "We needed an automated system that would give us the traceability we required on both the vehicles and their drivers," said Myrand.
What she was looking for was more than an LPR solution, but additionally, an advanced access control solution with integrated video surveillance which could provide Avis Budget Group with the ability to track their entire stock of vehicles with evidence to support the in-out activity. The plan was also to extend this solution beyond the gates of their headquarters into other locations such the airport branches.
After considering other products on the market, Myrand and her team soon realised that they just did not meet their specific requirements. She then contacted Genetec and was pleasantly surprised to find the Genetec suite, including IP-based LPR, access control and video surveillance solutions were exactly what Avis Budget Group needed.
The solution
Today, Genetec's AutoVu is deployed at two main Avis Budget Group Toronto locations: their Canadian headquarters and their Dixon road maintenance facility, located just outside the airport. Each site has two lanes of traffic (one going in and one going out) and each lane is equipped with an AutoVu Sharp LPR camera, totalling four LPR cameras. More so, Genetec's Synergis and Omnicast are deployed at three locations, including the same two locations where the LPR cameras are installed, as well as the Pearson International Airport location. Avis Budget Group invested in access control readers and video cameras to capture badge credentials and video footage of drivers and cars entering and exiting each facility.
Additionally, since all three systems were developed by Genetec, the level of integration between Synergis access control and AutoVu LPR solution within Omnicast's video management platform provided Avis Budget Group with correlated information through a unique feature called the Metadata Engine. Thanks to this feature, every licence plate that is scanned is automatically indexed to the associated video and access control data for easy retrieval. Integration of all data in one platform provides operators with the tools to make quick assessments of situations and more in-depth decision.
"This entire system is so easy to use, and really enables us to find the information that we are looking for," declares Myrand. "In an investigation, which was key to adopting this new solution, we now have the data we need at the tip of our fingers."
The benefits
Since the initial deployment, the system has been fully upgraded to Genetec's unified security platform, the Security Centre. A step beyond simple integration, the Security Centre seamlessly merges Genetec's IP video surveillance, access control and licence plate recognition systems within a single innovative solution. Every aspect of Avis' security operations is consolidated under this single platform, from real-time monitoring to alarm management, reporting, and playback of events.
With Genetec's unified security platform Genetec firmly in place at major locations, Avis Budget Group has achieved its main objective: securing its fleet of vehicles. Today, Myrand reports: "We have zero cars missing since implementation."
Overall, Avis Budget Group has certainly justified the expense of ownership of this new Genetec solution. The implementation and use of the system has been so successful in fact, that they have introduced the Security Centre unified security platform to their US counterparts, who are now looking into a similar project.
Further reading:
Reinventing network camera security
Issue 1 2020, Axis Communications SA , CCTV, Surveillance & Remote Monitoring
Now in its seventh generation and celebrating its 20th anniversary, the Axis ARTPEC chip was launched in 1999 designed to optimise network video.
Read more...
---
Cloud-based fleet and driver management
Issue 1 2020, Graphic Image Technologies , CCTV, Surveillance & Remote Monitoring
Graphic Image Technologies (GIT) has announced the availability of a cloud-based dashcam designed to improve on-the-road behaviour and assist in improving fleet management.
Read more...
---
Cathexis specialises in integration
Issue 1 2020, Cathexis Technologies , CCTV, Surveillance & Remote Monitoring
The integration of multiple systems is intrinsic and essential to the goal of creating an effective and efficient operational environment.
Read more...
---
Do wireless networks meet modern surveillance demands?
Issue 1 2020, Duxbury Networking, RADWIN , CCTV, Surveillance & Remote Monitoring
It is predicted that video will account for 15,1 zettabytes (1 zettabyte = 1 trillion gigabytes) of data annually, which is more than any other IoT application.
Read more...
---
Traffic doesn't have to be this way
Issue 1 2020, Dahua Technology South Africa, Axis Communications SA , CCTV, Surveillance & Remote Monitoring
More effective traffic management is something that would save us all a lot of frustration and wasted time, and it's one of the areas where AI and big data can have a significant impact.
Read more...
---
Dahua launches Hunter Series
Issue 1 2020, Dahua Technology South Africa , CCTV, Surveillance & Remote Monitoring
Dahua launches a new dual-PTZ camera that enables flexible and multi-scene panoramic monitoring.
Read more...
---
8 MP fisheye camera
Issue 1 2020, Dallmeier Electronic Southern Africa , CCTV, Surveillance & Remote Monitoring
Dallmeier's new 8 MP fisheye camera combines AI-supported object classification and H.265 in a compact design.
Read more...
---
Using ANPR to enhance security
Issue 1 2020, Duxbury Networking , CCTV, Surveillance & Remote Monitoring
Deep learning and AI-based algorithms enable ANPR cameras and their associated software to detect and recognise number plates with an extremely high level of accuracy.
Read more...
---
AI supercharges surveillance
Issue 1 2020 , CCTV, Surveillance & Remote Monitoring
The ability to analyse live video through AI techniques means that untapped footage from existing, passive cameras can be used to identify patterns, trends and anomalies.
Read more...
---
IDIS launches new cameras with on-board analytics
Issue 1 2020 , CCTV, Surveillance & Remote Monitoring
IDIS has launched a lineup of Edge VA bullet and dome cameras, featuring on-board analytics that will transform the efficiency of security operations.
Read more...
---