printer friendly version
Surveillance solutions take centre stage
CCTV Handbook 2012
CCTV, Surveillance & Remote Monitoring
CCTV has been with us for decades. Today we have traditional analogue technology competing (unsuccessfully in many instances, successfully in others) against newer IP technology and more than enough hype surrounding convergence and the benefits of IP. But the issue of which camera to choose does not revolve around IP alone.
Vendors promise high definition, megapixels, low light, amazing zoom capabilities, onboard storage and analytics, and other fantastic benefits to the buyer. We even have some vendors offering 14 or 20 megapixel systems, 360-degree views and more. But then you put the camera to the test and see that the specifications on the box sound good, but that is as far as it goes. The real world is not quite as friendly as the perfect conditions vendors claim to support.
How does one make sense of all this?
Hi-Tech Security Solutions put the question to a group of local vendors, distributors and integrators with the hope of finding out what the real issues in the surveillance world are and what we can expect to hear about in the coming year.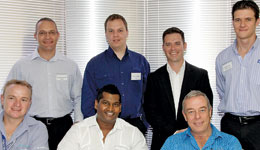 Standing: Charles Volschenk, Warren Phillips, Jason McGregor and Johan Crause. Seated: Brendan Hall, Malcolm Govender and John Loftus.
Our seven attendees were a mine of information, but, as is always the case, limited space means we can only touch on a few of the topics discussed in this article. At the end of the event, however, it was clear that the surveillance market is going to be a competitive environment this year with plenty of new products out to tempt the buyer who will have a seemingly endless choice when it comes to surveillance. The key to success is doing one's homework and making sure you have the right advisors and skills in place.
Warren Phillips represented local distributor Miro, a company that initially started distributing network products, especially wireless networking, before taking its place in the surveillance distribution market. He says the company specialises in wireless surveillance and is excited by changes in the wireless market, which extend the capabilities of IP surveillance. Of the changes he expects to see this year is wireless systems offering transmission speeds of 1 400 megabits per second, with a multi-kilometre range.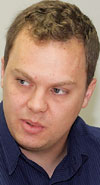 Warren Phillips.
Jason McGregor represented Axis Communications. As far as trends are concerned, he expects a continued focus on improved image quality rather than counting megapixels. "I think what the client wants at the end of the day is better image quality and we are seeing the consumer market driving this." Today's cellphones offer clients a better image than they get out of many of their CCTV cameras and people do not see why a phone can deliver such quality but a camera cannot.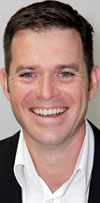 Jason McGregor.
Other areas to watch, according to McGregor, include an increased focus on lens technology with wide dynamic range (WDR) and high dynamic range (HDR) becoming more important. We should also see some other interesting technologies appearing that are able to deal effectively with poor lighting conditions. He also sees an increased interest in edge storage and analysis.
Brendan Hall, MD of Pentagon Distribution says, "We see a lot of the vendors willing to sell the camera, a piece of software or just a storage device and when it all goes pear shaped for a client. At the end of the day you have got this divorced responsibility, so our real focus is on the whole application, where we have to take responsibility for the camera, the network, the platforms, the software as well as the storage."
He adds that many camera vendors are more inclined to sell cameras, but do not want to get involved in the storage business, which is becoming quite complex. He also refers to the 'swear word of our industry', integration, noting that installations of systems such as access control, public address systems, evacuation and building management systems (BMS) need to be included in the overall process.
Malcolm Govender from Pelco by Schneider agrees with Hall, saying Pelco has always focused on end-to-end solutions, from monitors to cameras, recording platforms and storage. With its integration into the Schneider Group, Pelco now has additional access to the Schneider product portfolio, including BMS, lighting solutions, wireless infrastructure products and so on. "So for us our focus has shifted from being a camera provider or even a CCTV solution provider to a holistic solution provider."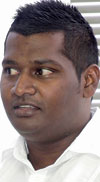 Malcolm Govender.
Johan Crause represented IP Security Solutions (IPSS), a division of Regal, which launched IPSS after realising the need for a specialised division focusing on IP products. He says IP products need support and that means added value from a distributor to look after its clients and even work through them to assist the end user. According to Crause, customers are after quality, but they do not necessarily want to pay a lot for it. This is where IPSS comes in, offering products that offer the quality required, but at a more reasonable cost, although he notes that they are not chasing the title of offering the cheapest price out there as the quality would not suffice.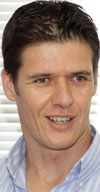 Johan Crause.
He also notes that the East is catching up quickly when it comes to quality products and it is not correct to simply write-off products from that area as cheap knock-offs.
John Loftus, MD of newly launched distributor MASS sees four key trends happening in our industry. The first is edge storage. There is no need to hog bandwidth with video images when the majority of it is never looked at. With only relevant video transmitted and the rest of it available when required, bandwidth can be saved and more value derived from the camera's functionality.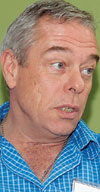 John Loftus.
Integration is second. Loftus says it has never been done well among the various disciplines. He believes this is changing and sees development taking place in integration between the various electronic security disciplines.
Lighting is the third trend. A trend that has not transferred to the IP platform properly yet, but this is changing quickly.
Finally, he sees an increase in the capabilities of storage devices, including improved write speeds, which will benefit storage solutions.
Charles Volschenk represents the German company Geutebrück, which has only had a local office for slightly more than one year. He also believes the dirty word "integration" is becoming more important than ever. Geutebrück is already busy with several projects where the integration between different systems is key, and the outcome is a system that provides exception-based reporting, in other words, the system raises an alarm when certain triggers arise and that is what operators respond to.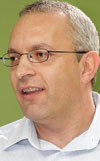 Charles Volschenk.
Again he says edge storage will be key, but users also require something 'in the middle' that can find the right two or three percent of important footage/data and then present it in a way that is usable, allowing people to make decisions. Geutebrück SA also distributes lighting products from RayTech, which he considers an important advantage as lighting factors become more important.
Lighting and pricing
While lighting is not often given the thought it really requires in the surveillance world, apart from when vendors try to sell a low-light camera, this is changing. McGregor expect more of the high-end cameras will include IR LEDs that sport a long life of 10 to 15 years – depending on the product. In the past, he says, we have seen cameras with built-in LEDs, but these more often than not failed before the camera had outlived its useful life. This is changing as current LED systems will outlive the camera.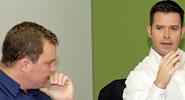 Warren Phillips and Jason McGregor.
Volschenk adds that IR technology is advancing even more with many projects needing lighting over and above what could be attached to a camera. He says a form of 'almost intelligent IR' is being developed apart from the camera that interacts with the camera 'doing the right things at the right time', operating automatically as required to support the camera's, and hence the business's operations.
Hall also mentions new technologies that measure the tolerances on the LEDs and provide a form of failover to ensure the lighting remains constant for the camera in question. Harking back to the low-cost question, Hall also mentions that there is a large market waiting for the right IP product at the low-end of the market – meaning the 16-camera and below market for small operations and even homes. There is also a huge market outside of South Africa where the markets still have some maturing to do. These users generally opt for analogue solutions because of the lower costs, but also because the traditional installers serving this market are comfortable with analogue.
Looking at the global surveillance space, he says IP vendors are playing in only about 25% of the market, with the remaining 75% still up for grabs – or in the analogue space because of it size and the lower cost of analogue solutions. (There is some disagreement on the exact percentages, with some saying as much as 35% of the market has already migrated to IP, others saying it is as low as 20%.)
While IP cameras have added functionality to their systems, from analytics, to voice and other features, most of these installations have no need of these extras, leaving a gap in the market. Many of these smaller installations are running off ADSL routers and in-house WiFi systems, to which they are adding IP cameras. These installations, of course, cannot afford the fees integrators charge and are looking for systems that are easy to install and use.
It is into this arena that companies like Axis, with its Camera Companion and Bosch, with its Advantage Line are moving. However, there is still space for low-cost (not quality) cameras targeted to this market.
Crause says he believes this market is going to be significant for 2012, not least because an increasing number of these smaller projects move from analogue to IP. Again he mentions IP camera manufacturers from the East that have managed to bridge the quality and price gap in a way that appeals to this market, especially when comparing the image quality the more costly IP systems deliver.
This is to be expected as technology advances, says Loftus, noting, "progress and development is driven by price erosion". This allows manufacturers to make CCTV more efficient, more effective, more user friendly and a more effective tool for a lower cost, while the high-end gains the benefit of new features and functionality.
The benefits of IP
As noted previously, the benefits of analogue often come down to questions of cost and while the purchase price of analogue is lower than IP, Hall suggests it should come down to a question of the future cost of ownership. He says the life cycle of an analogue video system is about three years. After that, you have an analogue backbone which limits your options when looking at upgrading or expanding the installation.
"The upside of IP is the fact that you get to put the network in and once installed you are in the digital world with all the benefits of upgrading or expanding the surveillance solution and changing camera brands as desired," says Hall. We supplied a site seven years ago, a cash centre with about a 150 cameras. We have done a few firmware upgrades, but I can do nothing more for the client. So from a client perspective, the upside is that he can really get a real return on his investment over a longer period and the firmware upgrades deliver excellent additional functionality over the longer term that the client can choose to take advantage of."
"IP adds value on a larger system," adds Loftus. "Smaller installations suit analogue systems, but larger ones simply require IP. It would be an automatic choice for our customers because we give you additional value such as smartphone apps, access control integration, gate control, BMS integration and many more added value features we would be restricted from offering on an analogue system."
And it goes further, adds Govender. "The added benefits we have in the group also include BMS, energy management and the like. We can trigger the camera system to switch lighting off because there is no motion in the office. So instead of putting an occupancy sensor in, and if you do not have the money to build a full BMS, you can use the CCTV system to trigger that and as funding becomes available from the money you are saving, you can expand."
McGregor believes the value of IP is the intelligence, the edge storage and the fact that it is a quick deployment compared to analogue in many cases. The management is also simpler and offers more functionality.
Of course, IP and analogue are not exclusive, as Volschenk points out. You can have them both running as hybrid technology, allowing you to extract the most from your analogue investment while you migrate to IP.
Edge or not
The question of edge storage, keeping video footage on SD cards or hard drives on each camera, is already gaining traction and will continue to do so in the coming year. On the one hand, McGregor notes the benefits of edge storage in reducing bandwidth and not losing footage even in the network goes down. In many incidents, thieves will make sure they take the DVR with them to prevent footage of their crime being of any use. In these instances, edge storage saves the footage for later analysis. However, Crause asks what happens when the camera is stolen or broken?
The solution to this seems to be event-driven storage in which certain events trigger an alarm and automatically broadcast images to a control room, while when there is no alarm situation the video is stored on camera. This footage can then be downloaded or mined for analysis at a convenient time, while ensuring any intrusions and so forth are sent to a command centre almost immediately.
Alternatively, McGregor notes that onboard storage can save bandwidth by allowing companies to store the full-quality video footage on the camera while broadcasting low frame rate video to a control centre until something happens. In that way operators can keep an eye on the monitored environment without hogging bandwidth.
When it comes to server-based storage, there is a vast difference between the traditional NVR/DVR systems and the large storage subsystems installations require. The attendees noted a general lack in many security installers when it comes to setting up and managing larger storage systems. It could be put down to a question of lack of education on these high-end devices, but it could also be down to the fact that organisations are more likely to set their IT departments to the storage task.
Infrastructure questions
When it comes to infrastructure, the attendees agreed that wireless solutions for surveillance were growing in importance as well as utility. Phillips notes that he does not always recommend wireless for indoor applications, but has no hesitance in recommending wireless for outdoor applications. "On the perimeter, wireless is a fantastic alternative to wired components, it really does work and I think it is only getting better. To be frank, the bandwidth that these products are performing at and the clarity of picture is fantastic."
Hall agrees, noting that Pentagon recently commissioned a 150-camera project on a highway using a wireless network. Loftus also agrees noting a project Mass supplied a wireless system to sports excellent quality over a distance of 5 kilometres.
A key issue
As is the norm in round-table discussions, this article has only touched on some of the issues discussed. To round off the event, Hi-Tech Security Solutions asked each participant to highlight one issue that they think would be the biggest issue in the surveillance market in the coming year. Not an easy question in a dynamic industry.
Volschenk says, "The biggest thing is going to be having usable, meaningful information from your integrated systems. That is what is going to sort out the men from the boys".
"I think for us it is going to quite simply be differentiation on the basis of quality. That is the biggest thing, being able to provide a complete end-to-end solution and taking control of the entire project," says Loftus.
Crause reiterates that the quality-cost question is crucial. "Quality versus cost is going to play a significant role in 2012. People are not prepared to pay exorbitant amounts for cameras anymore."
"I think from our perspective, like I said previously, we can all basically offer the same offering, it is what sets your offering apart and the value-add that comes into it that will separate one manufacturer or one brand from the other. So for us it is more along the lines of the value adds, what else we can build onto the system, what value can we add," notes Govender.
"For us, convergence is key … to where we can have a single platform for managing all the services which operators can control from one interface," says Hall.
"From an Axis perspective it is short and sweet, image usability. Can you actually use the video that you have got to do the job required," states McGregor.
Although Phillips notes an expected growth in Miro's wireless infrastructure offerings, he also sees a growth spurt for IP surveillance due to an increased availability of lower-cost cameras that offer good quality as well as simpler usability for the end user.
The proof will be in the pudding and we shall perhaps be able to see the outcome of these expectations in the 2013 issue of the CCTV Handbook. Needless to say, looking at the comments in this round-table, it bodes well for an exciting year in the surveillance industry. The usual question of how far IT will intrude into the security world (or vice versa) remains and we would not be surprised to see further acquisitions of security integrators and distributors by established IT players. Perhaps next year we will eventually see a larger percentage of IP sales at the expense of analogue, but looking at some of the other comments in the various articles in the CCTV Handbook 2012, it will be some time before analogue is kind enough to retire into the sunset – an event that would have to be recorded with an expensive IP camera.
Credit(s)
Further reading:
Consolidating control rooms and service delivery within a COVID-19 environment
Issue 6 2020, Leaderware , CCTV, Surveillance & Remote Monitoring
It is essential to have informed, coordinated and professional responses within control rooms at this time of increasing turmoil.
Read more...
---
Technology driving the healthcare industry
Issue 6 2020, Duxbury Networking , CCTV, Surveillance & Remote Monitoring
Seeing cameras as sensors opens up new possibilities, and each one of them responds to typical demands inside a hospital, clinic or nursing home.
Read more...
---
Secure IoT devices and networks
Issue 6 2020, Technews Publishing , Cyber Security
Check Point Software's IoT Protect solution secures IoT devices and networks against the most advanced cyber-attacks.
Read more...
---
From the editor's desk: Covid consolidation
Issue 6 2020, Technews Publishing , News
The global security industry has seen quite a few high-profile mergers and acquisitions over the past year or two, with an even greater number of smaller companies that don't get the headlines also merging, ...
Read more...
---
Flexible temperature screening options for challenging times
Issue 6 2020, Hikvision South Africa , CCTV, Surveillance & Remote Monitoring
A thermal imaging camera is an effective screening device for detecting individuals with elevated skin temperature. This type of monitoring can provide a rapid screening approach in high-traffic areas.
Read more...
---
Toyota Argentina joins the new normal
Issue 6 2020, Dahua Technology South Africa , CCTV, Surveillance & Remote Monitoring
Toyota Argentina makes use of Dahua technology to ensure COVID-19 safety protocols are adhered to.
Read more...
---
Qognify launches Cayuga R15 VMS
Issue 6 2020 , CCTV, Surveillance & Remote Monitoring
Cayuga R15 is compatible with Qognify's Umbrella web-based platform that can be used to configure, manage and monitor all connected Cayuga systems centrally.
Read more...
---
New DeepinView camera series
Issue 6 2020, Hikvision South Africa , CCTV, Surveillance & Remote Monitoring
Cameras equipped with multiple dedicated algorithms that can be selected as required based on the needs of the installation, then switched as the security needs change.
Read more...
---
Leaders in risk and security: As long as there are people, there will be risk
Issue 5 2020, iFacts, Technews Publishing , Editor's Choice
Jenny Reid is a self-made success, focusing on people, the risks they create and the potential they have.
Read more...
---
Mitigating the human risk
Issue 5 2020, Managed Integrity Evaluation, Technews Publishing, iFacts , CCTV, Surveillance & Remote Monitoring
Hi-Tech Security Solutions asked Jennifer Barkhuizen and Jenny Reid for some information around background screening and vetting of potential new hires.
Read more...
---