printer friendly version
Local is lekker, but not lekker enough to buy
June 2010
News
As a recovering IT journalist I have been blessed with a generous portion of cynicism and I am not afraid to share it. Although I must say I am not as cynical as I used to be; we have meetings, you know.
One thing I am cynical about is the ability and especially the will of government to support and boost the South African economy. This cynicism was ably boosted recently while sitting at a coffee spot on the way to IFSEC UK. I was chatting to a local manufacturer about a big tender he was working on for a government organisation.
Well, this is for government so it is reasonable to think the deal will show preference to local companies that are internationally competitive. You know, support local IP (intellectual property), local jobs, keep the loot that has not been disappeared inside the country for the next sticky-fingered politician and so on. As happened in the soccer, the answer is a big fat raspberry. Well, that is the polite version of the answer.
Not only does government not favour local companies, IP and jobs, the tender was written to favour a foreign company's products. The chap I was talking to, whose company sells its local products internationally, was used to getting the finger from government, but it does give credence to the cynical attitude of us uninitiated to this government and its supposed commitment to the country.
In fact, due to all the deals that grant some people the right to import products with little or no taxes, it can be more expensive for local manufacturers to build products locally, because they do not get any tax breaks on the components they have to import. How many jobs have to vanish before government takes its job seriously? Although, it is not an election year yet so there is no need to pretend and make the right noises.
Looters' paradise
And talking about shooting yourself in the foot. The number of people that complained to me at IFSEC UK about the exorbitant pricing of the Soccer World Cup is horrendous. Many people simply did not come because of the price gouging South Africans (that is their opinion anyway). It was simply unaffordable to normal people. One builder putting together a stand was quoted 600 pounds (nearly R8000) per night just for accommodation – and it was not in a five-star hotel either. By the end of June we should hear the hospitality industry crying poverty, expecting the rest of us to feel sympathy for them. I think not.
Not only are the prices during the event outrageous, but one MD who used to regularly come to South Africa told me that airline tickets to the country in May were already more than double their normal price. And you can be sure the next time airline staff want a 1% raise their companies will scream poverty and blame the economy. Sometimes you cannot help but support the unions.
Win an intelligent system
Here is a brief reminder for the unfortunate few who missed the first Hi-Tech Security Solutions webinar. We have an archived version available at www.securitysa.com/video/. Unfortunately, as this is an archived version, it will not be interactive.
What is more, all webinar attendees and those who register and listen to the archive will be in line for a prize from VideoIQ valued at over R30 000. The winner, who will be announced in a future issue, stands to win a complete VideoIQ smart video surveillance system. (You do not have to register to view the archive.)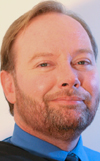 Andrew Seldon
Editor
Credit(s)
Further reading:
4IR is opportunity
News
In South Africa, digitalisation remains 'at a nascent stage' which means significant work still has to be done when it comes to addressing skills development around 4IR in the country.
Read more...
---
Five ways to reduce your cyber insurance premiums
Security Services & Risk Management News
With the global costs of cybercrime expected to soar to $13 trillion within the next five years, cyber insurance is booming as organisations try to mitigate the risk of financial losses.
Read more...
---
What South Africans need to know about smart devices
Technews Publishing Editor's Choice
We live in a world surrounded by smart devices, from our pockets to our driveways and living rooms.
Read more...
---
Client satisfaction boosted by 85% at Thungela Mine
Thorburn Security Solutions News Security Services & Risk Management Mining (Industry)
Thorburn Security, a division of Tsebo Solutions Group, has announced its recent collaboration with Kwa-Zulu Natal security company, Ithuba Protection Services, as part of its Enterprise Supplier Development (ESD) initiatives across Africa.
Read more...
---
Fidelity SecureFire steps into critical fire response space
News Fire & Safety
With the majority of fire stations around the country being crippled by a lack of resources to offer effective responses, Fidelity Fire Solutions has launched its own 'first responder' model, Fidelity SecureFire.
Read more...
---
The state of edge security report
News IT infrastructure
Edge computing has grown from being a niche use case in a handful of industries to offering a major opportunity for enterprises across industries to spread computing power around the world.
Read more...
---
CHI selects NEC XON as trusted cybersecurity partner
News Cyber Security Industrial (Industry)
CHI Limited, Nigeria's leading market player in fruit juices and dairy products, has engaged in a strategic cybersecurity partnership with NEC XON, a pan-African ICT systems integrator.
Read more...
---
Collaboration delivers integrated and holistic security
Guardian Eye CCTV, Surveillance & Remote Monitoring News Integrated Solutions
Guardian Eye and Lytehouse have partnered to integrate their speciality solutions and provide a holistic security offering that overcomes the fragmentation of security systems and services.
Read more...
---
Kaspersky appoints new GM for Africa
News Cyber Security
Kaspersky has announced the appointment of Andrew Voges as the new General Manager for Africa to boost regional market positioning and enterprise protection.
Read more...
---
AgentZero, the AI that writes emails for you
News
In an age where digital natives dominate the tech scene, two Boomers are proving that it's never too late to innovate; launching an AI business that promises to revolutionise email communication. It is called AgentZero.
Read more...
---