Any way you want it
September 2009, News
We live in an ever-changing world where the hottest technology today is the blunt hammer of tomorrow. To varying degrees, everything changes, except perhaps consultants.
I can remember back when I started out as an IT journalist in 1995. Apart from the cool technology we got to play with, there were always people claiming to know more about everything than anyone else. Their favourite mantra was one of the change clichés such as 'the only constant is change', 'embrace change' and that sort of thing.
These know-it-alls liked the change mantra as it allowed them to offer useless advice and blame any failure on changes in the industry or in technology. Or perhaps I am just being too cynical. Of course, they were right as the IT industry changed considerably over the years (with the exception of the people predicting change, they are still at it). The security industry is also going through its own changes as technology takes more of the limelight.
These changes serve to take the industry to new levels, empowering integrators and installers to offer more services to clients, improving their security levels. And let us be honest, they also provide new revenue streams.
As a reflection of the industry in general, Hi-Tech Security Solutions has been through numerous changes and additions over the years. Starting out with our unbeatable print magazine, we publish a monthly e-zine to carry our latest editorial, which is also reflected on our Website (www.securitysa.com, with full search functionality). We will soon be launching a second e-zine as a platform to take even more information on the security industry to readers in the middle of every month, naturally to also be carried on the Website.
We also branch out with additional print titles such as our CCTV Handbook, the Access Control Handbook, the only southern African Security Directory (also online at www.secureit.co.za) and the recently launched Home Security aimed at the home market (online at www.homesecuritysa.com).
It is fair to say Hi-Tech Security Solutions has a substantial online presence already, and this is about to change as we introduce digital versions of our magazines. You can already find all the articles we publish on the Web, but soon you will be able to download the latest magazine as an e-book. The e-books will be an exact copy of the print edition, downloadable as a PDF file or viewable as a Flash magazine complete with sound effects as you turn the page.
Of course, we do not expect the digital versions to be everyone's cup of tea. Some people still prefer the tactile experience of reading a physical magazine instead of a digital rendition. Others like the flexibility of the digital version, which, let us face it, is cool. The simple fact is we are able to meet the needs of all our readers, presenting our magazine in whatever format suits you best.
To see the first rendition of the digital version, surf on over to www.securitysa.com and click on the 'View E-Book' option. If you suffer from limited bandwidth, like most South Africans, you can download it as a PDF file, otherwise you can enjoy the fancy Flash version.
I hope you enjoy the new digital options we have on offer, as well as the old print version that remains South Africa's top security read. The digital version is still a work in progress, so please let us have your opinions, criticisms and suggestions at andrew@technews.co.za.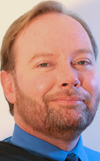 Andrew Seldon
Editor