Ground-breaking access control
May 2009, Access Control & Identity Management
Digging through manual logs produced too many errors for Plantation Farms. Biometric access control was the solution.
Plantation Farms, a distributor of agricultural products based in Boksburg, Johannesburg, has a workforce of over 300 employees. Until recently, the farm was running into problems when it came to time and attendance of its employees.
"We never knew exactly how many hours our staff members worked, nor did we know if they actually came to work," says Charles Sarinha, a shareholder at Plantation Farms. The farm's previous time and attendance system comprised a log sheet which needed to be filled in manually on a daily basis by both management and staff. This caused endless problems and frustrations, especially at month end when it came to paying salaries.
Plantation Farms was therefore on a lookout for something far more reliable and robust.
Biometric solution
Plantation Farms was looking for a more reliable time and attendance solution, and the human resources and payroll departments were the ones set to benefit the most from this new solution. Apart from saving the company money at the end of each month, this new biometric solution would also enable the farm to more closely monitor who enters the premises and at what times.
The proposed solution comprised two outdoor Sagem OMA520 and one Sagem MA500 biometric readers. Registration of the employees would be controlled by the CWbio fingerprint management software and the logon details would be sent to a computer running the Clockwatch logging software.
Although there are numerous shareholders, none of them really needed any convincing. They could all see that the farm's previous time and attendance solution was not working at all and that they were losing money every month due to paying employees for hours that were not actually worked. The shareholders were however a little reluctant to go ahead with the Sagem biometric readers as many of their employees were constantly harvesting and therefore would have dirty hands. As it turned out, this was not a problem.
Plantation Farms experienced a few problems during installation, however Sarinha says, "these were very quickly patched though."
Plantation Farms did not put the project out for tender, but instead went straight to Timewatch. The project was handled by Timewatch and took under a week to complete.
Plantation Farms was happy with the new time and attendance solution. "Before, making sure we had accurate records of who was and was not at work was our problem, now it is completely up to the employee", Sarinha says. "If the employee does not clock in and out every day he or she does not get paid."
Farms in similar solutions are advised to too look very closely at their needs and implement a solution that deals with them. Sarinha went on to say that these farms also need to do a little research before settling on a company to perform the installation. The cheapest is not always the best.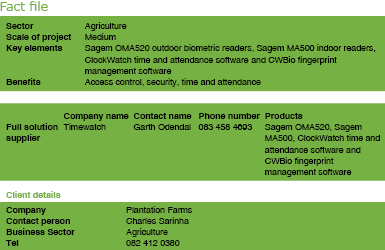 For more information contact Garth Odendal, Timewatch, +27 (0)83 458 4693.