printer friendly version
Crime for dummies
May 2009
News
I was insane enough to be at Lanseria Airport to catch a 06:15 flight with Kulula on 7 April. Do these Kulula employees realise their canned jokes and comments while trying to be funny at 05:15 in the morning is more likely to produce a psychotic episode than a laugh? That would test their security preparations.
A couple of other things happened on the way to Technews' Durban branch that brought home to me the stark reality of what absolutely perfect victims we are to criminals. The first incident happened at an ATM.
I have seen videos of criminals engaged in stealing people's ATM cards and copying the details on the magnetic stripe while watching the user enter their PIN code before returning the card and walking off with the necessary details to make their own card and draw money at leisure with the person's PIN. These guys are impressively skilful.
However, the talent in these videos is not needed. On that particular morning, while I waited in line to draw money from an ATM, I was able to clearly see the man in front of me entering his PIN. After completing his transaction, he then slipped the card into his shirt pocket and walked away. Now I know his PIN, if I had a little coordination I could bump into him, steal his card and have a nice dinner on him. He made no effort to protect his card or PIN, while the efforts I made to cover mine up probably made me look like a criminal.
The second incident happened when entering a restricted building. The woman in front of me, who obviously worked there and had never seen me before, gave me a big smile, entered her code and walked in, holding the door open for me. I should have mugged her out of principle.
So now I can come and go as I please with her code – apparently every person with a legitimate reason to be in here has a unique code. I could come back one night and pilfer the stationery cupboard on her account. Alternatively, I could come and steal a couple of Apple computers if they had any value in the real world other than being able to say, "oooh, I have an Apple".
If there was ever a reason for biometrics the carelessness of these people is it. Of course, I realise we are all as careless, all the time. I think I'll have to stand on the street corner handing out copies of our Access Control Handbook to people as my own contribution to social investment.
Access Control Handbook 2009
The subject of biometrics plays a dominant role in the Access Control Handbook 2009, which is included with this month's Hi-Tech Security Solutions. This year we wanted to delve a little deeper into the world of integrated access management and see how business is integrating its once stand-alone access control systems into its business applications and processes.
The good news is many companies are doing the work necessary to integrate all their security technology and processes into their business processes and technical infrastructure. This doesn't always happen without a few issues and turf wars, which is why strong, directive leadership is sometimes required to get the projects going. Sadly, some vendors are still flogging the terminal horse of selling stand-alone proprietary solutions to clients, but I suspect we'll be hearing less and less from them as time goes by.
Nevertheless, the Access Control Handbook 2009 offers a selection of reading to educate, enlighten and compare with whatever is happening in your organisation; from trends and opinions, through to case studies from a range of industries. We even have a brief summary of a round table debate we held on the topic of integrated access control and identity management. Sadly, there is only space to print a snippet of the interesting and sometime controversial discussion.
There is no other publication in South Africa to offer such an in-depth as well as broad overview of integrated access control and identity management. We hope you enjoy it and, as always, comments are welcome.
If someone has already run off with your copy, you can request another by calling Technews Publishing on +27 (0)11 886 3640, or e-mail me at the address below.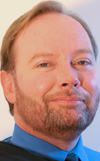 Andrew Seldon
Editor
Credit(s)
Further reading:
From the editor's desk: The new old normal
Technews Publishing News
After two years, the industry is eventually able to get back to a form of normality and Africa's biggest security show is back. Understandably, some people are still nervous about meeting in person ...
Read more...
---
Africa's largest data centre obtains internationally accredited certifications
News IT infrastructure Financial (Industry)
Africa Data Centres has strengthened the integrity of its day-to-day running by acquiring ISO certifications through the internationally recognised authority in ISO certification, the British Standards Institution South Africa (BSI).
Read more...
---
Gallagher announces ISO 27001 certification
Gallagher News Access Control & Identity Management
Gallagher has announced it has achieved ISO 27001 accreditation, a standard that ensures organisations protect their information in a systematic and efficient way, through a comprehensive Information Security Management System (ISMS).
Read more...
---
Entries open for 2022 OSPA Awards
Editor's Choice News
Entries for the South Africa Outstanding Security Performance Awards (OSPAs) are now open. The OSPAs are designed to recognise the work of companies, individuals and teams.
Read more...
---
Corporations protected, but not secure
News Cyber Security Security Services & Risk Management
Nearly three quarters of South Africa's top 100 corporates are investing more in cybersecurity than the industry average, but an almost equal proportion don't feel fully protected by their current cybersecurity strategy.
Read more...
---
Use of malware, botnets and exploits expands
News
Nuspire, a managed security services provider (MSSP), has announced the release of its Q1 2022 Threat Report. The report outlines new cybercriminal activity and tactics, techniques and procedures (TTPs), ...
Read more...
---
Real-world ransomware
News
Ransomware hit 51% of South African organisations surveyed for Sophos' Annual 'State of Ransomware 2022'; and 49% of South African organisations that had data encrypted in a ransomware attack paid the ransom.
Read more...
---
New renewable energy partnership
News
SolarWorld Africa partners with Meyer Burger to bring solar technology to South Africa and sub-Saharan Africa. The partnership will see both leading businesses serve the African renewable energy sector.
Read more...
---
inq. expands in SA with acquisition of Syrex
News
Inq., a Convergence Partner's company, is set to acquire Syrex, a provider of hyper-converged cloud technology solutions in South Africa to provide innovative and reliable solutions to the South African market.
Read more...
---
Check Point and DCC partner for SA and SADC channel
News
Check Point Software Technologies has appointed Drive Control Corporation (DCC) as its official distributor for South Africa and the SADC region. The appointment will see DCC distributing Check Point's ...
Read more...
---