printer friendly version
2010 - we CAN do it!
Access & Identity Management Handbook 2006
Access Control & Identity Management
In May 2004 South Africa won the bid to host the 2010 FIFA World Cup. Then six years was not considered a lot of time to put so much into place but almost two and a half years later, preparations appear to be on track, despite some negativity, for the successful hosting of a true international sporting spectacular in SA.
In the Inspection Group Report for the 2010 FIFA World Cup (http://www.fifa.com/documents/fifa/congress/IG_Report_FWC_2010_EN.pdf), which was presented before we won the bid, the FIFA 2010 Bid Inspection Group had this to say about safety and security in the country:
"General information indicates that South Africa shows a lack of security, but the Inspection Group was not aware of any such claims during the visit, although it was possible to read press reports on some violence in marginal areas during our visit.
Despite this fact, we can say that the people of South Africa were always friendly, very boisterous and constantly celebrating during our visit to the country.
We therefore came to the conclusion that as long as people attending the 2010 FIFA World Cup (FIFA family and spectators) keep within certain boundaries, they should not encounter any trouble.
With regard to organising security for a possible 2010 FIFA World Cup in the country, the Inspection Group received an excellent, comprehensive work schedule from one of the high commanders of the national police, covering stadia, media centres and main hotels that will doubtless satisfy every requirement for the event. After the presentation we concluded that they have enough experience with this kind of event to handle them without difficulty.
We must say that the security business is a flourishing industry in the country."
The Overall Executive Summary in the same report stated: "If the World Cup is granted to South Africa, it will generate significant unity among the different ethnic groups that were separated socially, culturally and in sport for years. In addition, South Africa has a number of world class cultural and tourist attractions.
The project to host the 2010 FIFA World Cup presented to the Inspection Group, based on an excellent overall infrastructure, was clear, detailed and stable, proving its reliability. Furthermore, there is a strong backing for the bid from the government. The population is very enthusiastic about football, spontaneously showing their joy at the prospect of hosting the World Cup. Despite questions about security in the country, the legacy compared to the investment needed will be a great contribution to the country. The Inspection Group's opinion is that South Africa has the potential to organise an excellent World Cup."
Frankfurt Stadium
Stadia for 2010
The matches of the 2010 World Cup will be played at 10 stadia, which were identified in March this year.
Six of these are existing ones - Rustenburg (Royal Bafokeng Stadium), Bloemfontein (Free State Stadium), Pretoria (Loftus Versfeld Stadium) Polokwane (Peter Mokaba Stadium) and Johannesburg (Soccer City and Ellis Park Stadia) and five will be built from scratch at venues around the country, namely Cape Town (Greenpoint Stadium), Port Elizabeth (Nelson Mandela Bay Stadium), Durban (King Senzangakhona Stadium), Nelspruit (Mbombela Stadium) and Polokwane (New Peter Mokaba Stadium).
Patrick Ronan has extensive experience in the planning and operational oversight of safety and security risk management at major sporting events. He is also the lead drafter of the legislative task team responsible for the drafting of the 'Safety at Sports and Recreational Events Bill' (currently before Cabinet), which was actuated, in part (the tragic Ellis Park disaster during April 2001 being the primary driver), by SA's successful bid process to host the 2010 FIFA World Cup. Now that preparations are well under way for the World Cup, Ronan is heading up the City of Johannesburg's safety and security technical task team that is responsible for the compiling of a city-wide safety and security blueprint for the 2010 event. He is also the risk management consultant to the Johannesburg Development Agency's Greater Ellis Park Precinct project, which incorporates both an urban regeneration and 2010 stadium upgrade project for the Ellis Park precinct. Ronan is also the risk management consultant to the Cape Town, Polokwane, Durban and Nelson Mandela Bay (which also incorporates a city-wide mandate) 2010 project teams responsible for the new stadium builds in those cities.
"Those existing stadia that are being upgraded will include increasing the seating capacity at each of them to ensure that FIFA minimum spectator seating requirements are met," says Ronan. "The seated capacity at Soccer City will be increased to seat approximately 95 000 spectators; Ellis Park will go from a 62 000 capacity to 75 000; and Loftus Versveld, Free State and Royal Bafokeng stadia will each be able to seat 50 000.
"Of the new stadia to be built, Greenpoint and King Senzangakhona will hold 70 000 each; Polokwane and Mbombela will seat 50 000. From a sustainability perspective the Nelson Mandela Bay Stadium in Port Elizabeth will seat 55 000 for the event (they will make use of modular seating, which will then be scaled back to hold a capacity of 40 000 after the event."
Ronan says the tournament-specific issues around risk management for 2010 are based on a combination of agreements between many parties, including those between FIFA and SAFA; FIFA and host cities; and FIFA and stadium owners/operators. There also has to be compliance with FIFA technical requirements and recommendations for the design and upgrading of stadia, FIFA safety guidelines and FIFA championship guidelines, to name but a few.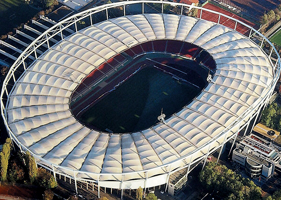 FIFA World Cup Stadium, Stuttgart
Safety and security guaranteed
As part of the 2010 bid process the SA Government lodged certain safety and security guarantees in the bid to host the event, which included onerous undertakings regarding the security of all categories of FIFA 'family', accredited persons and spectators and visitors during the event, police escorts for VIPs and participants, the protection of FIFA's intellectual property and material, the 24/7 availability of general and emergency medical services at all the venues at all times as well as the security of mass transportation to be used by spectators - to name but a few. Ronan believes that, from an international sporting perspective, the 2003 ICC Cricket World Cup was the most successful local example to date of an internationally benchmarked, integrated approach to safety and security delivery at a major event by the state and the private sector. "Despite it being by a multiple of more than 10 smaller in scale than FIFA World Cups, it has certainly laid the basis of a solid platform upon which the safety and security planning and delivery for 2010 can be based."
He states that the joint state and private sector developed safety and security blueprint (Masterplan) for CWC was the most comprehensive safety and security plan ever locally developed for a major event. It was, inter alia, underpinned by tried and tested local state and private sector safety and security concepts, international benchmarked major event safety and security standards, a thorough domestic and international environment risk assessment, all of which was specifically tailored to local conditions. Ronan says that a similar integrated safety and security concept formed the platform upon which he based his approach in the compiling of Chapter 9 of the SA 2010 Bid Book (which dealt with proposed safety and security delivery for the 2010 event).
"The proven 'four concentric circles of security' strategy around each official host venue will once again form the basis for safety and security at the 2010 event," he explains. "These being - from the outer circle - the greater city metropole, issues of which include transport, accommodation, entertainment, tourist attractions, potential spectator 'flash points,' other parallel event venues eg, official functions, banquets, training facilities etc.
"Then there is the outer precinct perimeter - the areas around the stadia and other pre-identified official venues - including pedestrians and vehicular accreditation screening processes (traffic warning zones) that are designed to separate event and non-event related pedestrian and vehicular traffic. Accredited parking areas will mostly be located in this area.
"The next area is the middle perimeter - the commencement of the traffic-free zone where spectators and a small category of vehicular traffic are thoroughly screened via electronic apparatus. Spectators will be screened for prohibited items such as narcotics, dangerous weapons, tear-gas, firearms and ammunition, etc, and also for restricted items like laser emitting gadgets, gas canisters, alcohol, articles that impinge upon the intellectual property rights of FIFA and its commercial affiliates and even the old South African flag. Only limited categories of vehicles - like those of VIPs, services or medical assistance, may enter these areas, and are then only allowed into specifically designated areas. This also makes it easier for emergency or evacuation purposes.
"The inner ring is the stadium perimeter itself and includes issues such as robust automated turnstile and electronic spectator ticketing systems, zoned public address systems, lighting, proper zoned informational signage. All of the above zones will have to ensure that the requirements of physically challenged persons are accommodated.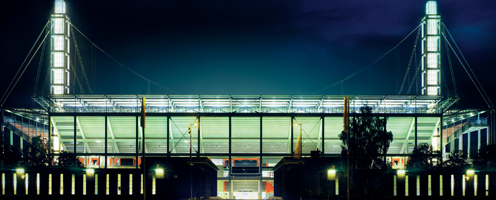 FIFA World Cup Stadium, Cologne
The importance of planning
Comprehensive and timeous safety and security risk management planning is critical if safety and security delivery is to run smoothly during an event. For example the safety and security blueprint for the Cricket World Cup was almost three years in the planning. A key success component of such planning is the running of pilot projects, which test proposed safety and security concepts, such as access control, crowd management control, transportation security, enforcement of prohibited and restricted items, accreditation systems as well as safety and security related technical infrastructure prior to a major event. The running of a host international test tournament prior to the hosting of a soccer world cup, in order to test the relative preparedness of a successful bid country, is a key requirement of FIFA. In light of this, South Africa will be hosting the FIFA Confederation Cup in June and July of 2009. This process allows the event organisers to, inter alia, test risk management systems, infrastructure and measures and to 'tweak' policy as far as for, eg, access control procedures, crowd management and control and restricted item issues are concerned. This is to ensure that whilst the event will be secure it will still be 'people friendly.' It can also serve as a public awareness and education campaign so that by the time the 2010 event arrives spectators and other categories of accredited person, eg, media know what they are and are not entitled to do in and around official host venues.
"Communication will be a key component in this process to ensure proper event specific education of the spectators so as to ensure that they maximise their enjoyment of this international football spectacular. Properly conceptualised, planned and budgeted for communications campaigns, which communicate a consistent and generic message across all 2010 host cities will be absolutely crucial for the ultimate success of the event. Such campaigns, which should ideally be run across a broad spectrum of print, radio and TV media, can educate spectators as to what they are not allowed to take into a stadium, what the access routes to a stadium or venue are, whether there are spectator channelling procedures in place, the fact that they will be subjected to magnetometer or other form of electronic screening, that their belongings will be screened by X-ray or searched, the fact that spectators should arrive early for an event to avoid delays at access and what the preferred means and access routes of transportation to the stadium are, etc.
Explanations of why access control policies and procedures have been introduced should also be communicated by event organisers to the public in terms of targeted communications campaigns. This ensures better buy-in and acceptance from the general public to such measures. Other methods of communication of conditions of access to stadia or venues involve the use of the rear of event or match tickets, the Internet and generic signage. Proper zoned information signage, strategically placed throughout the precinct of a stadium, has proven to be a useful pre-emptive tool in reducing frustration at access control points. Ideally such signage should be signed in an internationally accepted manner and should cater for primary language groups. Signage positioned in a spectator parking area informing spectators that they cannot, for example, access a stadium or venue while in possession of a large cooler box or alcohol or an article which impinges upon the intellectual property rights of FIFA and their commercial affiliates will reduce frustrations at access control points."
To ease the confusion of zoning at stadia, channelling of spectators as they approach such stadia will more than likely be effected via colour-coding. There may also, in respect of certain pre-identified match fixtures, be a spectator separation strategy in place to channel and separate supporters of opposing teams to separate areas around and within the stadium. An electronic database of 'undesirable persons', such as persons convicted of soccer related offences, will also be established in order to, for example, properly screen VISA applications of visiting spectators. It is envisaged that special 2010 tournament courts will also be set up in all host cities to deal expeditiously with any tournament related offences that may occur. Provision will have to be made for translators to accommodate the different nationalities of spectator who will attend the event. This could be a very useful component of the planned 2010 Volunteer Management System planned for the event. Ambush marketing is another challenge faced by the event organisers and Ronan says potential ambush marketing sites and strategies for 2010 are already being identified and developed. "FIFA does everything in its power, in conjunction with the local organising association and host country/cities to protect the official sponsors of such events. For example, outside media advertising 'cut-out' periods will have to be negotiated now in respect of advertising that is prominent in areas immediately surrounding all official host venues during the 2010 event.
Both FIFA and the SA 2010 Local Organising Committee have already retained experienced corporate advisers and specialist attorneys who are already taking action, in conjunction with state and local law enforcement agencies, against chancers who are already engaged in 'ambush marketing' and pirate merchandising activities.
"I really believe South Africa has the experience and capacity to exceed Germany 2006 from a risk management delivery point of view during the 2010 FIFA World Cup. It is now up to those ultimately responsible from a state, host city and SA 2010 LOC perspective to ensure that we not only meet but exceed FIFA and the international football communities expectations in this regard. The main challenge, as I see it, will be the timeous up-skilling of all of our people, across all international event disciplines, to a level that not only meets but exceeds internationally benchmarked levels. That it is achievable - I have no doubt that there will be a heavy reliance on the state, provincial, local government and private-sector for a people-friendly yet secure risk management roll-out for the 2010 event - I also have no doubt. But time is running - by my calculation there are approximately 780 working days prior to the commencement of the 2009 FIFA Confederations Cup and 900 working days to the kick-off of the 2010 FIFA World Cup."
FIFA World Cup Stadium Hanover
The concentric circles of security theory
Access control procedures at a high-risk international event, be it sporting or otherwise, which will attract a capacity crowd – should ideally see the application of the so-called 'concentric circles of security' in the precinct surrounding a host stadium or venue. This protocol, drawn from the successful experiences of safety and security operations mounted by the organisers and host countries of, eg, the Summer Olympic Games in Sydney (2000) has been successfully tailored to local conditions and has been successfully applied to major local events by, in particular, the SAPS.
This stadium or venue precinct access control policy basically involves the application of a filtering mechanism as spectators and event staff approach a stadium/venue. By its very nature the system can only be used in circumstances where there is a no sale of event ticket policy applied at the stadium/venue on the day of the event. The successful application of such a policy will, inter alia, ensure that by the time members of the public are immediately outside of the event venue, they are effectively in a 'sterile zone' as far as safety and security is concerned. What this effectively means is that everyone within the said sterile zone, firstly, has business at that stadium or venue on that day and secondly, that, both they and their belongings have been screened ie, they do not have any prohibited or restricted items in their possession.
A practical example of how the 'concentric circles of security theory' operates is as follows. Spectators approaching a stadium from various directions in its outer precinct pass a first checkpoint. At this checkpoint, ideally situated between the parking areas and the stadium, it will be ensured by private security officials that the person wishing to proceed further into the stadium precinct is the holder of a match ticket for the day or the holder of valid event staff accreditation. At a second inner circle access control point the match ticket or event accreditation is again checked and a thorough screening of the person and their belongings takes place. This process is normally effected by properly equipped private security officers, with police officials in attendance. Walk-through and handheld magnetometers and conveyor-belt type X-ray machines are used in support of this screening process. The sensitivity of such electronic security apparatus is periodically reset and calibrated during the event day to ensure consistency in the screening process. Once persons have cleared this particular check-point, they enter a so-called 'sterile zone', which often correlates with a traffic-free zone (TFZ), an area in close proximity to a stadium where only specially accredited and screened vehicles are allowed to travel.
The most inner concentric circle is normally comprised of the match ticketing/turnstile access control system situated at the inner perimeter of the stadium precinct where the spectators/event staff have to pass in order to gain access into the stadium itself. Measures deployed here could include the use of encrypted two-dimensional bar coded match tickets used in conjunction with an automated access control turnstile which again is linked, on an on-line, realtime basis, to the venue operations centre (VOC) of a stadium.
Proper match/event ticketing protocols are another key component of effective access control to stadia or venues. For example, the use of an encrypted two-dimensional bar coded match ticket (which already incorporates physical security mechanisms such as special security paper, invisible ink, holograms and special serial numbers) in conjunction with an automated access and egress control turnstile with an anti-pass back electronic control mechanism, as was the case during CWC, creates an environment in which match ticket fraud, forgery and uttering is a non-issue. The electronic linking of such systems to the stadium VOC provides on-line realtime safety information to the safety and security decision makers housed there. Practical examples of such access control related safety information include the ability to accurately monitor the safe certified capacity of stadia (to ensure that there is no overcrowding) and the ability, in an emergency and if linked to a centrally administered electronic ticket booking system, to identify whether the holder or at the very least the purchaser of a match ticket is inside a stadium or not, including what time such a person entered and left the stadium on an event day.
Typically a match ticket used in conjunction with a system of this nature would be inserted into the built-in electronic two-dimensional code reader in the automated turnstile. The ticket would be scanned by the internal hardware and verified by the system software in a matter of seconds. The system, after verifying the integrity of the ticket, would for instance also verify whether the ticket holder is at the correct event, at the correct stadium, at the correct time and on the correct date. If these criteria are met, the turnstile will then automatically turn over. If there is a problem with the ticket supervisor level security officials are present at ticket access points in order to determine if it has been damaged in any way or if it is in fact not valid. This is affected on-site at a nearby office equipped with a network linked match ticket system workstation manned by senior officials of the match ticketing service supplier. If for instance the damaged ticket is found to be valid by way of a verification of the holders or purchasers details via the unique ticket serial number, a new ticket is immediately issued and the damaged one destroyed. Gone too are the days of 'tough luck if your ticket has genuinely been lost or misplaced. At a push of a button it can be determined if in fact the lost ticket has been used and if so whether the reserved seat is occupied or not. If not (or stadium security has accosted the unlawful holder of the lost ticket sitting in your seat) a new ticket is immediately issued to the original holder after an electronic cancelling of the original ticket.
Proper accreditation systems, underpinned by an integrated and secured electronic security platform and centrally administered by independent administrators, are yet another important component of world-class access control of persons to major events. Zoned accreditation systems incorporating various levels of access to pre-screened (criminal record classified) event officials and personnel are the cornerstone of any effective accredited access control system. Ideally the accreditation cards, which should incorporate physical security mechanisms similar to those described above as far as match tickets are concerned, should be electronically linked to a stadium wide zoned access control system via embedded smart 'chips' or similar. When such systems are used in conjunction with biometrically supported or standalone digital CCTV surveillance and recording systems (see below), secured accredited access control systems become a reality.
Probably the single most effective access control system support mechanism currently available is the deployment of multizone digital CCTV surveillance and recording systems at stadia and venues and their immediate precincts. They have, worldwide, consistently proven to possess effective pre-emptive, deterrent and evidential recording qualities as far as proper crowd management and control at an event is concerned. They are also an effective accredited access control support mechanism. There can be no doubt that when electronic biometric technology becomes a mature technology and such systems are incorporated within software driven and controlled CCTV systems, world-class secured access control delivery at major events will be reliant upon the deployment of such systems. One could appreciate how valuable a powerful multiple facial feature recognition system, hooked-up to a multizone CCTV system monitoring spectator access control points would be to stadium security stakeholders on the look out for database logged undesirable persons. No sports stadium or recreational venue should operate without such security technology.
Vehicular access control is yet another vital access control component of proper safety and security delivery at high-risk events. Access to the inner precinct of stadia at high risk events should ideally only be allowed to pre-accredited and screened vehicles belonging to heads of state, teams, players (if individual sport), entertainers, essential team/player/entertainer support staff, senior event/match officials, caterers and emergency vehicles. Where such escorted vehicles are not subjected to screening on point of departure, vehicles (such as catering vehicles) are subjected to a thorough screening at SAPS manned facilities known as remote search parks, which are normally deployed between one and two kilometres from, for example, a sports stadium. At the remote search park, the credentials and accreditation of the driver and any passengers are verified and they are screened by way of magnetometers. Both the vehicle and its load are subjected to a thorough screening by means of electro-mechanical (including large conveyor belt type screening equipment) and sniffer dogs. The screened vehicle is loaded and the accredited occupants are then escorted to the stadium by a motorcycle equipped state security official.
While the above secured access control measures are not exhaustive of those which are indicative of world-class safety and security delivery at a major sporting event, they do provide one with an insight into generally acceptable benchmarks now and in the future.
Patrick Ronan, from the 2004 Access Control Handbook
Further reading:
Paxton10 for smart buildings
Issue 5 2020, Paxton Access , Access Control & Identity Management
Paxton10, offering access control and video management on one simple platform, is available in the South African market.
Read more...
---
Suprema enhances cybersecurity
Issue 5 2020, Suprema , Access Control & Identity Management
Suprema BioStar 2 is a web-based, open and integrated security platform that provides comprehensive functionality for access control and time and attendance.
Read more...
---
A wizz at visitor management
Issue 5 2020 , Access Control & Identity Management
WizzPass is a locally developed software platform for managing visitors to businesses, buildings or business parks.
Read more...
---
Contactless at the game
Issue 5 2020, IDEMIA , Access Control & Identity Management
IDEMIA partners with JAC to successfully test frictionless biometric access technology at Level5 Stadium in Japan.
Read more...
---
Focus on touchless biometrics
Residential Estate Security Handbook 2020, Hikvision South Africa, Saflec, IDEMIA , Suprema, Technews Publishing , Access Control & Identity Management
The coronavirus has made touchless biometrics an important consideration for access control installations in estates and for industries globally.
Read more...
---
Providing peace of mind
Residential Estate Security Handbook 2020, ZKTeco , Access Control & Identity Management
Touchless technology embedded with face and palm recognition sensors provide 100% touchless user authentication for a variety of applications.
Read more...
---
Frictionless access with a wave from IDEMIA
Residential Estate Security Handbook 2020, IDEMIA , Access Control & Identity Management
Platinum Sponsor IDEMIA displayed its frictionless biometric reader, the MorphoWave Compact, at the Residential Estate Security Conference.
Read more...
---
Cost effective without compromising security
Residential Estate Security Handbook 2020, Bidvest Protea Coin , Access Control & Identity Management
Bidvest Protea Coin offers a range of services, all integrated to offer a future-proof and cost-effective security solution for estates.
Read more...
---
Broad range of estate solutions
Residential Estate Security Handbook 2020, Hikvision South Africa , Access Control & Identity Management
Hikvision offers residential estates a range of systems and solutions that deliver security, from the gate to the individual's own home.
Read more...
---
Excellerate looks beyond traditional guarding
Residential Estate Security Handbook 2020, Excellerate Services , Access Control & Identity Management
Excellerate Services has a suite of best-of-breed technologies that have been integrated into a sophisticated SLA, incident and people management system.
Read more...
---