printer friendly version
Multimodal biometrics
Access & Identity Management Handbook 2006
Access Control & Identity Management

Biometrics measure an individual's unique physical or behavioural characteristics, as a means to recognise or authenticate their identity.
Common physical biometrics includes fingerprints; hand or palm geometry; and retina, iris, or facial characteristics, whereas behavioural characteristics include signature, voice (which also has a physical component), keystroke pattern, and gait. While some technologies have gained more acceptance than others, it is beyond doubt that in the field of access control, biometrics has gained a measure of acceptance.
Biometric products provide improved security over traditional electronic access control methods such as RFID tags, electronic keypads and some mechanical locks. They ensure that the authorised user is present in order for access to take place. The user's authorised card or password pin cannot be stolen or lost to gain access.
The use of multimodal biometrics
In order for biometrics to be ultra-secure and to provide more-than-average accuracy, more than one form of biometric identification is required. Hence the need arises for the use of multimodal biometrics. This uses a combination of different biometric recognition technologies. In certain situations, the user might find one form of biometric identification is not exact enough for identification. This can be the case with fingerprints, where at least 10% of the population have worn, cut or unrecognisable prints. Multimodal biometric technology uses more than one biometric identifier to compare the identity of the person. Therefore, in the case of a system using say three technologies, ie, face, mimic and voice. If one of the technologies is unable to identify, the system can still use the other two to accurately identify against. Multimodal technologies have been in use commercially since 1998.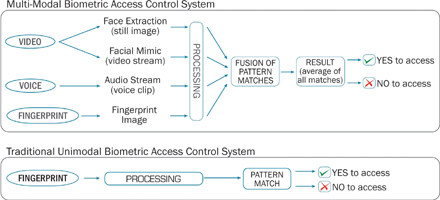 1:1 and 1:N matching
A biometric recognition system can be used in two different modes: identification (1:N matching) or verification (1:1 matching).
Identification is the process of trying to find out a person's identity by comparing the person who is present against a biometric pattern/template database. The system would have been pre-programmed with the biometric pattern or template of multiple individuals. During the enrolment stage, a biometric template would have been processed, stored and encrypted for each individual.
A pattern/template that is going to be identified is matched against every known template, yielding either a score or a distance describing the similarity between the pattern and the template. The system assigns the pattern to the person with the most similar biometric template. To prevent impostor patterns (in this case all patterns of persons not known by the system) from being correctly identified, the similarity has to exceed a certain level. If this level is not reached, the pattern is rejected.
With verification, a person's identity is known and therefore claimed a priority to search against. The pattern that is being verified is compared with the person's individual template only. Similar to identification, it is checked whether the similarity between pattern and template is sufficient enough to provide access to the secured system or area.
Multimodal biometrics in terms of FAR and FRR
Biometric systems use scores (also called weights) to express the similarity between a pattern and a biometric template. The higher the score, the higher the similarity is between them. As described in the previous section, access to the system is granted only if the score for an authorised individual (identification) or the person that the pattern is verified against (verification) is higher than a certain threshold.
In theory, authorised user scores (scores of patterns from persons known by the system) should always be higher than the scores of impostors. If this would be true, a single threshold, that separates the two groups of scores, could be used to differ between clients and impostors. This unfortunately is not the reality for real world biometric systems. In some cases, impostor patterns can generate scores that are higher than the scores of an authorised user's patterns (FAR or false acceptance rate). For this reason it is a fact that, however, the classification threshold is chosen, some classification errors may occur.
For example, you may configure the threshold with a high setting, which will reject all impostor patterns that exceed this limit. As a result, no patterns are falsely accepted by the system. But on the other hand the authorised user patterns with scores lower than the highest impostor scores are also falsely rejected. The opposite scenario would be to configure a low threshold that ensures no client patterns are falsely rejected. However, this would then allow a certain percentage of impostor patterns to be falsely accepted.
If you chose the threshold somewhere between those two points, both false rejections and false acceptances occur. This creates an access control environment which is obviously not ideal for high security installations.
Why multimodal?
By using more than one means of biometric identification, the multimodal biometric identifier can retain high threshold recognition settings. The system administrator can then decide the level of security he/she requires. For a high security site, they might require all three biometric identifiers to recognise the person or for a lower recognition site, only two out of the three. With this methodology, the probability of accepting an imposter is greatly reduced.
For more information contact Nathan Bearman, Eagle Biometrics, +27 (0) 21 423 4943, nathan@eagle.co.za, www.eagle.co.za
Further reading:
Enhanced biometric technology for mines
September 2019, ZKTeco , Mining (Industry), Access Control & Identity Management
Biometric identification and authentication are currently used at various mines in South Africa and in the SADC region.
Read more...
---
Improving access in mines
October 2019, Astra Fasteners , Mining (Industry), Access Control & Identity Management, Products
The VP1 controller provides full access control and remote monitoring of intelligent locks without having to wire into a network or install, manage and maintain software.
Read more...
---
Invixium and Pyro-Tech partner in South Africa
October 2019 , News, Access Control & Identity Management
Invixium, a manufacturer of IP-based biometric solutions and Pyro-Tech Security Suppliers have announced a new distribution partnership.
Read more...
---
Suprema receives FBI PIV/FAP30 certification
October 2019, Suprema , News, Access Control & Identity Management
Suprema has announced that the company's BioMini Slim 3 has received FBI PIV (Personal Identity Verification) and Mobile ID FAP30 certification.
Read more...
---
Frictionless access with a wave
October 2019, IDEMIA , Access Control & Identity Management, Residential Estate (Industry)
IDEMIA was the Platinum Sponsor for the Residential Estate Security Conference 2019 and set up its MorphoWave Compact frictionless fingerprint biometric scanner at the entrance to the conference.
Read more...
---
Streamlined access and reporting
October 2019, Comb Communications , Access Control & Identity Management, Residential Estate (Industry)
The main focus of the Comb stand was its practical demonstration of the MK II Lite intercom system with third-party integrated products.
Read more...
---
Customised and integrated solutions
October 2019, Suprema , Access Control & Identity Management, Residential Estate (Industry)
iVisit offers both high-end and low-end residential complexes a cost-effective visitor management solution that is fully integrated into Suprema's offerings.
Read more...
---
Access solutions for every estate
October 2019, Impro Technologies , Access Control & Identity Management, Residential Estate (Industry)
Impro's flagship Access Portal solution comprises one of the most user-friendly software solutions on the market.
Read more...
---
SALTO achieves Environmental Product Declaration (EPD)
October 2019, Salto Systems Africa , News, Access Control & Identity Management
SALTO Systems has announced that it has received the first Environmental Product Declaration (EPD) for XS4 smart locking solutions, including the XS4 Original model for the European and Scandinavian standard ...
Read more...
---
Managing staff effectively
September 2019, dormakaba South Africa, iPulse Systems , Integrated Solutions, Access Control & Identity Management
Workforce management solutions allow organisations to track the relationship between productivity and the cost of employment, incorporating issues such as health and safety, T&A, rostering and more.
Read more...
---