printer friendly version
Business boom at Securex 2003
March 2003
Conferences & Events
Spectacular venue, great show, quality visitors, good business opportunities - these are just a few of the buzz words from exhibitors at the Securex Exhibition held recently at Sandton Convention Centre.
Over 4300 visitors attended Securex over the three day period of the show. Of these, 133 were foreign visitors hailing from 33 different countries. "As the premier Security, Protection & Safety Exhibition, Securex saw a higher calibre of exhibitor present at the show this year as well as an increase in quality visitors which we were extremely pleased about," says Jacqui Eggart, project manager, Reed Exhibitions.
"We had a constant flow of visitors which improved in quality this year," confirms Neill Williams of the HID Corporation.
First-time exhibitor Technivision echoes the positive attributes of the show by highlighting that they received 85 good sales leads just on the first day of the show. "Securex has exceeded all our expectations in terms of quality visitors, superb venue and overall outstanding organisation. After attending the IFSEC show at the National Exhibition Centre in Birmingham, I can honestly say that Securex is comparable in terms of quality standards and expertise," says John Davidson.
Another first time exhibitor, NAC Systems, explains that they were hesitant to exhibit at Securex and almost pulled out of the show but were extremely glad they did not. "Our company started operating nine months ago and Securex was the ideal platform to launch one of our products from.
"Overall the show was brilliant for us in terms of a great venue, professional organisation and valuable leads. We are definitely on for next year with a bigger stand," says an elated Nick Pretorious.
Exhibitors also seemed particularly impressed that parking for both exhibitors and visitors was paid for by the organisers - a coup for Reed Exhibitions, considering no other organiser has managed to do so to date. "The parking is much more accessible, secure and convenient and exhibiting in an airconditioned venue such as the Sandton Convention Centre is definitely a plus," says Berenice Giovannoni of Netstar.
Securex was the first of Reed Exhibitions' shows to have been hosted at Sandton Convention Centre following the conclusion of their strategic alliance with the Centre and Southern Sun hotels last year. "The success of the show has been a result, among other things, of the alliance both with Sandton Convention Centre and Southern Sun which have brought enormous benefits for our exhibitors and visitors," says Lynn Chamier, general manager of Reed Exhibitions.
"We have been on the show for six years and this year was definitely a highlight in terms of the new venue which is conveniently located in close proximity to facilities such as hotels. That is a perk especially for us foreign exhibitors," enthuses Peter Nicholls of the British Security Industry Association.
Exhibitors this year definitely pulled out all the stops with their stand designs, which were of a high standard. To acknowledge their efforts, appointed judges underwent a rigorous judging process to select the best stands in various categories. The following exhibitors were awarded the best stand awards: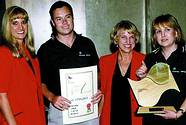 GE Interlogix (large stand)
Transaction Control Technologies (medium stand)

Radio Data Communications (small stand)
HID Corporation (international stand)
Summing up, Darren Smith, managing editor of Hi-Tech Security Solutions, says, "The decision to move Securex to Sandton Convention Centre was a good one as it brought about positive change and good sentiment amongst exhibitors and visitors. Not only was the venue great in terms of facilities such as parking and access to a choice of restaurants and food outlets but it also attracted quality visitors to the show. Securex has delivered on its promise to be the professional shop window for the industry."
"Securex 2004 is already a third booked which is indicative of the success of the show and the value it brings to our exhibitors," concludes Eggart.
For more information contact Jacqui Eggart, Reed Exhibitions SA, 011 886 3734.
Further reading:
How to choose which webinars to attend after lockdown
Issue 5 2020, Regal Distributors SA , Conferences & Events
The Regal Learning Academy has decided to provide training via live webinar streaming.
Read more...
---
Paxton expands free education offerings
Issue 4 2020, Paxton Access , Conferences & Events
In response to the recent global pandemic, Paxton has expanded its online installer training platform and launched a series of informative webinars.
Read more...
---
Open Source Intelligence post COVID-19
Issue 3 2020 , Conferences & Events
ASIS South Africa hosts Craig Pedersen in a webinar focused on open-source intelligence (OSINT).
Read more...
---
Making estate security work in the real world
Issue 2 2020, Technews Publishing , Conferences & Events
Hi-Tech Security Solutions is proud to have the CEO of Cotswold Downs, Shantelle Walters, presenting at the Residential Security Conference on the topic of 'Invisible Efficiency and Security.'
Read more...
---
The blessing and curse of communications
Issue 2 2020, Technews Publishing , Conferences & Events
In the Residential Security Conference 2020, Craig Rosewarne will delve into the murky world of cybercrime, while Rudi Potgieter will discuss the possibilities and benefits of a unified network.
Read more...
---
Technology at work to optimise security
Issue 2 2020, Technews Publishing , Conferences & Events
Artificial intelligence (AI) and drones are the latest additions to the security options for residential estates which will be discussed in the Residential Estate Security Conference 2020.
Read more...
---
Efficient and cost-effective risk management for estates
Issue 2 2020, Technews Publishing , Conferences & Events
Identifying your estate's vulnerabilities is key to being able to manage and maintain them effectively.
Read more...
---
Surveillance augmented by technology and people
November 2019, Technews Publishing , CCTV, Surveillance & Remote Monitoring, Conferences & Events
iLegal 2019 examined how the surveillance industry is being enhanced through the intelligent integration of the latest technology and the best people have to offer.
Read more...
---
Residential Estate Security Conference 2019
October 2019, Technews Publishing , Editor's Choice, Residential Estate (Industry), Conferences & Events
Hi-Tech Security Solutions hosted the Residential Estate Security Conference in August, focusing on the people, technology and processes involved in an effective security solution for estates.
Read more...
---
Securex West Africa returns in 2020
October 2019 , Conferences & Events, News
See more than 100 exhibitors over two days and join over 2500 professionals from more than 20 countries.
Read more...
---