printer friendly version
iPad users targeted by backdoor dissembled as iTunes update
May 2010
Cyber Security
An e-mail invitation to an iTunes update gets iPad users' PCs into backdoor trouble. 
Success stories are cybercriminals' go to sources of victims and the iPad craze could not have been left out of this picture.  According to some reports, Apple sold 150 000 iPads in the first 60 hours of presale availability, with almost 100 000 of these coveted devices being pre-ordered in the first 10 hours. The figures make it clear as daylight why malware creators were so keen on crashing this promising party.
The invitation to the 'contagious fiesta' comes via the e-mail: an unsolicited message instructs iPad users to download on their PCs the latest version of the iTunes software as a preliminary step to an update of their iPad software.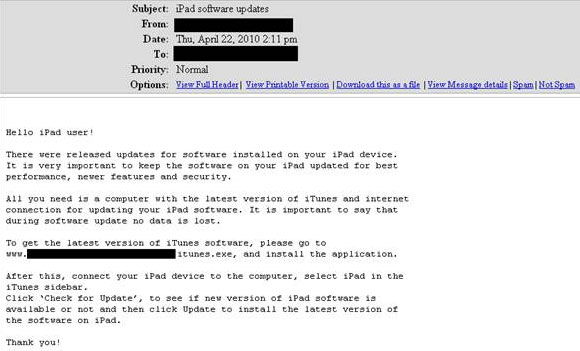 Figure 1. The fake iPad software update announcement
To carry conviction, the e-mail emphasises that users should keep their iPad software updated 'for best performance, newer features and security'.
It goes on to clarify the multistep procedure by pointing out that in order for the update to be performed the latest version of iTunes should first be downloaded from the Internet. A direct link to the download location is conveniently provided. As a proof of cybercrime finesse, the webpage the users are directed to is a perfect imitation of the one they would use for legitimate iTunes software downloads.
Unfortunately for these users, following the malicious link means opening up a direct line to their sensitive data as instead of the promised iTunes update they get malware on their systems.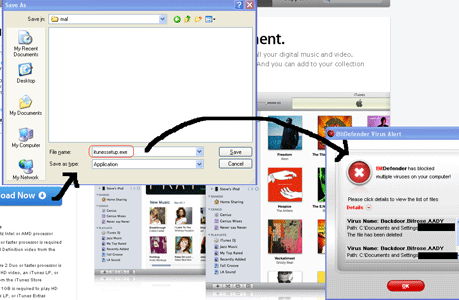 Figure 2. The download that will turn the update into a nightmare
Identified by BitDefender as Backdoor.Bifrose.AADY, the piece of malicious code inadvertently downloaded injects itself in to the explorer.exe process and opens up a backdoor that allows unauthorised access to and control over the affected system.
Moreover, Backdoor.Bifrose.AADY attempts to read the keys and serial numbers of the various software installed on the affected computer, while also logging the passwords to the victim's ICQ, Messenger, POP3 mail accounts, and protected storage.
It is important to say that Mac users remain unaffected by this piece of malware.
For more information contact Alina Anton, senior PR and marketing coordinator, EMEA & APAC Business Unit, BitDefender, +40 212 063 470, aanton@bitdefender.com, www.bitdefender.com
Further reading:
Insights from the 2023 Cloud Security Report
News Cyber Security
Increased costs, compliance requirements, hybrid and multi-cloud complexities, reduced visibility, and a lack of skilled practitioners cause organisations to slow or adjust their cloud adoption strategies.
Read more...
---
New algorithm for OT cybersecurity risk management
Industrial (Industry) Cyber Security News Commercial (Industry)
OTORIO's new risk management model and attack graph analysis algorithm technology, calculates OT cybersecurity threats and provides risk mitigation actions, prioritised according to actual exposure and potential impact on operations.
Read more...
---
Veeam finds 93% of cyberattacks target backup storage
Cyber Security
Veeam unveils the results of its 2023 Ransomware Trends Report, showing cyber insurance is becoming too expensive and 21% of organisations are unable to recover their data after paying the ransom.
Read more...
---
Cybersecurity providers must first protect themselves
Cyber Security
In a joint advisory released by cybersecurity agencies across the United States, UK, Australia, Canada and New Zealand, managed security service providers (MSSPs) have been warned of a sharp increase in cyberattacks targeting their systems.
Read more...
---
Cyber attackers used over 500 tools and tactics in 2022
Cyber Security News
The most common root causes of attacks were unpatched vulnerabilities and compromised credentials, while ransomware continues to be the most common 'end game' and attacker dwell time is shrinking – for better or worse.
Read more...
---
Addressing the SCADA in the room
Industrial (Industry) Cyber Security
Few other sectors command the breadth of purpose-built and custom devices necessary to function, as the industrial and manufacturing industries. These unique devices create an uncommon risk that must be assessed and understood to fully protect against incoming attacks.
Read more...
---
Recession or stress?
Cyber Security News
The economic landscape has seen many technology companies lay off vast numbers of employees, but for cybersecurity, the picture looks very different – a dynamic mixture of excitement, challenges and toxicity.
Read more...
---
Vulnerabilities in industrial cellular routers' cloud management platforms
Industrial (Industry) Cyber Security Security Services & Risk Management
Research from OTORIO, a provider of operational technology cyber and digital risk management solutions, unveils cyber risks in M2M protocols and asset registration that expose hundreds of thousands of devices and OT networks to attack
Read more...
---
NEC XON appoints Armand Kruger as Head of Cybersecurity
News Cyber Security
NEC XON has announced the appointment of Armand Kruger as the Head of Cybersecurity. Kruger will oversee all cybersecurity offerings including cybersecurity strategy, programmes, and executive advisory.
Read more...
---
Caesar Tonkin new head of cybersecurity business, Armata
News Cyber Security
Vivica Holdings has announced the appointment of cybersecurity expert Caesar Tonkin to head up its cybersecurity business Armata, which provides technology solutions and niche expertise needed to help businesses better protect themselves.
Read more...
---