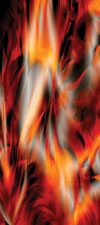 Are you firesafe?
September 2009, Fire & Safety
Mike Cronin, MD of Elquip Solutions believes it is time for clear guidance on the use of low fire-hazard products in this country.
"It is 20 years since the King's Cross tragedy in London when fumes from melting fixtures and cables contributed significantly to the number of fatalities," says Mike Cronin, MD of Elquip Solutions. "The UK rail industry has learned from this, and now has some of the most stringent specifications for low fire-hazard (LHF) products. Unfortunately, too many public buildings, passenger trains and building materials and tools in South Africa do not adhere to such high standards."
Elquip Solutions is a local provider of electrical, automation, mechanical and consumable products; and the sole agent for Flexicon (UK) in South Africa, a manufacturer of LHF products.
In fairness to specifiers, Cronin adds, there is a large amount of confusion and manufacturers with their own vested interests sometimes muddy the waters even further. It is perhaps because of this, that standards are often watered down.
He continues: "We would always urge that the right material is selected for the right job. For example, Flexicon has PVC conduit in our range, which in the right application is perfectly acceptable. They would not, however, claim that it is a low fire-hazard product. Yet there have been arguments in favour of PVC systems in fire prevention. While these arguments about flame retardency are true, it does have significant problems if a fire has taken hold."
According to Cronin, the halogens in PVC that help this flame retardency produce corrosive by-products such as hydrochloric acid. In addition, the smoke produced can cause 90% deterioration in light transmission after just five minutes.
"Many well-known local retailers are fitting cable, conduit and other fixtures in public buildings and the rail industry with little or no thought about the effects of a fire. This is because nobody polices fire protection for the specification of materials in a building, and there is no clear guidance on what should be fitted," he says.
Cronin argues that lessons may be learned from the international rail industry and its plan for a worst case scenario. Clearly the priority is to minimise the impact of a serious fire.
Any cables or conduits used within public buildings should, as a minimum requirement, present no danger to the health of people or integrity of property through toxic gas emissions during a fire. The term halogen-free gives an indication of low smoke and low toxicity. It also rules out halogen acid gas emission – a fact that is of interest to insurers since acid smoke can destroy computer equipment and damage the structure of a building.
LFH materials should also be highly flame retardant to prevent a fire or limit its development if one does start.
"Again this can be tested by the Limiting Oxygen Index (LOI). The higher the percentage, the greater the flame retardency of the material. Oxygen present in normal air is 21%. Taking the global rail industry as a best practice, they demand an LOI of 28% for materials used in over ground rolling stock and 34% for underground passenger carriages," Cronin advises.
Another test, UL 94 is an insurance underwriters' standard with flammability classifications HB, VO, V1 and V2. HB allows horizontal burning up to a maximum speed and VO is highly flame retardant.
Finally, Cronin observes, smoke density is important because people need to be able to see in order to escape. Again, the UK rail and building industry leads the way in developing a standard – BS 6853 for fire precautions in the design and construction of passenger carrying trains and public buildings.
"If you are specifying low fire-hazard performance, you should make sure that all four properties, high flame retardency, low smoke, low toxicity and halogen-free can be proven.
"There is no point adopting a 'pick and mix' approach. Halogen-free does not assure low smoke and toxicity. Equally, a low smoke and fume product may not be self-extinguishing, let alone highly flame retardant. As an example both petrol and TNT can be described as LSOH.
"So if you are specifying product for a public building, tools or trains make sure that you define what Low Fire-Hazard performance really means so cable management issues are not confused. Perhaps it is time to follow the example of the UK rail industry and clearly define what low fire-hazard performance means when related to cable management."
For more information contact Mike Cronin, managing director, Elquip Solutions, +27 (0)11 826 7117, mike@elquip.co.za