New venue, new products, quality visitors
November 2011, News
Montgomery Africa took a decision last year to relocate the IFSEC show to Midrand's Gallagher Estate and Convention Centre to allow all exhibitors to be on the same floor. The move was met with mixed feelings by this year's exhibitors but one thing remains constant – the electronics security sector remains resilient even in the face of an economic downturn. Hi-Tech Security Solutions spoke to a few of the exhibitors about their show offerings.
Elvey
Elvey's Valerie Bingham and Zane Greeff said that the company has been exhibiting at IFSEC (previously Securex) since its inception. "We launched three new products at the show – two self-contained two-way wireless units with video verification and a Hitachi cable solution," said Greeff.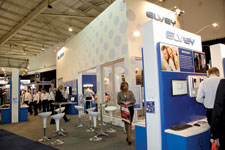 The two wireless units from Electronics Line and Visonic are ideal for both the business and home owner and effectively reduce the number of non-alarm events (false alarms) by providing both the owner and the central control room with video verification of an event via the Internet or a cellphone.
"The third product we showcased is geared towards large installations – like mines and large housing estates – and protects the perimeter line. Using a fibre algorithm, the system senses when a fence wire has been cut, pinpoints the exact location and activates an alarm. In turn, this event can be programmed to trigger the deployment of CCTV cameras and the control room will be able to dispatch security personnel directly to the area under attack," said Greeff.
HiTek Security
Clyde Elhadad, director at HiTek Security said that the company had a large number of new products to share with visitors at IFSEC. "These include our 600 TVL cameras, HD recorders and 32-channel standalone DVR.
"In addition, we are exhibiting our Ultravision cameras which provide customers with an economical, but high-quality middle-of-the-range option," Elhadad said. "We are introducing new technology through our LED array cameras. These infrared cameras provide higher brightness levels, a longer illumination distance, lower power consumption and are specced to military standards, which means that they are built to be rigged and durable."
HiTek's Provision-ISR's Auto Sync Focus cameras use an electrical auto-sync lens which can be controlled from the camera cable or RS485 from the DVR for zoom adjustment that is automatically focused.
Security & Communications Warehouse
Security & Communications Warehouse has exhibited at all except two of the Securex/IFSEC shows since its inception. "We targeted the new Dynacolor HD megapixel analogue cameras, Digi-IT video contents analysis system, and IP-based video network recorders from our new supplier Mirasys, for launch at this year's show, together with existing products from our range," said sales manager Marius Stoop.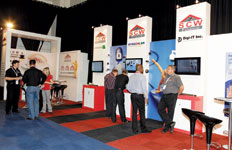 "We have had a very favourable response to the Dynacolor prototypes we displayed on the stand. These cameras have full HD resolution at 108 AP and 2 MP with standard BNC connections. The Mirasys recorders also proved popular with their extreme scalability of up to 100 DVRs with 100 users and thousands of cameras. These recorders are ideal control room solutions and integrate seamlessly with Axis products."
Norbain
Hikvision's panoramic camera and Ideco's Vein Reader were part of the new offerings from Norbain this year. "We had technical principal representation from the entire range of our suppliers, namely IndigoVision, Sony, Samsung, Vista, Pelco, HikVision, Heitel, BFR Digital, Morpho, Saflec and Virdi," said Norbain Group CEO and interim MD, Alun John.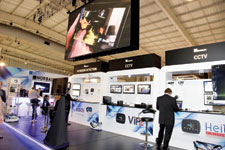 In addition to its current suppliers, Norbain also introduced its newest dealership acquisitions from SeeTec and Risco. "SeeTec offers multivendor software solutions for full IP video management whilst Risco has a range of intrusion products for both high and low end markets, and offers a full building management software solution through SynopSYS monitoring Risco panels, video, access control, fire detection and HVAC," John explained.
ADI
ADI's stand had a strong overseas presence, with representatives from AFI, Elmdene, Nedap, CDVI, PIMA, Visonic, ACTi and Honeywell regaling visitors with technical demonstrations of a wide range of products.
"The show gave us a chance to boast about a number of new products including a graffiti detector from Elmdene, a new supplier to ADI," said Colin van Til, product manager for Intrusion & Fire. Paul King, commercial director for Elmdene, added: "The Merlin Graffiti Detector is an IFSEC (UK) 2011 Intruder Alarm or Exterior Deterrent Product of the Year winner. The compact unit uses an advanced algorithm to identify the exact sound signature of aerosol spray paints.
The Merlin Graffiti Detector offers several installation options. Users can attach it to a local, audible siren to deter vandals in the act of spraying graffiti or integrate it with remote CCTV and alarm monitoring systems to assist with the apprehension of perpetrators."
Kentec fire detection mimic panels, working on a matrix system; a large range of extinguishing panels and peripherals; ICAM aspirating systems; a PIMA passive detection sensor with built-in camera; and a seismic detector for use at banks and ATMs were among the other new products on display within ADI's portfolio.
Gordon Moore, Product Manager for CCTV & Access, was responsible for bringing the new range of Honeywell H.264 IP cameras; the AFI Commander Internet switch and network transmission systems with built-in High POE, designed specifically for the surveillance market to market on the show.
"The Nedap uPass Reach long-range reader can read cards from a distance of up to 4 metres away, making it ideal for both vehicle and building access," said Nedap's Michiel Rijssemus. Advantages of this hands-free reader include not having to leave the vehicle to scan a card and being able to pass through a pedestrian turnstile or gate even when your hands are full.